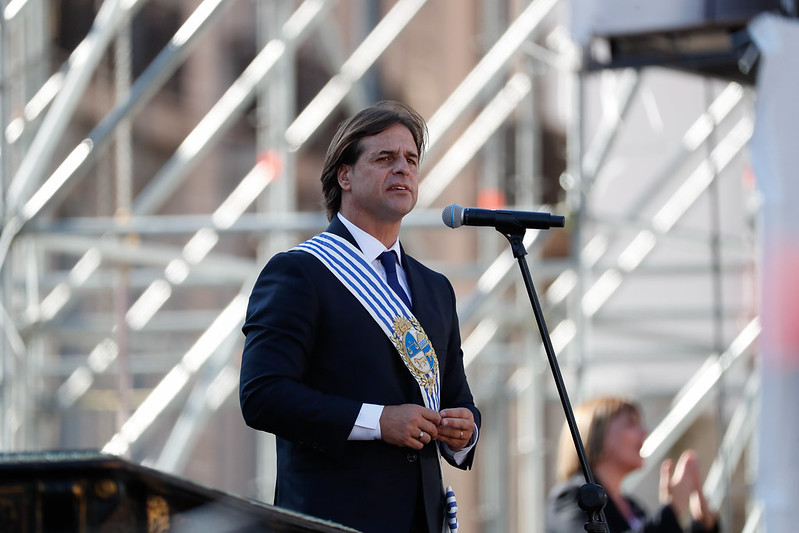 Uruguayan President Luis Lacalle Pou at his swearing in ceremony in March. Photo courtesy of Flickr user Palácio do Planalto.
Uruguay and Paraguay Stop Spread of Coronavirus
June 26, 2020
By Staff
TODAY IN LATIN AMERICA
URUGUAY/PARAGUAY: The two countries have among the lowest death rates for COVID-19 in Latin America, despite sharing borders with Brazil, where more than 50,000 people have died. Uruguay's success is largely attributed to access to public health care and other social policies like access to running water. The country also has one of the highest testing rates in the world. Only five new cases were reported on Thursday, and 23 people have died from COVID-19. Offices and shopping centers have begun reopening, and children began returning to school this month. The total number of positive cases is currently 882.
In Paraguay, President Mario Abdo Benítez was one of the first leaders in the region to implement social distancing measures and a national lockdown back in March. One of the key measurements taken to diminish the spread of COVID-19 included closing the border to Brazil. More than half of Paraguay's cases have come from Paraguayans travelling to Brazil before the lockdown. The quarantine is set to be in place until July 19, when businesses will begin to fully reopen. There are currently only 12 people hospitalized with COVID-19 in the entire country, and the total number of infections has been 1,569.
Headlines from the western hemisphere
SOUTHERN CONE
BRAZIL: Amazon states are reporting the highest number of recorded wildfires in June since 2007, an indicator of yet another harsh dry season. The National Institute for Space Research found 1,469 fires between June 1 and June 21, which is 30% higher than it was during the same time period in 2019. Most of the fires are located in areas that have also been drastically affected by deforestation. Researchers warn that wildfires this year could be even more destructive than they were last year. The Bolsonaro administration denied the drastic environmental effects wildfires had on Brazil in 2019, and has allowed deforestation to continue in the Amazon and on Indigenous land.
ANDES
COLOMBIA:  A 12-year-old Indigenous girl reported being raped by a group of soldiers in northern Colombia. The victim disappeared from the Embera Chami community on Sunday and was found a day later near a school. After alerting Indigenous authorities of the assault, the military and President Iván Duque were quick to denounce the crime and promised a full investigation into the matter. Seven soldiers were detained and accepted the charges. More than 40 pieces of evidence were collected in the case, and the soldiers will not be permitted a reduction in sentencing despite their military status. Indigenous groups in Colombia have accused the military of committing crimes against their communities for years, with national Indigenous organizations calling the abuse a "structural issue." 
ECUADOR: More than 80,000 complaints have been filed against energy companies due to an increase in electricity bills amidst a national quarantine. The Minister of Energy promised to look into the inconsistencies in billing, and re-invoice families affected by the mishap. Ecuador has struggled to fight against the coronavirus, with several hospitals lacking necessary supplies and corruption rampantly affecting which areas of the country receive ventilators and testing kits. Despite this, major cities have begun reopening efforts. Ecuador currently has more than 53,000 cases of COVID-19 and more than 4,300 deaths.
CARIBBEAN
PUERTO RICO: An investigation from the Center for Investigative Journalism found that Puerto Ricans living in the continental United States are likely to live in counties with high rates of COVID-19 cases and deaths. The three states with the highest population of Puerto Ricans include Florida, New York and New Jersey, which been hit hard by the virus. Because the nationalities of those infected with COVID-19 in the United Sates aren't recorded, it is unknown whether Puerto Ricans have been infected at higher rates than other Latino populations.
CENTRAL AMERICA
HONDURAS: A controversial new criminal code went into effect in Honduras on Thursday, which protects politicians from charges of corruption and drug trafficking. Dozens of activist groups have attempted to stop its passage in Congress, arguing that the new code cannot be enforced since the Constitution states that "new penalties cannot be applied in a state of emergency." More than 60 officials are currently being investigated, but with the new code, all criminal courts must drop the cases to first go before civil jurisdiction. President Juan Orlando Hernández, who is currently recovering from COVID-19, has also been accused of corruption after his brother was found guilty of drug trafficking in 2019. 
PANAMA: The government introduced a new health advisory council as part of efforts to stop the spread of COVID-19. The council includes former health ministers, medical experts and the current director of Panama's social security fund. The council will work to determine which areas are most affected by the coronavirus, traces the source of infections, and whether the country is ready for a reopening of the economy. The group will work closely with experts at the Ministry of Health.
NORTH AMERICA
MEXICO: The death toll of the coronavirus pandemic in Mexico surpassed 25,000 on Thursday, as officials reported 736 more deaths. Health officials have pushed back their estimation of when the peak in Mexico would occur. Sub-Secretary Hugo López-Gatell defended the government's strategy and said that they had succeeded in preventing a sharp spike in cases, and that hospitals have not been over-capacity.
UNITED STATES: A week after protecting another immigration program from elimination, the Supreme Court ruled that asylum seekers will no longer be allowed to appeal their cases after being rejected. In a 7-to-2 decision, the majority ruled that asylum claims are overwhelming the immigration system, and federal courts have a limited role in determining whether asylum seekers face credible fear back in their home countries. The decision will allow for the Trump administration to conduct fast-track deportations of thousands of asylum seekers.