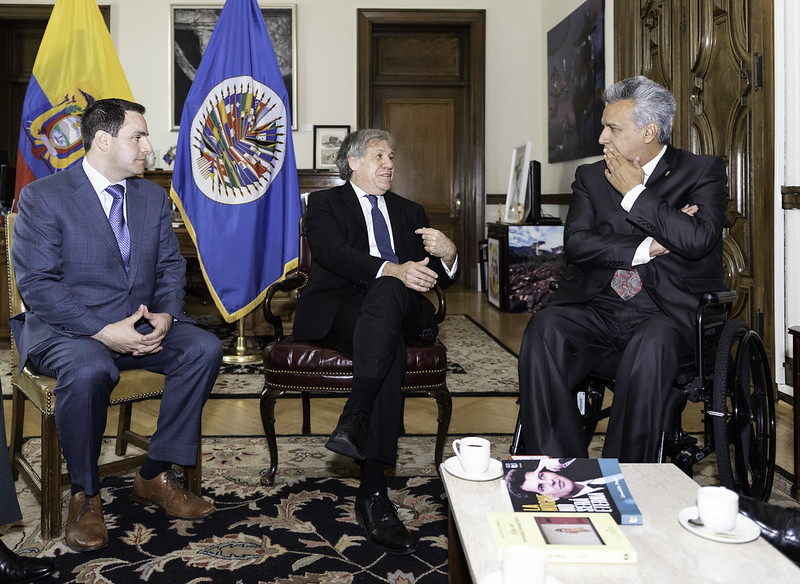 Ecuadorian President Lenín Moreno, right, in a meeting with OAS members in Washington last year. Photo courtesy of OEA-OES via Flickr.
Trump Receives Ecuadorian President Lenín Moreno
February 13, 2020
By Staff
TODAY IN LATIN AMERICA
UNITED STATES: Ecuadorian President Lenín Moreno met with President Trump on Wednesday. It was the first meeting in Washington between an Ecuadorian and U.S. president in 17 years. Relations cooled between the two countries during leftist Rafael Correa's 10 years in office.
Trump and Moreno discussed a potential trade deal, and sales of U.S. military equipment to Ecuador. According to Trump, the trade deal would be similar to the agreements between the U.S., Canada and Mexico.
Moreno and Trump also discussed drug trafficking and the fight against organized crime. Moreno is welcoming U.S. cooperation on matters of security, culture and economy. He has also joined the U.S. in backing the Venezuelan opposition leader, Juan Guaidó. Moreno currently has an approval rating of less than 20%.
Headlines from the western hemisphere
SOUTHERN CONE
ARGENTINA: Thousands of protesters organized outside the stock exchanges in Córdoba and Corrientes as the International Monetary Fund (IMF) prepared to negotiate the country's external debt. Protesters composed of worker's unions, social groups and political activists, flashed signs with the slogan "The debt is with the people, not with the IMF." Antonio Ratner, general secretary of the Municipal Workers Union, said the movement was in opposition to the government, but aimed, "to support the government so that it sees a united and mobilized people." The IMF will meet with President Alberto Fernández this week to discuss restructuring the country's $44 billion debt.
BRAZIL: The government sent a technical team to a remote part of the Amazon this week to address a "mental health crisis" among members of an indigenous community that has experienced an increase in suicides over the last year. The Suruwahás have had little contact with the Brazilian government. The mission will evaluate and monitor the mental health of the community, but anthropologists and psychologists have been critical of the team's involvement. The mission also includes two members of an American-based missionary group, Youth With a Mission, who were previously removed from indigenous communities for "proselytizing and discriminatory activities."
ANDES
GUYANA-VENEZUELA: Representatives from Guyana and Venezuela are scheduled to appear before the International Court of Justice (ICJ) next month, seeking a resolution to their century-old border dispute. Representatives from Guyana and Venezuela will present oral pleadings on the Arbitral Award of Oct. 3, 1899, which established the territorial boundaries of Guyana. The Venezuelan government contends that the agreement is void, and argues that the ICJ has no jurisdiction over the territorial dispute. The United Nations Secretary-General, António Guterres, ordered the case to be heard by the ICJ in January 2018.
CARIBBEAN
JAMAICA: The United Kingdom's immigration enforcement agency deported 17 Jamaican nationals convicted of criminal offenses, despite a last-minute court ruling on Monday night. A group of lawyers argued that the detainees did not have sufficient access to legal council. The deportation of a separate group of 25 Jamaicans was stopped after the court order. Protestors argued that the detainees have lived in the UK most of their lives. All those who were deported were previously given prison sentences of a year or more.
PUERTO RICO: FEMA activated its Transitional Sheltering Assistance (TSA) program for eligible earthquake victims in six southern municipalities: Guánica, Guayanilla, Peñuelas, Ponce, San Germán, and Yauco. TSA places recipients in paid hotel or motel lodging in Puerto Rico for an initial period of 45 days after FEMA representatives verify that their residences are uninhabitable and in need of repairs. The relocated families are responsible for additional expenses such as laundry, meals and telephone access. So far, over 50 families have been granted TSA.
CENTRAL AMERICA
EL SALVADOR: El Salvador's Supreme Court issued a statement ordering President Nayib Bukele to refrain from using the country's armed forces for "activities contrary to established constitutional ends." Bukele says he agrees to the order. Armed security forces accompanied Bukele in the National Assembly during an extraordinary session he convened on  Sunday. The highest court also called on him and his Council of Ministers to stop pressuring lawmakers to approve a $109 million loan to finance his national security plan.
REGIONAL: A new Doctors Without Borders report revealed that U.S. and Mexican immigration policies are detrimental to the physical and mental health of Central American migrants, particularly those from Guatemala, El Salvador and Honduras. Of the 480 Central American migrants interviewed for the study, 45.8% cited exposure to violence in their home countries as the reason for their departure. On the migratory journey north, 57.3% of migrants reported having been exposed to violence. The report also concluded that the Migrant Protection Protocols, known as the "Remain in Mexico" policy, puts asylum seekers at risk of kidnapping and violence.
NORTH AMERICA
MEXICO: Spanish police arrested Emilio Lozoya, the former head of Mexico's state oil company. Lozoya's arrest in Málaga followed an international warrant issued by the Mexican government. Mexico previously issued arrest warrants for Lozoya for alleged corruption, but he rejected all accusations. The Spanish government did not identify the charges on which Lozoya was detained, but they were all in relation to events from 2012 to 2013. He is expected to appear before a judge in Madrid today.
US-MEXICO: Customs and Border Protection Commissioner Mark Morgan said that while U.S.-Mexico crossings have significantly dropped, the number of Mexican migrants has increased by nearly one third. Border officials are still unsure of the reason behind the surge in Mexican migrants.. Commissioner Morgan believes that the decrease in migration numbers over the past eight months is due to smugglers resorting to "new tactics" to cross the border. Morgan also attributed the migration decline to President Trump's immigration policies.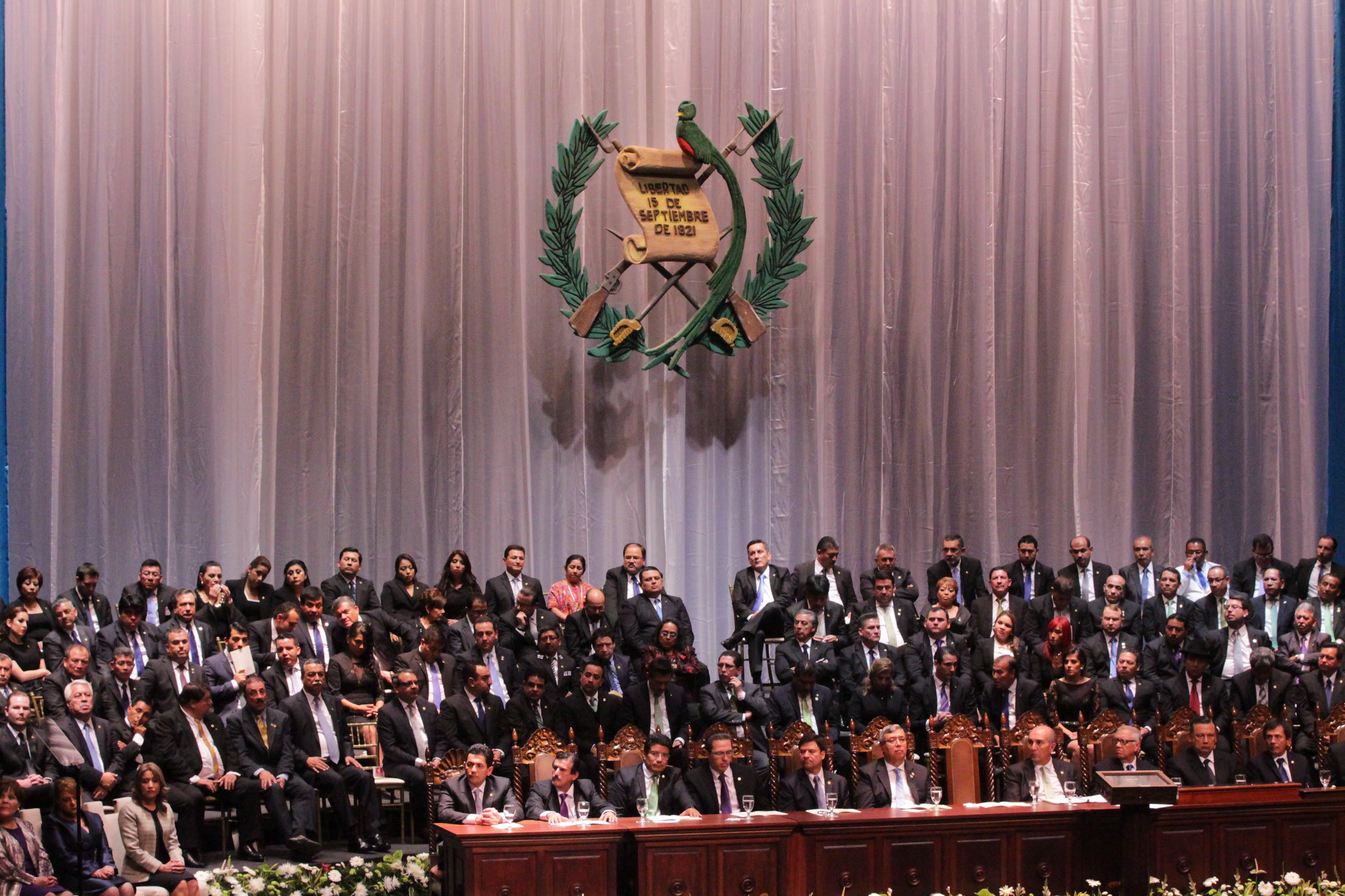 February 12, 2020
> Staff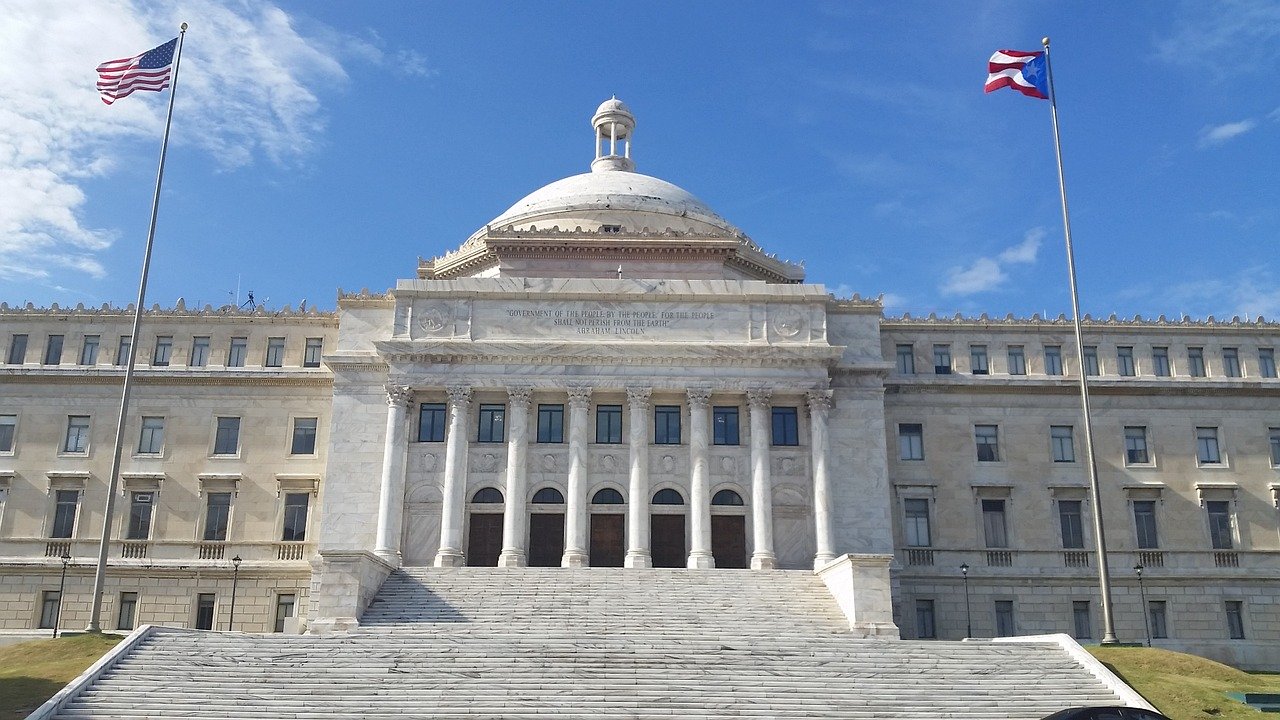 February 14, 2020
> Staff