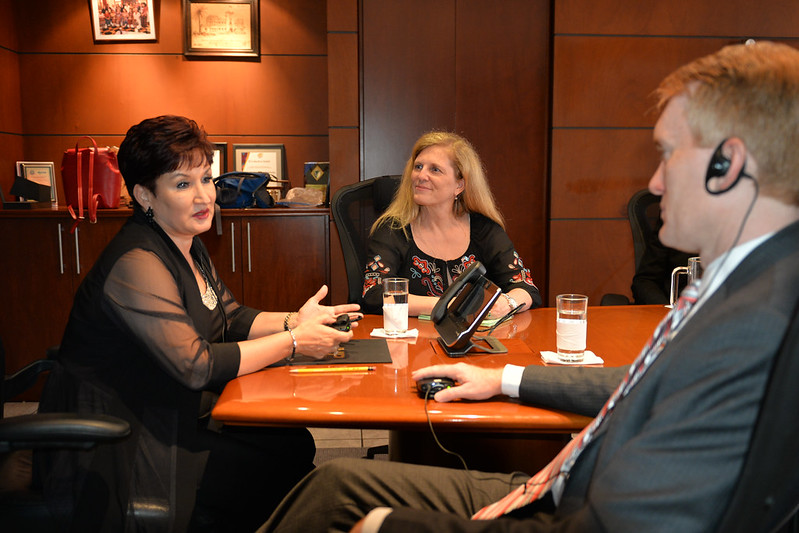 Former Senator Thelma Aldana meets with U.S. Senator James Lankford at the U.S. Embassy in Guatemala. (Photo courtesy of the United States Embassy Guatemala via Flickr)
Former Guatemalan Prosecutor Granted US Asylum
February 26, 2020
By Staff
TODAY IN LATIN AMERICA
GUATEMALA: Guatemala's former chief prosecutor Thelma Aldana announced that the United States has officially granted her political asylum. Aldana has been living in the U.S. for the past year after fleeing Guatemala.
Aldana pursued prominent anti-corruption cases as prosecutor. She was key in the prosecution of former President Otto Pérez Molina for corruption. She began investigations into President Jimmy Morales. Aldana mounted a presidential run in 2019 and by law she had immunity as a candidate. However, courts blocked her candidacy due to allegations of embezzlement against her. This prompted her to flee to the United States.
The Associated Press reported that Guatemalan lawyers had begun the process to request her extradition earlier this week. Aldana says the charges against her in Guatemala are in retaliation for her work as a prosecutor. In response to the asylum decision, Aldana told Reuters, "It is great news for me but must also be for the brave prosecutors who in Guatemala and other countries fight for justice in the world."
Eliot Engel, chair of the U.S. House Foreign Affairs Committee, tweeted that the decision was "a major victory for the international fight against corruption.
Headlines from the western hemisphere
SOUTHERN CONE
BRAZIL: Some of the country's top samba schools in Rio de Janeiro took aim at President Jair Bolsonaro during Carnival parades this week. Two top schools, São Clemente and Mangueira, took a stand against Bolsonaro, mocking his support of gun control and his comments blaming actor Leonardo di Caprio for the fires and deforestation of the Amazon last year. A third school, Grande Rio, used the parade as a form of religious protest, amid rising hate crimes against practitioners of African-influenced religions. The annual parade at the Sapucaí Sambadrome  attracts around 90,000 people to see the country's  top samba schools.
ANDES
COLOMBIA: Attorney General Francisco Barbosa Delgado announced that his office is investigating claims of corruption among businesspeople and politicians, made by former Senator Aída Merlano. She accuses President Iván Duque of benefitting from vote buying, allegations that a committee in Colombia's Congress will investigate. Merlano was convicted of vote-buying and then escaped custody in Bogotá in 2019. She fled to Venezuela where she was captured last month. Duque has refuted the accusations against him and alleges that Venezuelan President Nicolás Maduro is using Merlano as a political pawn. Colombia does not recognize Maduro as a legitimate leader and has requested Merlano's extradition through Venezuela's opposition leader Juan Guaidó.
CARIBBEAN
PUERTO RICO: Governor Wanda Vázquez said that the murder of Neulisa Luciano Ruiz in Toa Baja on Monday is likely a hate crime. Luicano Ruiz, a transgender woman, was shot hours after using the women's bathroom at a McDonald's. Police are investigating a video posted to YouTube which appears to show her assault. The Human Rights Campaign reports that Luicano Ruiz's murder is thought to be the second violent death of a transgender or gender non-conforming person in the U.S. this year.
CENTRAL AMERICA
COSTA RICA: Officials announced yesterday that the Directorate of Migration has arrested the leaders of a migrant trafficking network. The network, allegedly run by Ramón Quirós, trafficked Cuban migrants from Panama through Costa Rica and onwards to the United States or Mexico. The investigation, which began in 2018, found that the network charged $400 to help Cubans reach Nicaragua and up to $2,000 to reach the United States.
NORTH AMERICA
MEXICO: Rescuers managed to partially free a humpback whale from an illegal net placed in a protected area. Authorities were notified of the entangled humpback whale on Friday in the vital refuge of the vaquita porpoise in the upper Gulf of California. According to the conservation group Sea Shepherd, the net was tightly wrapped around the whale's entire body. Sea Shepherd managed to free the head and body but were unable to free the tail before the visibly exhausted creature dove to deeper depths. Endangered species in the gulf are under constant threat by illegal fishing for Totoaba swim bladders that can sell for thousands of dollars in China.
UNITED STATES: The Supreme Court decided not to accept a lawsuit against a Border Patrol agent who shot an unarmed 15-year-old immigrant in 2010. Sergio Adrián Hernández Güereca was allegedly playing a game on the border wall when Border Patrol Agent Jesús Mesa Jr. fatally shot him. In a 5-4 ruling, Supreme Court justices argued that the parents of the Mexican teenager could not use the U.S. courts to sue the Border Patrol agent. According to Justice Samuel Alito, regulating the conduct of Border Patrol agents has national security implications that influenced the decision against the parents.
UNITED STATES: The White House special representative for Puerto Rico's disaster recovery said that federal funding of projects has quickened. White House special representative Peter Brown said "the reality is improving," but expressed concern about the aid's sustainability. The Federal Emergency Management Agency (FEMA) has gone from approving 10-15 projects a month to 160 projects a month. Over $50 billion was allocated to help the island recover, but only around $15 billion has been spent. Puerto Rico was devastated by a 6.4 earthquake in January and a category 4 Hurricane Maria back in September 2017.
Banner photo courtesy of the United States Embassy Guatemala via Flickr.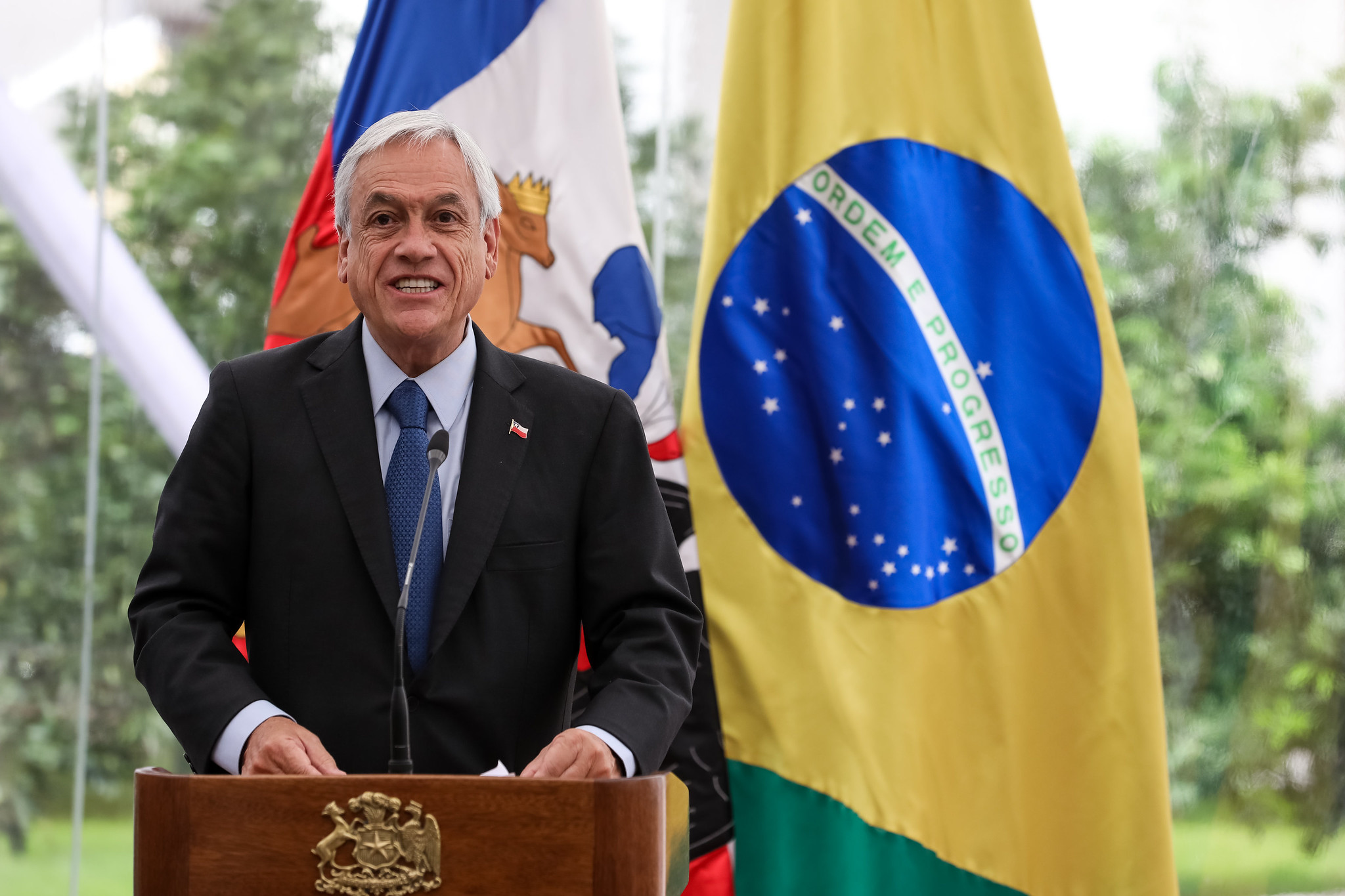 February 25, 2020
> Staff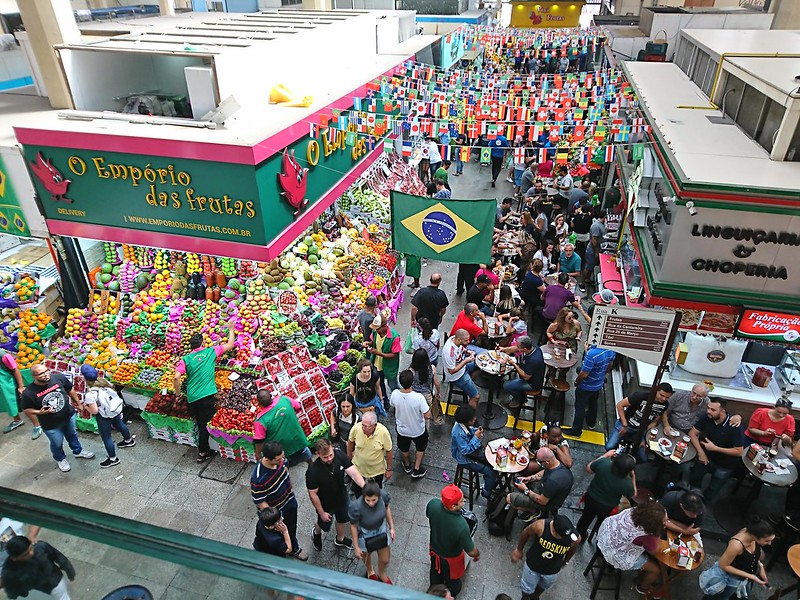 February 27, 2020
> Staff