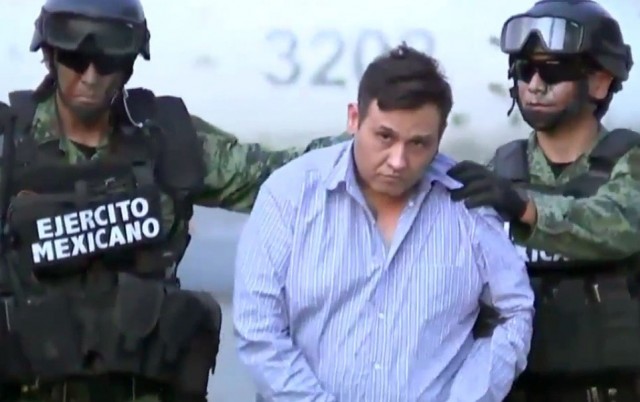 Mexico Arrests Zetas Boss, Latest Kingpin to Fall
March 5, 2015
By Staff
TOP STORY — Mexican authorities on Wednesday arrested the alleged leader of the notorious Zetas drug cartel — the latest high-profile criminal to be targeted by the government's "kingpin" strategy.
Omar Treviño Morales — alias "Z-42" — was arrested shortly after 3:00 a.m. by police and military troops in a wealthy area of the northern city of Monterrey. Another top Zetas member, who reportedly handled the group's finances, was also captured in a simultaneous raid.
The arrests early on Wednesday follow the highly publicized capture of Servando Gómez Martínez, or "La Tuta," leader of the criminal gang Los Caballeros Templarios, on Feb. 27. Gómez Martínez was living in a network of caves and giving orders through underlings at the time of his arrest, in the restive southern state of Michoacan.
The arrests of the two cartel leaders are the latest signs that President Enrique Peña Nieto plans to continue the U.S.-influenced "kingpin" strategy, which calls for the decapitation of criminal organizations. The approach has been credited with forcing the fragmentation of cartels, but its record in bringing down violence levels has been called into question.
Treviño Morales reportedly took over the group when his brother Miguel Angel was arrested in July 2013. His arrest, along with the death a year before of another leader, marked a period of relative decline since the group was named the government's top enforcement priority in 2011. A military-influenced group founded by former commandos and centered in northeast Mexico, the original Zetas pioneered the diversification of the country's criminal underworld, using brutal terror tactics to underwrite threats of extortion, which became a lucrative trade.
North America
Caribbean
Central America
Andes
Southern Cone
Image: YouTube