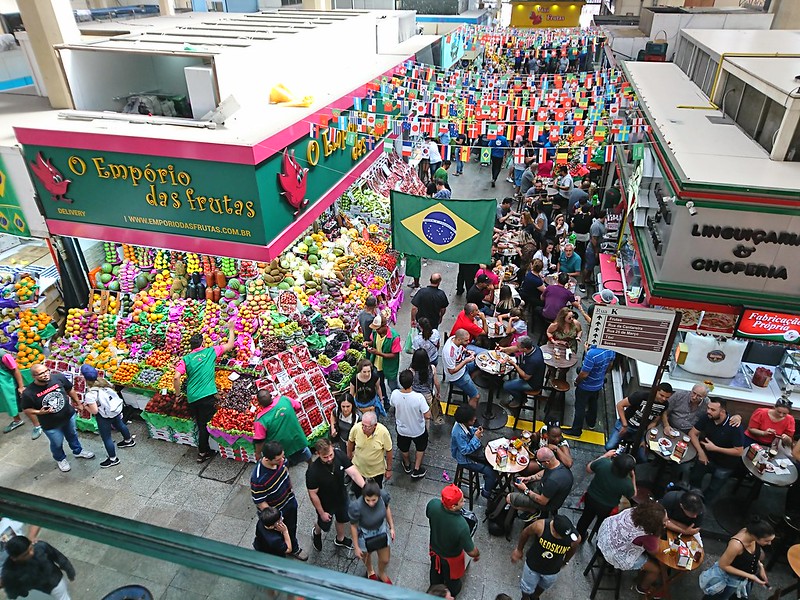 A food market in São Paulo, Brazil, in 2019. (Photo courtesy via Flickr user elenavataga)
Brazil Confirms First Case of Coronavirus in Latin America
February 27, 2020
By Staff
TODAY IN LATIN AMERICA
BRAZIL: Government officials confirmed that a Brazilian man has been infected with coronavirus, making it the first official case of the illness in Latin America. According to the country's Health Ministry, the 61-year-old man had recently traveled to Lombardy, Italy, an epicenter of coronavirus in Europe. The man also visited about 30 family members upon returning to Brazil, all of whom are currently being observed by health officials. The country is broadening its screening protocols. 
At least 12 of Brazil's other suspected cases of the virus traveled to the same region, and all passengers on the same flight as the infected man are currently under observation as well. Health Minister Luiz Henrique Mandetta said the confirmation will allow health officials to see whether or not the virus "behaves" differently in a country that is in the midst of summer and in a more tropical climate. Brazil had already announced a national health emergency in early February before the confirmed case. The notice of the virus comes days after Brazil's annual Carnaval festival, a celebration which is expected to bring in $2 billion worth of tourism-related revenue.
Headlines from the western hemisphere
SOUTHERN CONE
CHILE: Campaigns for the constitutional referendum will begin today, as politicians and social organizations lobby for a new post-Pinochet constitution. Pro-reform and anti-reform campaigns will begin to openly display electoral propaganda and conduct door-to-door campaigning. In November, President Sebastián Piñera agreed to the constitutional referendum taking place this April, after a wave of social unrest took over the country demanding basic rights like healthcare and education. More than 14 million citizens will vote to write a new constitution.
ANDES
COLOMBIA: A Bogotá court banned a public campaign that accused army commanders of sanctioning thousands of civilian executions that took place under former President Alvaro Uribe. The campaign, organized by conflict victims' organization Movice, accused retired generals Mario Montoya, Nicasio Martinez, Marcos Evangelista and Adolfo Leon Hernandez, as well as retired Colonel Juan Carlos Barrera of being involved in the deaths of at least 2,429 civilians. The court ruled that the campaign, centered around an image circulated by Movice, constituted libel and had to be removed. Free press organizations have since republished Movice's statements.
VENEZUELA: As heavy rains continue across the southern part of the country, 8 people have died and at least another 6 are still missing. The National Unit for Disaster Risk Management (UNGRD) continued rescue operations and debris removal this week, updating the initial report from 4 dead and 11 missing. Although still in the dry season, intense storms have resulted in landslides and flooding in Chinchiná and Piedecuesta, forcing communities to leave their homes and conduct their own rescue missions. Army personnel have also joined the UNGRD in relief operations. 
CARIBBEAN
CUBA: The trial of a leading dissent against the Castro regime was expected to begin yesterday. Opposition leader Jose Daniel Ferrer of the Patriotic Union of Cuba (UNPACU) is facing charges of abduction and assault in a case being closely watched by the international community, including Amnesty International and the U.S. Embassy in Havana. Ferrer was jailed last October, and his supporters believe his trial was scheduled to begin yesterday morning in Santiago de Cuba. Cuban government officials, however, have not confirmed whether Ferrer is even facing trial. In a February 24 open letter to Cuba's Foreign Minister, U.S. Secretary of State Mike Pompeo joined human rights organizations across the globe and the European Parliament in demanding Ferrer's immediate release.
CENTRAL AMERICA
COSTA RICA: An indigenous activist was murdered by an armed mob on Monday, the latest case in a string of violence targeting indigenous communities amid land disputes in Costa Rica. Yhery Rivera, a leader of the Brörán community based in the mountainous Térraba region, was fatally shot as he tried to reclaim ancestral land being occupied by non-indigenous landholders. Rivera's murder is the second killing of an indigenous land activist in the past year. Indigenous people make up about 2.4% of Costa Rica's population, but 80% of state-recognized indigenous lands remain occupied by non-indigenous families.
EL SALVADOR: A month after the Salvadoran judge overseeing the El Mozote massacre case requested a series of documents from a number of U.S. agencies, including the Central Intelligence Agency and the Department of Defense, the United States has still not turned over the classified documents. The judge has held that the U.S. agencies are legally required to complete his request. The judge is citing the State, Foreign Operations, and Related Programs Appropriations bills approved by both the U.S. House of Representatives and Senate for the 2020 fiscal year, which outline that U.S. agencies must cooperate with Salvadoran authorities in their investigation, including through document provision. The court seeks documents relating to military operatives and personnel involved in the massacre. 
NORTH AMERICA
UNITED STATES: Sanctuary cities and states who refuse to cooperate with federal immigration authorities can now have millions in funds for law enforcement withdrawn, according to a new federal appeals court ruling. "Sanctuary jurisdictions" are engaged in a legal fight with federal authorities who have tried to condition state funding on their cooperation with ICE and Trump's immigration control agenda and policies. In 2017, several sanctuary states sued the U.S government over a policy that conditioned funding for state and local governments on granting federal immigration authorities access to jails, among other things. 
MEXICO: At least 14 school teachers and administrative personnel got injured during a confrontation between masked protesters, school personnel and students at CCH Azcapotzalco, a public school in Mexico City. Protesters brought sticks, stones and Molotov bombs. The protesters are a group of students trying to close school installations due to the mishandling of a student's death and an aggression case. Last Friday, a girl was attacked in a school bathroom by two masked men, who cut her arms and dislocated her shoulders. In early January, a student died on school grounds due to alleged "medical negligence." According to protesters, neither case has received proper attention from school authorities. School installations were closed since Monday until Wednesday morning due to a 28-hour strike meant to protest the lack of action concerning these two cases along with several sexual harassment accusations.
U.S-VENEZUELA: After a major decision by Switzerland's highest court, federal investigators in Miami now have access to bank records to build a money-laundering case against a group of Venezuelan businessmen and ex-officials in the government's oil sector. Two years ago, the U.S Department of Justice along with prosecutors in Miami asked Switzerland for legal assistance regarding the case. U.S prosecutors are accusing this group of young business elites of bribing Venezuelan government officials and diverting multi-billion dollar embezzlements to bank accounts in Switzerland, real estate and other assets in New York and Miami. The Swiss Federal Tribunal said more than $4.5 billion were laundered in this corruption scheme.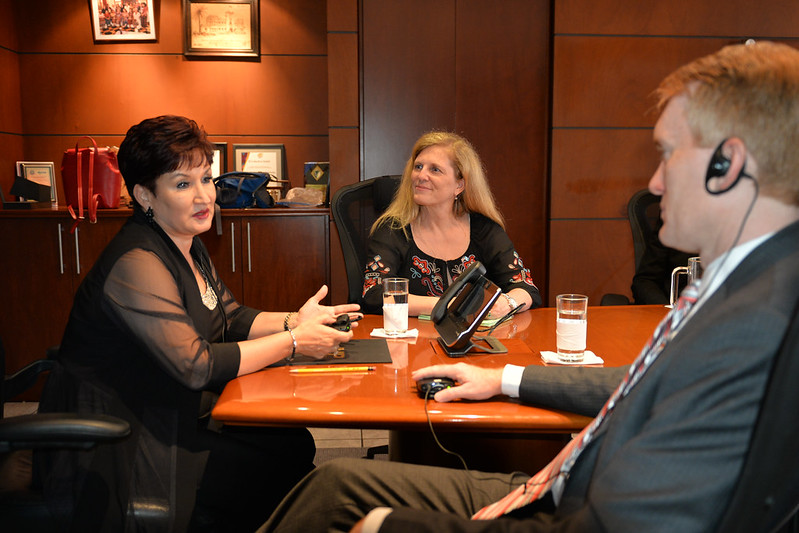 February 26, 2020
> Staff