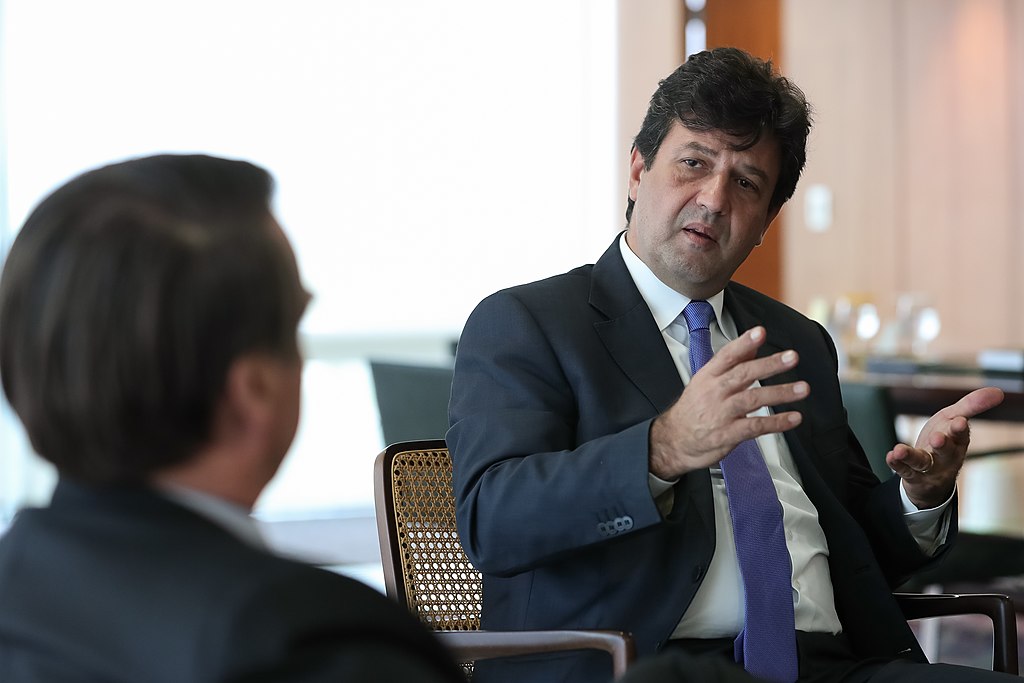 Brazilian Minister of Health Luiz Henrique Mandetta meeting with President Jair Bolsonaro in April 2019. Photo credit: Marcos Corrêa; https://upload.wikimedia.org/wikipedia/commons/7/76/Luiz_Henrique_Mandetta_e_Jair_Bolsonaro.jpg
Bolsonaro Continues to Downplay Coronavirus
March 30, 2020
By Staff
TODAY IN LATIN AMERICA
BRAZIL: President Jair Bolsonaro has threatened to fire health minister Luiz Henrique Mandetta if he criticizes the president's handling of the coronavirus pandemic. The Estado de S. Paulo newspaper reported on the exchange during a high-level meeting Saturday. Mandetta has previously told Bolsonaro that he would publicly criticize him if he continued attending public events and not isolating indoors.

Brazil currently has 4,256 confirmed coronavirus cases, the highest total in Latin America. 136 people have died due to the virus. Recent models predict that Brazil could have between 44,200 and 1.1 million fatalities depending on the severity of preventative measures. 
Bolsonaro has been dismissive of the pandemic, telling a reporter that, "Some will die. I'm sorry. That's life." He claimed on Thursday that Brazilians "already have the antibodies that help it not proliferate." Other government officials have attempted to reign in Bolsonaro's approach: on Saturday, a federal judge banned the administration from campaigning against isolation and quarantine policies.
Headlines from the western hemisphere
SOUTHERN CONE
CHILE: President Sebastián Piñera announced that low-income Chileans will not have their utilities cut off if they make late payments on household debts. It is one of the steps that Chile is taking to combat the economic fallout of the coronavirus pandemic. Piñera's administration is also trying to pass a "Covid-19 Bond," which would grant families a stipend of about $60 per dependent. Although the pandemic has delayed Chile's constitutional referendum, Piñera's policies reflect the influence of demonstrators who called for economic reform during last fall's protests.
ANDES
ECUADOR: Ecuador has the highest number of confirmed coronavirus cases per capita in all of Latin America, and the second highest number in total, after Brazil. Epidemiologist Esteban Ortiz told BBC Mundo that the reason for the high rates is that Ecuadorians have not strictly followed recommended preventative measures. Health Minister Juan Carlos Zevallos, who replaced Catalina Andramuño last week, said Ecuador has been disproportionately impacted because it was one of the first Latin American countries to report coronavirus cases. The country had 1,890 confirmed cases as of yesterday, and 57 people had died. 
VENEZUELA: Rosneft Oil Company, an energy corporation headquartered in Moscow, sold all of its Venezuelan assets to a Russian state-owned oil company Saturday. The transfer was most likely intended to protect Rosneft from U.S. sanctions, just days after the United States charged Venezuelan President Nicolás Maduro with narco-terrorism and international cocaine trafficking conspiracy. The U.S. recently sanctioned two Rosneft subsidiaries, but state ownership of Rosneft's former assets will allow Russia to continue supporting the Maduro government.
CARIBBEAN
BARBADOS: Officials declared on Friday a public health emergency, instituting a curfew from 8 p.m. to 6 a.m. until April 14. Workers in essential services including firefighting, immigration, and medicine are exempted from the restrictions. Prime Minister Mia Mottley assured residents that grocery stores would remain open, and asked them to "minimize" the time spent outside the home. By yesterday evening, the total confirmed cases in Barbados had increased to 26. 
HAITI: Staff of one of the country's largest hospitals are declining to take new patients after the hospital's director disappeared. Employees protesting in solidarity with Jerry Bitar said kidnappers took the surgeon as he was commuting home on Friday. The country appears to be facing an increase in gang violence and kidnappings for ransom. The hospital is not yet treating COVID-19 cases, but might if the disease overwhelms other facilities. Haiti has 11 million people and only 64 ventilators, with 15 confirmed coronavirus cases as of Sunday.
CENTRAL AMERICA
EL SALVADOR: Lawmakers approved $2 billion to address the public health and economic impact of coronavirus, including funds for small and medium businesses, grain and coffee producers, and employees affected by the country-wide quarantine. A new committee will allocate most of the funds and the $300 payments to families that were scheduled to begin Saturday. The Legislative Assembly will have to approve the "Emergency Fund Committee" plans.
PANAMA: A cruise ship with coronavirus-infected passengers was waiting to travel through the Panama Canal on Sunday on its way to Florida. Officials said the day before that the Zaandam could pass through on its way to Fort Lauderdale, but the company, Holland America Lines, said it had not received the go-ahead. More uncertainty surrounded the ship's ability to dock in Florida, with Fort Lauderdale's mayor saying he would not accept it without more information from the Trump administration. The company said Friday that four people had died aboard the ship, which has been at sea since March 7 and unable to dock.

NORTH AMERICA
MEXICO: President Andrés Manuel López Obrador told Mexicans working in non-essential business to stay home in a YouTube address Friday, stepping out of his previous stance on the coronavirus pandemic. His administration did not announce curfews or official orders to stay home, but warned that the country is facing its "last chance" to slow the spread of the virus and avoid overburdening hospitals. AMLO said he was weighing urgent public health concerns with the economy in a country where many jobs are informal. He said he will continue traveling around Mexico to promote his signature infrastructure projects. As of yesterday evening, Mexico had 848 confirmed cases, with 16 deaths.
MEXICO: Health care workers across the country have been protesting the shortage of supplies including face masks, gloves, and anti-bacterial gel. Doctors at a protest in the central city of Toluca said the scarcity of medical supplies had been a problem for years, but became more urgent with the threat of coronavirus. Employees of hospitals that belong to the Mexican Institute of Social Security, or IMSS in Spanish, have demonstrated in eight states demanding more personal protective equipment as well as staff. The head of the IMSS announced a plan to provide more supplies.