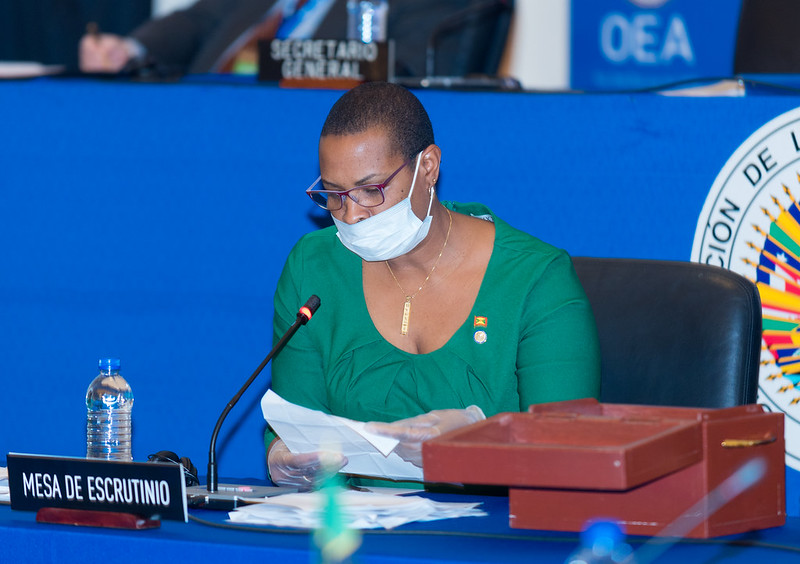 Yolande Yvenne Smith, Representative for Grenada in the OAS, attending a special General Assembly meeting on March 20th. Photo courtesy of OEA - OAS via Flickr.
Caribbean Countries Adopt Measures to Stop Coronavirus
March 31, 2020
By Staff
TODAY IN LATIN AMERICA
REGION: Caribbean countries are seeing an increase in cases and implementing stricter quarantine regulations. The highest death toll in the Caribbean is in the Dominican Republic, where 42 people had died as of Monday night. There are 901 confirmed cases of the coronavirus. There is currently a 5pm to 6am curfew in effect. Health Minister Rafael Sánchez Cárdenas said that Dominicans must respect guidelines and stop gathering in groups.

Grenada's government decided for a full lockdown that will last a week, as residents were not collaborating with social distancing protocol, according to Health Minister Nickolas Steele. He said only one person per household will be allowed to leave the house "for food or medical emergency" on specific days. Grenada has nine cases of Covid-19. 
Trinidad and Tobago's Prime Minister Keith Rowley said the population is "at war" against the "invisible enemy." The country registered yesterday the third death of a patient because of the disease. The country, which has 82 confirmed cases by now, has not yet announced a lockdown nor a curfew.
Meanwhile, government of the Bahamas announced it will extend its state of emergency. The Bahamas registered 14 patients infected with the virus.
Headlines from the western hemisphere
SOUTHERN CONE
ARGENTINA: Puerto Rican artist Residente interviewed Argentine President Alberto Fernández via an Instagram livestream less than a week after hosting a livestream with Salvadoran President Nayib Bukele. The pair discussed a number of issues, including Argentina's nation-wide quarantine, layoffs and a potential increase in domestic abuse cases during this time. Fernández also repeatedly stated that the country's top priority at the moment is the health and safety of all Argentinians. 
BRAZIL: Twitter and Facebook removed several posts by President Jair Bolsonaro on Sunday and Monday citing false information on the coronavirus pandemic. Both platforms deleted a post where Bolsonaro promoted an antimalarial drug that has not been proven to treat the coronavirus. Brazil is currently the hardest hit country by the pandemic in Latin America with 4,630 cases and 163 deaths, according to John Hopkins University.
ANDES
BOLIVIA: Health Minister Aníbal Cruz announced the opening of an investigation on Monday into the death of a top telecommunications executive who had COVID-19. According to the family, Richard Sandoval was denied medical attention at several hospitals and died as a result. Bolivia currently has 97 confirmed cases of the coronavirus and 4 fatalities.
COLOMBIA: The National Liberation Army (ELN) declared a unilateral ceasefire for the month of April due to the coronavirus emergency. In the communique, the armed group  repeats accusations that COVID-19 was made and spread by US agents. The armed groups listed 15 points for the government of President Iván Duque to restart peace talks and take on other coronavirus emergency measures. UN Secretary General, Antonio Gutierres praised the measure after calling for a world-wide ceasefire to help fight the coronavirus pandemic.
CARIBBEAN
PUERTO RICO: A 4.2 magnitude earthquake hit the coastal town of Guánica, in the southwest of Puerto Rico. The mayor of Peñuelas, a nearby town, said people "started to run" as everything trembled around them. The last time a seismic wave with a magnitude higher than 4.0 hit the island was on February 4, ending a series of strong earthquakes that began on December 28 and shook the island's grounds for weeks. The previous earthquakes left one person dead, several people injured and destroyed countless homes. The earthquake happened as Puerto Ricans are under a curfew to mitigate the spread of the novel coronavirus.
CENTRAL AMERICA
GUATEMALA: Fifteen physicians working at the Villa Nueva Hospital, specialized in taking care of patients infected with the novel coronavirus, wrote a letter reporting shortcomings in the hospital facility. The physicians said there aren't enough restrooms, that the staff is not able to take care of all the patients and that they have to work without the proper protection equipment, such as suits and masks. The doctors said that they are "at risk of worsening the disease" for those who don't have the symptoms, "not to mention the increased risk of contagion for the healthcare personnel." Guatemala has registered 36 cases of Covid-19.
NORTH AMERICA
MEXICO: About 2,500 migrants are living in a crowded camp in Matamoros, a Mexican border town, awaiting asylum hearings under the Trump Administration´s "Remain in Mexico" program. Along with volunteers and doctors, they are trying to prepare for the coronavirus by sleeping head-to-toe, using hand-washing stands throughout the camp, and spreading information about how the virus is transmitted. Matamoros has only 10 ventilators and 40 hospital beds for intensive care. Although Trump announced that the border would partially close last week, many asylum seekers have received little information about their scheduled hearings. The Department of Homeland Security said in a statement that all hearings before April 22nd will be postponed. 
MEXICO: The Ministry of Health said pneumonia patients in the northern state of Chihuahua will receive tests for COVID-19, since coronavirus causes similar symptoms. There have been 2,871 pneumonia cases in the state this year, the agency said, compared to about 3,624 in 2019. The newspaper Diario said the exact number in the cities of Juarez and Chihuahua remain unknown. Arturo Valenzuela Medina, a medical director for the state of Chihuahua, said the state currently has about 5,500 coronavirus tests. So far, he said, 37 people have tested negative and six positive, with 11 cases to be determined.
UNITED STATES: A new policy for handling asylum claims amid the coronavirus pandemic includes a major change for unaccompanied minors apprehended by U.S. Customs and Border Protection. The agency said yesterday that it would send children traveling without parents or guardians back to their home countries. Previously, unaccompanied minors would be housed in shelters across the country while waiting for their asylum applications to be processed. Employees within the Department of Health and Human Services, which had previously overseen the care of these children, have noticed an unusual drop in referrals since border authorities adopted the Trump Administration's strictest asylum rules to date. 
Image courtesy of OEA – OAS via Flickr.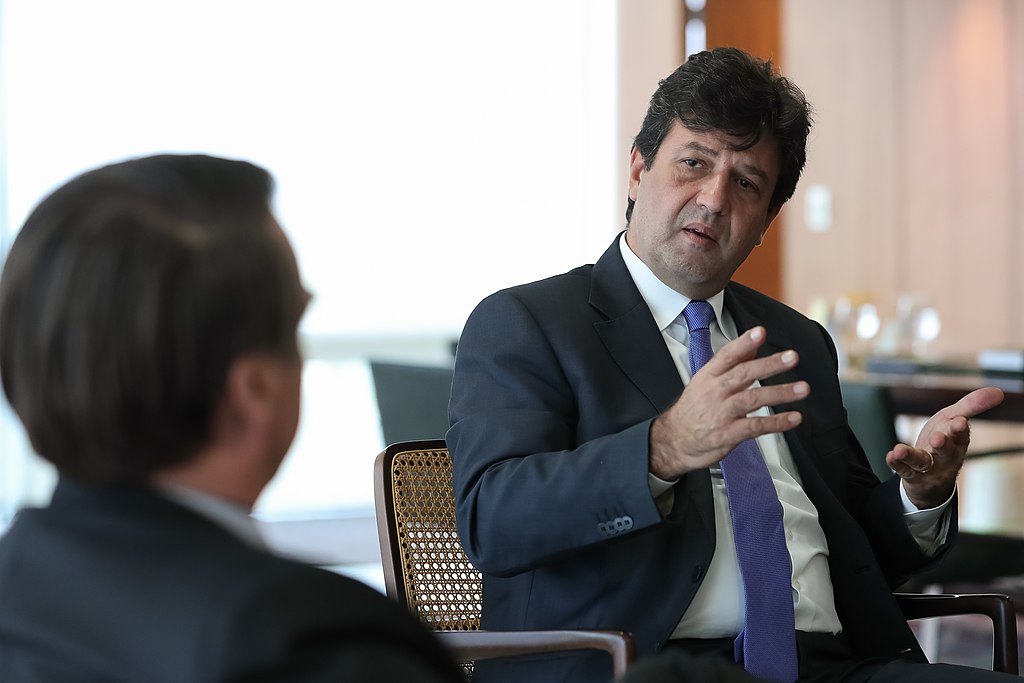 March 30, 2020
> Staff