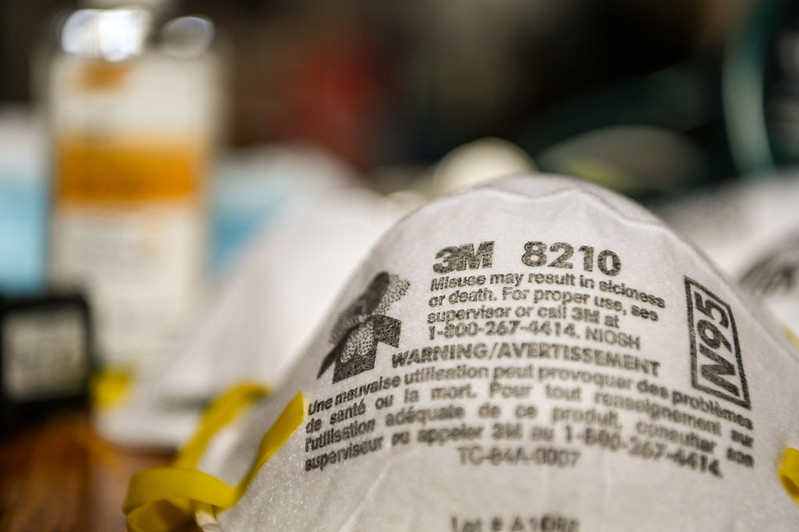 Latin America Faces Disadvantage in Race for Coronavirus Supplies
April 7, 2020
By Staff
TODAY IN LATIN AMERICA
REGION: The manufacturing company 3M announced a deal with the Trump administration on Monday to continue exporting N95 protective masks to Canada and Latin America. Trump invoked the Defense Production Act to block 3M from exporting the masks last week, arguing they should be reserved for U.S. medical care.  The company warned, "There are … significant humanitarian implications of ceasing respirator supplies to health care workers in Canada and Latin America, where we are a critical supplier of respirators."
The dispute highlights how Latin American countries, where coronavirus cases will peak later than in Western Europe and the U.S., may struggle to secure enough medical equipment and personal protective equipment (PPE) for health professionals. Developing countries will be unable to compete with the purchasing power of the U.S. in the global scramble to secure medical supplies. Jeremy Konyndyk, a former U.S. official specialized in disaster response told Politico, "It's 'Lord of the Flies: PPE Edition.'"

In Mexico, factories are making supplies that will mainly end up in hospitals north of the border. The mayor of Tijuana, a city with an important medical manufacturing industry, asked factories to sell more of its products locally. Factories in Haiti are producing hospital scrubs for the U.S. market, but four other factories will produce face masks for Haitians.

Headlines from the western hemisphere
SOUTHERN CONE
BRAZIL: Maranhao state authorities asked Brazil's federal government yesterday to send the national guard to the Arariboia Indigenous Territory due to the killing of natives known for their activism against illegal logging. Antonio Filho Providência Guajajara, of the Guajajara indigenous tribe, was found alive with a gunshot wound to the head on Saturday. However, just a few days before, Zezico Guajajara, a teacher and community activist, was shot dead on a road by his village. In the last six months, five Guajajara men known for their resistance to illegal logging have been killed. 
ANDES
BOLIVIA: Human Rights Ombudsman Nadia Cruz is under increasing pressure to resign after she criticized the government's response to the coronavirus pandemic. In an interview, Cruz said the government knew the risk of an outbreak since September 2019, and the government still was not prepared. The first coronavirus outbreak was reported in Wuhan, China in December 2019. Right-wing presidential candidate, Carlos Mesa, called her ignorant and irresponsible. As of Monday night, Bolivia has 183 confirmed cases of COIVD-19, according to Johns Hopkins University. 
COLOMBIA: Scientists from the University of Antioquia announced yesterday that they were able to isolate the SARS-CoV2 strain circulating in Colombia. According to researchers, the achievement will allow the study of the rate of mutation of the virus compared to the original outbreak in Wuhan, China. President Duque also announced yesterday a two-week extension of the mandatory stay at home order. Only essential businesses and services will be allowed to operate until April 27. Colombia has 1,579 confirmed cases of COVID-19 and 59 deaths.
ECUADOR: Human Rights Watch renewed calls for the Ecuadoran government to investigate rights abuses during October 2019 protests. The government is currently investigating 24 cases of abuse by law enforcement and nine deaths during the protests. Violent protests erupted last year after President Lenín Moreno removed a fuel subsidy resulting in a price hike. HRW argued bringing justice to these cases will prevent further abuses as unrest increases due to coronavirus emergency measures.  
CARIBBEAN
REGION: The European Union announced yesterday in a press release that it will donate €8 million ($8.6 million) to Caribbean nations to aid them in the fight against the spread of the novel coronavirus. The grant, which will be implemented by the Caribbean Public Health Agency (CARPHA), will be used to purchase test kits, masks and personal protective equipment. It will also help the countries enforce quarantine and isolation procedures. Yesterday, Trinidad and Tobago decided to extend its stay at home policy until the end of the month. The nation also mandated people wear masks outside, as the country registered its eighth death. The country has 105 confirmed coronavirus cases. Jamaica, with 58 cases and three deaths, also opted for a longer quarantine for the community where the first death was reported. Barbados, with 60 cases, confirmed its first two deaths related to COVID-19 in less than 24 hours. 
GUYANA: The Court of Appeals ruled on Sunday that the Guyana Elections Commission (GECOM) should proceed by itself with the national recount of votes of the March 2 general election. The court barred CARICOM, a regional organization made up of 15 Caribbean countries, from supervising the process, saying that it would be unlawful and unconstitutional. The general election caused skepticism in Guyana and abroad because the GECOM announced President David Granger the winner before all ballots had been counted. Granger and opposition leader Bharrat Jagdeo agreed on allowing a CARICOM team to oversee the recount. 
CENTRAL AMERICA
NICARAGUA: Costa Rican authorities are considering international actions to monitor the spread of coronavirus in Nicaragua, which has repeatedly failed to institute lockdown measures. Nicaragua has confirmed six cases of the disease, and one death. Nicaragua is the only nation in Central America that has not either closed its borders or enacted isolation orders. Instead, the government has invited people to public Holy Week celebrations. The New York Times reported that schools and shops remain open and President Daniel Ortega has not been seen in public since March 12. The president has skipped several commitments and became the focus of a national meme: "Be like Ortega: Stay Home."
NORTH AMERICA
MEXICO: State police in Oaxaca arrested a former politician for orchestrating an acid attack against saxophonist María Elena Ríos in September. Last month, Ríos accused Juan Vera Carrizal, a businessman and former state lawmaker, of paying two men to throw sulfuric acid on her. She has shared her story amid a national movement calling for better responses to gender-based violence. Authorities arrested two construction workers for the attack in December, as well as an alleged intermediary who linked them to Vera Carrizal. All three suspects are facing attempted femicide charges and Vera Carrizal likely will as well, according to El Universal. 
MEXICO: The coronavirus pandemic is creating obstacles for organized crime in Mexico. Cartels are struggling to access chemicals from China and to get their own products to market. With fewer commercial flights and stricter border controls, getting drugs into the U.S. has become more difficult. Vendors in one Mexico City market have no money to pay the Union Tepito gang for protection, and the gang has started to retaliate. Analysts like Javier Oliva, a political scientist in Mexico City, say coronavirus-related closures could stoke conflicts between cartels.
Image: A 3M N95 mask courtesy of Michael Swan via Flickr.