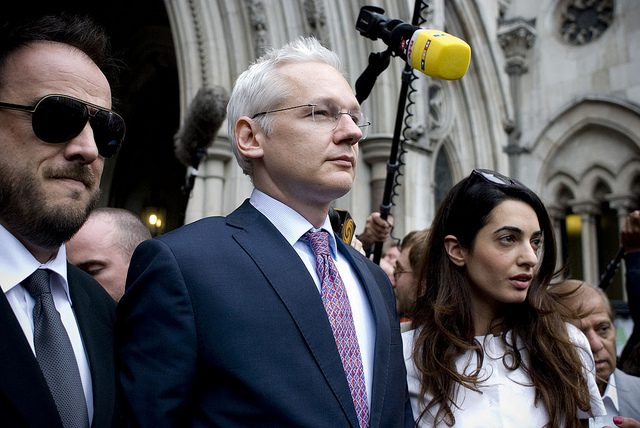 WikiLeaks Founder Awaits Ecuador's Decision on Asylum
June 21, 2012
By Staff
Top Story — With the Ecuadorean government due to respond Thursday to his asylum request, WikiLeaks founder Julian Assange must remain in the Ecuadorean Embassy in London as police line up outside to arrest him. Assange, an Australian citizen who published 250,000 classified U.S. State Department cables on his website, is attempting to avoid extradition to Sweden to face questioning for allegedly sexually assaulting two women in August 2010. Assange, who was arrested in London in December 2010 and has been out on bail ever since, fears being extradited not only to Sweden, but to the United States. British police say they plan to arrest Assange because he has violated the terms of his bail, but he can't be apprehended as long as he remains in the embassy. Speaking from the Rio +20 summit in Brazil, Ecuadorean President Rafael Correa said his government must still verify whether Assange's claim of political persecution is valid. If Ecuador grants Assange asylum, it will still be a challenge for him to gain safe passage from the embassy to an airport.
Read more from the Associated Press.
Headlines from the Western Hemisphere
North America
U.S. President Barack Obama cited executive privilege to withhold documents about the U.S. government's botched "Fast and Furious" operation, a gun-running probe that ended up providing guns in the murder of U.S. border agent Brian Terry.
Immigrants rights activists in the U.S. are urging young undocumented immigrants to make records of their history in the U.S. so that they can remain in the U.S. after President Barack Obama announced that they would be eligible for relief from deportation.
Mexican presidential candidate Enrique Peña Nieto is trying to convince voters that his PRI party has evolved since its 71-year rule of Mexico.
Caribbean
Amendments to Haiti's new constitution took effect on Tuesday, allowing Haitians with dual citizenship to vote, instituting elections reforms, and reserving 30 percent of government jobs for women.
The Dominican Republic's immigration director, José Ricardo Taveras, said that he'd prefer the country were not part of the Inter-American Court of Human Rights. The court is ruling on a shooting of mostly Haitians that occurred in Guayubín in 2000.
A Cuban government official denied accusations by the U.S. that Medicare money was being diverted to banks on the island.

Central America
Andes
Southern Cone
A Chilean judge has determined that Army Gen. Alberto Bachelet, father of former Chilean President Michelle Bachelet, died of heart problems caused by torture when he was arrested following the country's 1973 military coup.
The murder of environmental activists around the world has risen over the last three years, with the London-based Global Witness organization saying that 700 have been killed since 2001.

The Uruguayan government is expected to propose a bill that would legalize the sale of marijuana cigarettes to registered adult users in government-owned shops. Tax revenues from the sales would go to rehabilitating drug addicts.
Image: acidpolly @ Flickr.