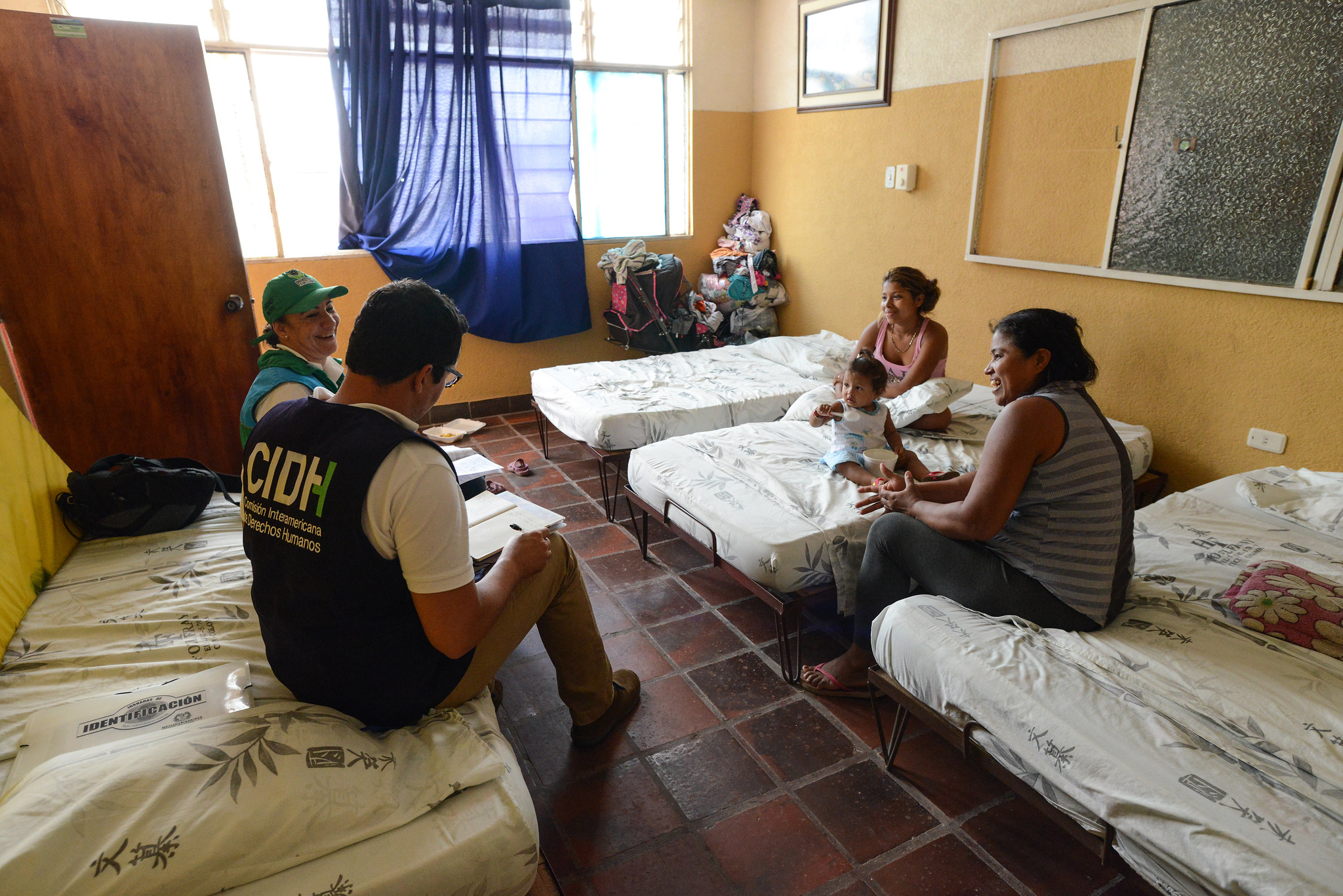 Venezuelan migrants in 2015 after crossing the border to reach Cúcuta, Colombia. Photo Courtesy of the Inter-American Human Rights Coalition, Daniel Cima.
Coronavirus Lockdown is the Latest Challenge for Venezuelan Migrants
BOGOTÁ— Anni Rojas Jiménez first heard about the coronavirus when she was traveling with her husband and brother-in-law from Lima, Peru to Bogotá, Colombia. Rojas Jiménez, who was four months pregnant at the time, made the trip on foot, and with the occasional ride from a passing truck.
It had been a long journey. They left Venezuela last July. Entering at the Colombian border town of Cúcuta, they walked to the capital of Bogotá, where they live for a month before moving to Peru in September. Then her husband lost his job and Peru started deporting Venezuelan migrants. They returned to Bogotá, where her husband and brother-in-law worked on the street cleaning windshields and selling mandarin oranges. With their meager earnings they paid for a pension hotel room.
The night before Bogotá's quarantine took effect, the owner of pension kicked them out. The family slept in parks and plazas for a week until a non-profit helped them secure temporary lodging.
Rojas Jiménez is one of 1.7 million Venezuelans who have arrived in Colombia in recent years. Many Venezuelans have lost their jobs or housing as the region locks down to stop the spread of the coronavirus. The Colombian health system may not be equipped to handle its own citizens and the influx of Venezuelan residents. Facing the pandemic and economic downtown, Venezuelans contemplate returning to the economic and social upheaval they fled.
In Colombia, 58 percent of recent Venezuelan migrants are undocumented. Since 2017 the government has offered temporary work visas to regularize these migrants. But many Venezuelans arrived in the country without passports and have been unable to obtain Colombian residency.
According to Lucia Ramirez Bolívar, migration coordinator at the human rights non-profit Dejusticia, they resort to informal sector work as street vendors, sex workers, or begging. Those who do find regular work often find themselves subject to exploitation or wage discrimination.
Since the first case of the coronavirus was diagnosed in Colombia on March 6, the country acted quickly to contain it. Colombia closed its borders with Venezuela on March 14 and President Iván Duque announced a nationwide quarantine beginning March 24. The measures are devastating for the country's informal workers, who make up over half of the economy.
"It's been a week and there are already many families who do not have sustenance or food or enough money for shelter or to pay the bills," said Arles Pereda, president of the non-profit Venezuelan Community in Colombia. "They are reporting many cases of eviction."
Families unable to pay rent have been evicted, and struggle to meet their basic needs.
As the national quarantine began, rumors spread over WhatsApp that that government was distributing emergency aid. These rumors proved false, but crowds of desperate workers, including Venezuelan migrants, gathered outside city halls. In Bogotá, people shouted, "We're hungry!"
Last week the government pledged to send a one-time cash transfer of about 160,000 pesos, about $40, to three million of the country's informal workers and to increase payments to recipients of existing government welfare programs. They have not mentioned any assistance for Venezuelan migrants.
Alejandro Velasco, who researches democratization and social movements in Latin America at New York University, says that during this unprecedented moment of crisis it is unlikely that governments are going to prioritize them.
"These countries like Colombia, Ecuador and to a lesser extent Bolivia are already in precarious positions economically and financially," Velasco said. "They are more likely to privilege those among its informal sector workers who are citizens. But then that could have a spillover effect in terms of other kinds of populations who are not covered under those terms."
In country with 13 million informal workers, about 60 percent of the workforce, the existing measures will leave behind even Colombian nationals, said Sergio Guzmán, director of Colombia Risk Analysis.
"The temporary relief that the government is giving is positive and is well thought-out," he said. "But ultimately it's not going to be sufficient to meet the needs of this population who are growing in desperation."
Geoff Ramsey, Director for Venezuela at the Washington Office for Latin America, said that while Colombia is deservedly praised for its response to Venezuelan migration, significant shortcomings remain. He is critical of the country's "patchwork of temporary permits," the limitations of which are now coming to light.
"This is a population that's much more vulnerable not only to the pandemic but also to exploitation and abuse," said Ramsey. "I think this is a moment where the Colombian government can put its money where its mouth is and really emphasize the importance of extending at least access to formal status to the over half of Venezuelans that lack it in Colombia today."
As of Friday morning, Colombia has 2,223 cases of COVID-19 and 69 deaths. The statistics do not break down the nationality and migration status of the patients, so it's impossible to know how many of those cases are migrants. Pereda says that he does not know of any confirmed cases of COVID-19 among vulnerable Venezuelans, but he has seen several suspected cases. As in many countries, testing is not widely available.
In Colombia, residents either receive private health insurance, purchased individually or through an employer, or government-subsidized healthcare that covers low-income and unemployed people. Undocumented people can access emergency care but do not have access to treatment for chronic conditions like HIV.
On Monday, the Office of the President published a six-point plan for addressing the needs of migrants in its COVID-19 response. The plan guarantees Venezuelan migrants the same care as Colombian citizens and that humanitarian organizations and local authorities would work together to create isolation zones for those unable to self-isolate. The plan also includes distributing food to 800,000 migrants in 40 municipalities and called on international organizations to provide additional support.
The high rate of informal labor increases the likelihood that workers will violate quarantine measures to sell goods out of desperation, leading to higher rates of transmission, says Jhon James Mora, director of the Universidad Icesi's Department of Economics. He points out that informality is a persistent problem in Colombia, going back years.
As for Rojas Jiménez, she and her family have a roof over their head for now. But without work, they struggle with hunger.
"Yesterday I didn't eat all day," she said. "Eventually the owner of the house where we are gave me a plate of food."
Now seven months pregnant, she has yet to receive any prenatal care. Rojas Jiménez and her husband are debating moving back to Venezuela, a country ill-equipped to handle a pandemic, with longstanding medicine, food and power shortages. But with much of Colombia's transport shut down, they would have to walk.
If they decide to make the journey, they would join thousands of other Venezuelans leaving the country. Quarantine measures across Latin America are leaving countless migrants without income, food, or shelter. Many are making the excruciating calculation of whether or not to return to Venezuela where they might at least have a roof over their head and a support network.
Venezuelans who return are forcibly quarantined in empty schools and other buildings, often without beds, running water or reliable electricity. Some are escorted to crowded bus terminals and wait for days without food, masks or hand sanitizer.
"We're waiting to see what happens with this quarantine to see if we're really going to return to our country," said Rojas Jiménez. "I would like to give birth there because I don't know what will happen here. I've never faced a situation like this."
Banner photo used under Creative Commons, via Flickr.