May Day Marchers Demand Respect For Immigrants' Rights
NEW YORK — In celebration of this year's May Day, thousands of people took to the streets in lower Manhattan, demanding more jobs, higher wages, social security, and respect for the rights of immigrants.
Almost half of the protesters that gathered at Foley Square marched there along Broadway from Union Square. Labor leaders, immigration activists, and community figures spoke to the crowd. Workers and students demanded better treatment for immigrant laborers.
May 1 is traditionally a day for pro-labor protests worldwide. In capital cities all over the world, from Moscow to Kathmandu, thousands of workers held similar protests.
Despite the political passions that protests tend to arouse, Sunday's event was a demonstration of civility and peaceful protest, drawing children and old folk alike. Several families found a fresh spot to lounge on the grass at the Square and enjoy a New York City spring day.
Native American dancers performed, along with a marching band, while protesters waived the flags of countries from all over the world. Some sold books, political publications and pins from improvised booths.
"Immigration Reform Now!" read a sign (in Spanish) in the hands of worker. "May Day is Our Day!" read another.
The march was organized by The Labor Rights, Immigrant Rights, Jobs for All Coalition and the May First Coalition.
View photos from the rally below.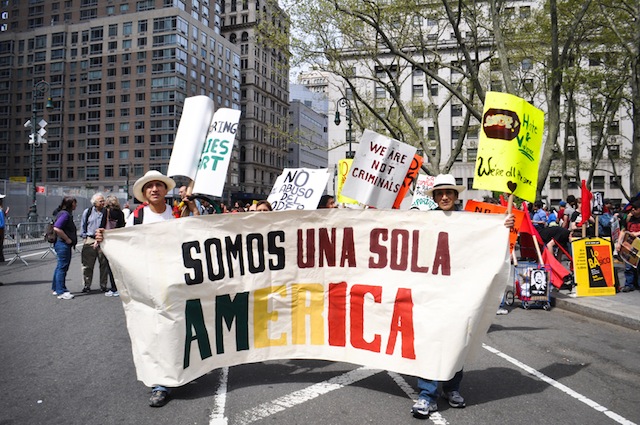 Juan is a journalist and photographer from Caracas, Venezuela. He holds a B.A. in philosophy and Latin American studies from Swarthmore College.  Juan Víctor holds an M.A. from New York University's Arthur L. Carter Journalism Institute and the Center for Latin American and Caribbean Studies. He has worked in Ecuador, France, Cuba, Mexico, Vietnam, the Unites States and his native Venezuela. To see some of his photographic work, go to www.juanvictorfajardo.com