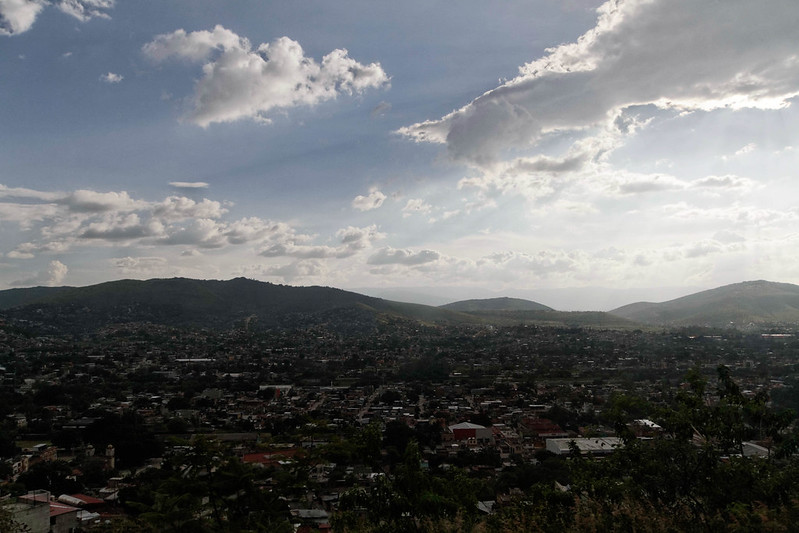 Oaxaca, Mexico in 2012. Photo courtesy of Flickr user Ronald Woan.
7.5 Magnitude Earthquake Kills 5 In Mexico
June 24, 2020
By Staff
TODAY IN LATIN AMERICA
MEXICO: An 7.5 magnitude earthquake hit the Pacific coast of Oaxaca, killing five people as of Tuesday night. The natural disaster was felt hundreds of miles away in Mexico City. The epicenter was in Santa María Zapotitlán, Oaxaca, near the tourist destination of Huatulco.

The country is still recovering from deadly earthquakes in 2017, that left hundreds dead and buildings destroyed. Multiple buildings in neighboring municipalities suffered damages, including a hospital that was treating COVID-19 patients. Fifteen health clinics were also impacted by the quake.

More than 300 aftershocks have been felt around the country as of Tuesday night, with some reaching magnitudes as high as 4.6. A tsunami warning has been set for a radius of more than 600 miles, leaving several Central American countries vulnerable to another possible natural disaster. Landslides have also begun occurring in other areas, damaging roads and leaving destroyed buildings inaccessible. 
Headlines from the western hemisphere
SOUTHERN CONE
BRAZIL: Senators approved a motion yesterday to change the date of municipal elections this year due to the pandemic. Mayoral and council elections will now be held on November 15 and 29. Stricter regulations regarding candidates, including registration for candidacy and electoral propaganda, were also a part of the motion. If the plan is approved by the Chamber, there will be no need for President Jair Bolsonaro to approve of the changes. Brazil is currently is an epicenter of the coronavirus. 
ANDES
COLOMBIA: President Iván Duque announced Tuesday that the national quarantine will be extended for two more weeks, until July 15th. The regulations are not expected to change significantly, with a national curfew set in place for minors and exercising outside only during specific hours. Colombia currently has more than 50,000 confirmed cases of COVID-19.
VENEZUELA/UNITED STATES: Nearly 1,000 Venezuelans have been stranded in the United States due to strict travel restrictions imposed due to COVID-19. Many are unable to afford housing, food, and medical expenses, leaving them particularly vulnerable to both the virus. Humanitarian flights have been difficult to arrange due to the strained bilateral relationship with Venezuela. Activists have attempted to help families reach out to the Venezuelan embassies in Mexico City and Washington to no avail.
CARIBBEAN
HAITI: Ex-paramilitary leader Emmanuel Constant was deported back to Haiti and immediately arrested upon landing. Constant became the face of a violent political uprising in the 1990s which involved the U.S. government, killing hundreds of Haitians. Constant is said to have participated in the torturing of Haitians in the 1990s. A details of his prosecution in Haiti are currently still being debated. 
CENTRAL AMERICA
GUATEMALA: The country reported 771 new COVID-19 cases in one day, the highest one day total since the beginning of the pandemic. Guatemala has one of the lowest death rates in the region, but has experienced a recent surge in fatalities to the virus. Since quarantine began, the country has been under strict regulations. Guatemala currently has more than 11,000 confirmed cases. Hospitals are reaching capacity for COVID-19 patients, and morgues are also strained.

NORTH AMERICA
MEXICO: Fifteen inhabitants of an Indigenous Ikoots village San Mateo del Mar were killed on Monday. The victims of the attack included 13 men and two women. In a communique, the communal assembly representatives said that the municipal president is responsible for the attack. Development projects including wind power farms have created divisions in the region, the Isthmus of Tehuantepec. In May, residents of San Mateo del Mar asked the state and federal government to intervene and prevent the conflict from escalating.