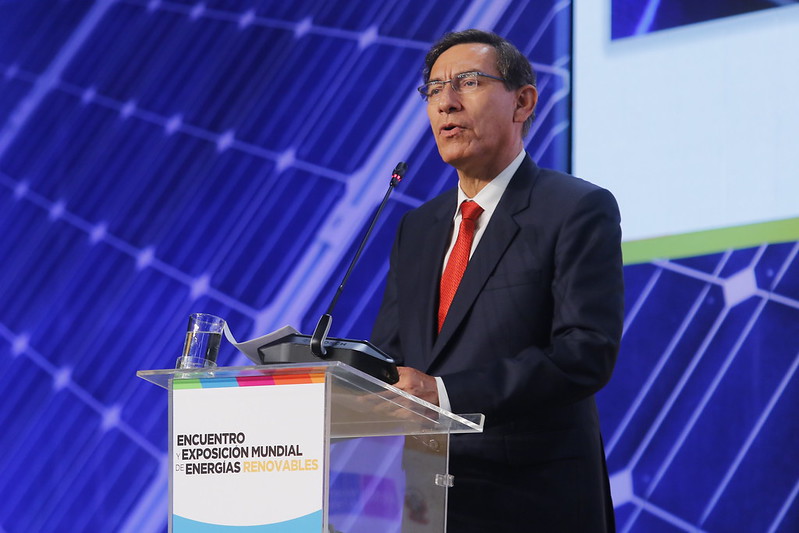 President Martín Vizcarra at a conference on renewable energy in 2019. Photo courtesy of Flickr user Sun World 2019.
Peru Faces Economic Recession Amidst COVID-19 Lockdown
June 25, 2020
By Staff
TODAY IN LATIN AMERICA
PERU: The country is expected to experience one of the worst recessions in the region after months of lockdown due to COVID-19. The official unemployment rate is currently 13%, forcing millions of people to break the quarantine to provide for their families. In efforts to combat the recession, officials are set to fully end all lockdown measures by early next week, with reopenings of malls and stores already occurring. 
Thousands of people waited in long lines this week to enter shopping malls all over the country, with social distancing rules loosely enforced. Despite being one of the first countries to initiate lockdown efforts against COVID-19, Peru now has the sixth highest number of cases in the world. The country currently has more than 260,000 cases of coronavirus, and more than 8,500 have died. 
Headlines from the western hemisphere
SOUTHERN CONE
ARGENTINA: The country is experiencing the largest increase in COVID-19 cases since the beginning of the pandemic, with 2,635 new cases on Wednesday. Since late May, the country has seen a drastic change in its case count, with the total rising from 10,000 to nearly 50,000 in only a few weeks. Yesterday also marked the largest number of recorded deaths from the virus at 38. The economic crisis Argentina was facing before the pandemic is also expected to worsen as a result of the virus. 
ANDES
BOLIVIA: Prosecutors found that respirators sold to Bolivia by Spain-based companies were tampered with in order to sell for a higher price. According to official statements from the Spanish companies, the ventilators were initially sold for around $7,400, but the Bolivian government was told to pay more than $28,000 each. The purchase was agreed to in early May in efforts to combat the growing number of coronavirus cases in hospitals. Several former leaders within the Ministry of Health were also involved in criminal proceedings of the case.
CARIBBEAN
PUERTO RICO: Governor Wanda Vázquez seemingly contradicted herself on whether people arriving to the island will be tested for COVID-19 before being allowed to enter after June 30. Vázquez announced on Tuesday that the health measure would be included in a new executive order, but stated on Wednesday that the measure was her "opinion" and needed to be discussed with medical teams. The executive order is expected to be announced this weekend. Currently, the Puerto Rico National Guard is in charge of a screening station at the Luis Muñoz International Airport, but testing for COVID-19 in travelers is voluntary.
CENTRAL AMERICA
COSTA RICA: Despite reaching a record new number of coronavirus cases, Costa Rica is expected to go forward with plans to reopen its economy in the  coming weeks. The country reported 147 new cases in one day, the highest daily number since the beginning of the pandemic. In a statement, President Carlos Alvarado said that his government is balancing between the country's health needs and economic needs, committing to "protecting the health of Costa Ricans" as well as reopenings. Different regions and popular tourist destinations are set to gradually reopen this week and next.
EL SALVADOR: Government officials warned of irregular water service for multiple municipalities and cities due to a break in a main sewer system in San Salvador. Some towns have been without clean water for more than two weeks due to other problems with the sewer system. Human rights lawyers are calling for the "necessary measures" to fix the problem as soon as possible.
NORTH AMERICA
MEXICO: President Andrés Manuel López Obrador announced Wednesday that he will travel to the United States soon to meet with President Donald Trump. AMLO stated that he also hopes Canadian Prime Minister Justin Trudeau will participate in a meeting to commemorate the anniversary of the free trade agreement initiated by the three countries last year. Despite being on different sides of the political spectrum, AMLO and Trump have been on mostly friendly diplomatic terms. Trump has vocally insulted Mexicans who cross the U.S.-Mexico border with racist remarks since his 2016 presidential campaign.
UNITED STATES: Secretary of State Mike Pompeo announced that the U.S. will be providing $252 million worth of additional aid to countries in the northern triangle, including El Salvador, Honduras and Guatemala. In a statement on Twitter, Pompeo said the aid is for efforts to "reduce illegal immigration to the U.S." from these countries, and to help make them "safer." In 2019, the Trump administration cut $450 million of foreign aid to the region, with President Trump stating that those countries "haven't done a thing for us."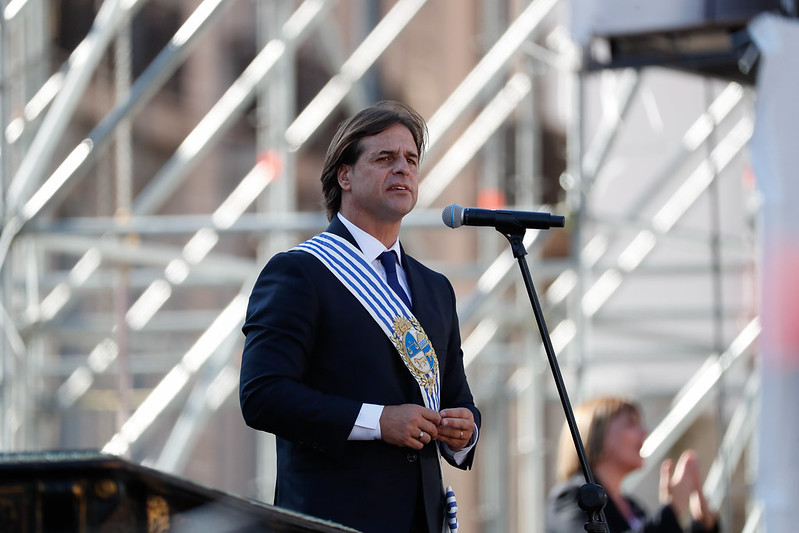 June 26, 2020
> Staff