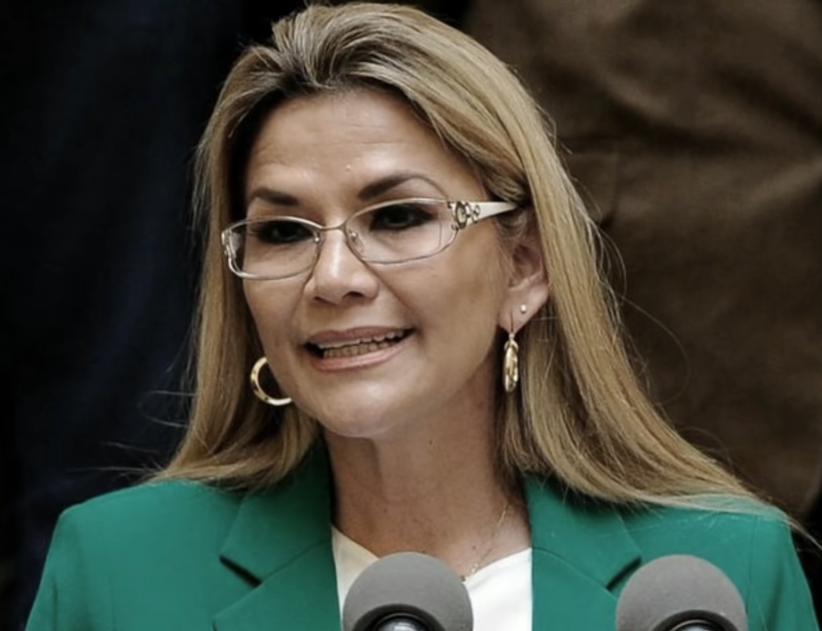 Añez addressing Bolivia's Congress in January. Photo courtesy of Noticias al Dia via Wikimedia Commons.
Bolivian Interim President Jeanine Añez Tests Positive For Coronavirus
July 10, 2020
By Staff
TODAY IN LATIN AMERICA
BOLIVIA: In a video on Twitter, interim President Jeanine Añez confirmed that she has tested positive for the coronavirus. Añez said that she will be quarantining herself and continuing to work from home, stating that she "feels strong." She is the second Latin American president this week to test positive for COVID-19, and the third overall. Three other ministers in her administration have also tested positive. 
The Andean country broke yet another record for the number of daily recorded COVID-19 cases, with 1,439 on Thursday. Cities have reported digging mass graves due to the rising number of coronavirus deaths, and protestors have defied the national lockdown to criticize the Añez administration's efforts to combat the pandemic. Major cities such as La Paz and Cochabamba have also declared states of emergency due to a lack of medical supplies, claiming that hospitals are near capacity.
Headlines from the western hemisphere
SOUTHERN CONE
ARGENTINA: On the country's independence day, thousands of people protested restrictions placed on businesses during the quarantine and corruption in the government. Major cities such as Buenos Aires and Rosario, which have seen the highest number of COVID-19 cases, also saw the highest number of protestors. Some demonstrators in Obelisk began attacking journalists after they attempted to distance themselves from the large crowds. Hundreds of members of the Oil Workers' Union also protested in defense of worker's rights.
CHILE: Multiple human rights organizations filed an official complaint against President Sebastian Piñera, the ex minister of health, and other government officials for "gross negligence" in their coronavirus efforts. The complaint cites the more than 10,000 deaths due to COVID-19 in the country. They say that numerous cases of corruption and a collapsed health system have hindered the response to the coronavirus. The organizations also call for better access to public information that affects the Chilean people. Chile currently has more than 274,000 confirmed cases of the coronavirus.
ANDES
PERU: The country's coronavirus numbers continue to drastically increase, with the Ministry of Health reporting more than 3,500 new cases on Thursday. 181 deaths were recorded yesterday. Peru has the fifth-highest number of coronavirus in the world, with the city of Lima being the most affected. Health care workers protesting for better working conditions were also recently sprayed with water cannons by police. The workers were promised bonuses for their efforts in combating the coronavirus that they have yet to receive.
VENEZUELA: The leader of President Nicolás Maduro's political party has tested positive for COVID-19. Diosdado Cabello, who is one of Maduro's strongest allies, stated on Twitter that he will be quarantining and is getting treatment. Maduro showed his support for Cabello in a televised broadcast, hoping for his recovery. Venezuela currently has more than 8,000 cases and 80 deaths. Journalists and health care workers have been persecuted by the Maduro administration for questioning the country's official coronavirus data. Hospitals have also reported lacking a number of supplies needed to combat the virus, including water and electricity. 
CARIBBEAN
PUERTO RICO: The island is facing a number of political, economic and health emergencies. A severe drought has left thousands without reliable sources of water for the past week, and at least 300,000 people have filed for unemployment due to the coronavirus. Puerto Ricans have reported delays in unemployment checks since last June, leaving many to rely on food banks and other services to provide for their families. Governor Wanda Vázquez, who is in the midst of an internal investigation due to allegations of obstruction of justice, has also faced calls to resign due to an insufficient response to these emergencies and alleged corruption in her cabinet.
CENTRAL AMERICA
BELIZE: The South side of Belize City is officially under a state of emergency due to an increase in murders and other crimes. The Ministry of Security has reported an increase in robberies and extortion from gang members. The state of emergency follows one which was recently lifted to slow the spread of the coronavirus. Governor General Sir Colville Young stated that he plans on extending the 30-day measure if needed by the end of the month. Belize currently has only 33 confirmed cases of the coronavirus and 2 reported deaths.
EL SALVADOR: Municipalities are running out of space in cemeteries due to the rising number of COVID-19 deaths. Ilopango mayor Adán Perdomo stated that his city's cemetery is running out of room, as 117 deaths in the municipality are suspected to be COVID-19. Perdomo and other mayors are submitting requests for aid from the federal government to address the issue, totaling to $50 million. Local leaders also hope to allocate the funds to increase coronavirus efforts and provide more supplies to those in need.
NORTH AMERICA
MEXICO: Healthcare workers in Mexico are reported to be six times more likely to die from COVID-19 than in both China and the United States, according to a new study. The report states that Mexican healthcare workers are less likely to have access to protective equipment such as masks and training on how to prevent transmision of the coronavirus. As a result, nearly 2.5% of Mexico's coronavirus cases consist of medical personnel. A survey of 1,915 health officials found that more than 70% of these workers fear dying from COVID-19, and that they believe the government's response to the pandemic has been "bad."