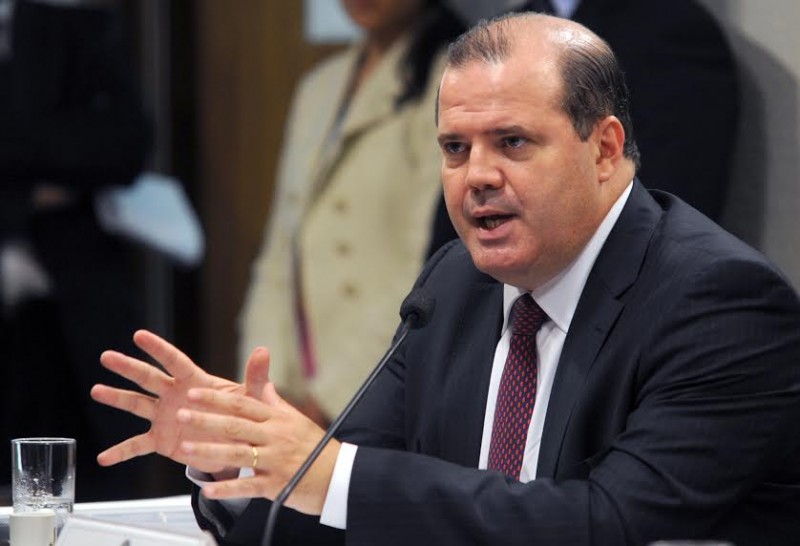 Brazilian Central Bank President Alexandra Tombini (Image:
Antônio Cruz/Abr
CC BY 3.0)
Brazil's Inflation Rises as Growth Forecast is Cut
June 25, 2015
By Staff
Top Story — The Brazilian central bank issued a dismal economic forecast on Wednesday, predicting a contraction of the gross domestic product by 1.1 percent in 2015 and a nine percent inflation rate — the highest in more than a decade for the South American country. The forecast, if it comes to pass, would result in Brazil's most significant recession in 25 years, at a time when the ruling Workers' Party is in turmoil over its alleged involvement in a multi-billion dollar kickback scheme at partially state-owned oil giant Petrobras.
Central bank President Alexandre Tombini's Wednesday announcement that the inflation rate would remain raised was in opposition to the bank's prediction three months earlier that inflation would diminish to 7.9 percent by the end of the year. Tombini still maintains that the inflation rate will taper off to the targeted 4.5 percent in 2016.
The quarterly report published on Wednesday comes at a difficult time for President Dilma Rousseff, whose approval ratings currently stand at a record-low of 10 percent. Dozens of members of her Workers' Party have been charged over their alleged role in the influence-peddling corruption scheme at Petrobras, which Rousseff chaired between 2003 and 2010. Even former President Luiz Inácio Lula da Silva distanced himself from Rousseff, his successor, when he criticized the current state of the Worker's Party during a speech.
On Monday, the Brazilian president arrives in New York as part of a three-day visit to the United States to lure investment to her country. According to Reuters, however, it will be difficult for Rousseff to "convince Wall Street" that her weakened government is capable of pulling Brazil out of its stagnation and return to its former economic success.
Headlines from the Western Hemisphere
North America
Caribbean
Central America
Andes
Southern Cone