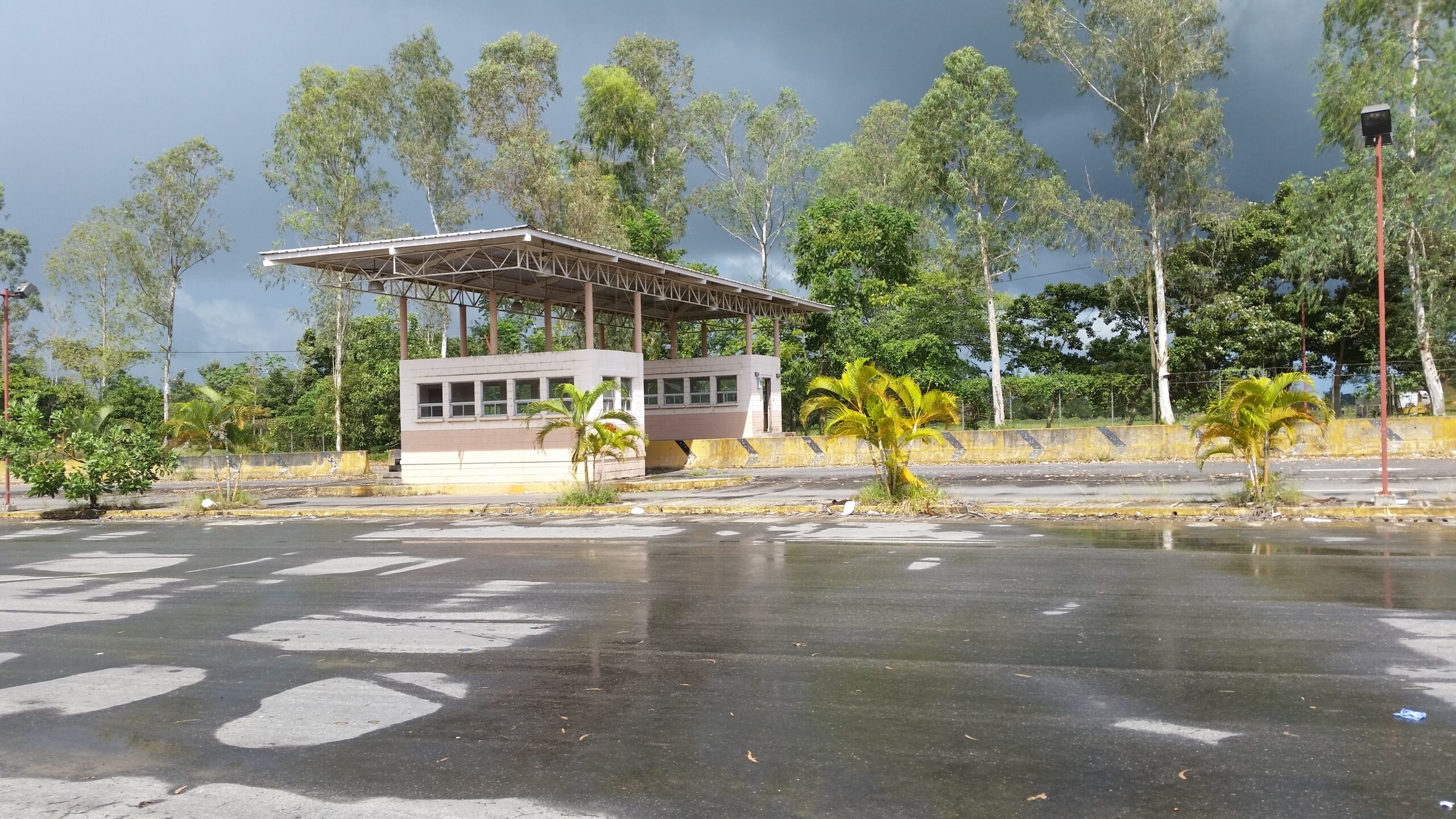 The border between Guatemala and Honduras. Photo courtesy of JVC3ETA via Wikimedia Commons.
Guatemala Will Investigate 'Unauthorized' Collaboration with U.S. Immigration Agents
October 16, 2020
By Staff
TODAY IN LATIN AMERICA
GUATEMALA: The Guatemalan government announced on Wednesday it will investigate the allegations brought forth by a U.S. Senate committee report, which found that U.S. immigration agents helped local officials detain Honduran migrants in Guatemala in an "unauthorized" operation. Guatemala's Ministry of Foreign Relations, the Migration Institute and the Office of the Attorney General will participate in the "verification and analysis process." The country's National Civilian Police is also looking into the report's findings. 
The Democratic staff of the U.S. Senate Foreign Relations Committee on Tuesday revealed in the report that U.S. border agents and Guatemalan authorities rounded up a caravan of Honduran migrants who were headed to the United States to seek asylum and sent them back to Honduras last January. The U.S. Department of Homeland Security acknowledged the operation violated terms of an interagency agreement, according to the report.
Headlines from the western hemisphere
SOUTHERN CONE
BRAZIL: The Friendship Bridge that connects Brazil and Paraguay reopened this Thursday, but only for only people with identification cards from Foz do Iguaçu and Ciudad del Este. Paraguay reopened the bridge that has been closed since March due to COVID-19, only under the conditions that it's open from 5 a.m. until 2 p.m., according to La Nación. Citizens will be required to pass only by car, and the use of face masks is mandatory.
BRAZIL: Deputy leader of President Jair Bolsonaro's government in the Senate, Chico Rodrigues, stepped down on Thursday after police allegedly found cash in his underwear as part of an investigation into stolen COVID-19 funds. The police found an equivalent of 13,700 U.S. dollars in his home, including $2,675 in his underwear, according to the Associated Press. Rodrigues released a statement denying any wrongdoing and accused the police of false accusations, saying that he will prove he has nothing to do with any illicit act.
ANDES
BOLIVIA: More than 28,500 Bolivians in Panama and five cities in Chile won't be able to vote in the general elections, the Supreme Electoral Court of Bolivia confirmed on Wednesday. The decision to suspend voting privileges in Panama and the cities of Arica, Iquique, Antofagasta, Calama and Copiapó, in Chile, is due to both countries' efforts to hinder the spread of COVID-19. The permission for Bolivians to vote in Argentina is still in the works, according to the court. 
COLOMBIA: Thousands of Indigenous Colombians flooded the streets of Bogotá on Wednesday to protest the extreme violence against their community. Minga, the native Colombian mobilization group, were promised land decades ago and these were leased to plantation owners. President Iván Duque's cabinet fiercely opposes the surrendering of Indigenous land. A national strike has been set for Oct. 21.
CARIBBEAN
PUERTO RICO: Nearly a month after the kidnapping and murder of 20-year-old Rosimar Rodríguez Gómez, Puerto Rican authorities arrested the primary suspect in the case on Thursday. Jay O'neill González Mercado, 20, was arrested on five charges: one count of murder in the first degree, one of kidnapping, two counts of violation to the local gun law and one count of providing false information to the authorities. González Mercado, who did not post his $2.14 million bail, will await his preliminary hearing in a jail in Bayamón. Rodríguez Gómez's case rocked the island after she was kidnapped on Sept. 17, setting off an extensive search that eventually led to the discovery of her body 10 days later. Puerto Rico has so far recorded 34 femicides this year. 
CUBA: The U.N. General Assembly elected Cuba to the U.N. Human Rights Council on Tuesday, along with China and Russia, despite opposition from human rights activists. In response, more than 80 civil rights organizations from Cuba and abroad signed a letter criticizing the move, saying that it "undermines the integrity of the Council to hold abusive governments accountable for their actions." Cuba, which ran unopposed, secured 170 out of the 192 votes, well above the 97 votes majority needed to be elected.
CENTRAL AMERICA
PANAMA: Members from six Panama Canal labor unions took to the streets of Panama City on Wednesday to protest a "ridiculous" wage hike for the next four years. According to union representatives, the Panama Canal Administration (ACP) is considering instituting a raise of  0.015 cents for 8,000 out of nearly 10,000 employees. Workers are outraged considering that the current head of the ACP received a raise of nearly $12,000 a month in 2019. Six percent of all world trade passes through the Canal.
NORTH AMERICA
UNITED STATES: Immigration authorities made more than 57,000 apprehensions of undocumented migrants last month at the southern border. Around 50,000 of those apprehensions became "rapid" expulsions. The "rapid" expulsions are a result of an order by the Centers for Disease Control and Prevention (CDC) to prevent the spread of infectious diseases, according to U.S. Customs and Border Protection (CBP) data released earlier this week. When CBP Commissioner Mark Morgan was asked at a press conference when the expulsions would stop, he said this is a decision for the CDC to make based on the migrant's country of origin's health conditions. Since mid-March, the U.S. Department of Homeland Security has used the pandemic guidelines to conduct 204,000 expulsions of migrants and asylum seekers. 
MEXICO: A group of journalists in Iguala, Guerrero, directed a letter to President Andrés Manuel López Obrador this week asking for federal protection and accusing the criminal organization "Guerreros Unidos" of threatening them and their families. The threats started last week after a protest for detained families in the Northern Regional Prosecution Center. The criminal organization mentioned in the threats that the journalists shouldn't get involved in the matters of organized criminal organizations. They also said that a member of their organization would be killed like Pablo Morrugares, a journalist murdered earlier this year, in the next couple of weeks. Morrugares was the fifth journalist killed in Mexico this year, adding to the list of more than 120 journalists killed in the past 20 years. 
MEXICO: Ricardo Salinas Pliego, an advisor to President Andrés Manuel López Obrador, has tested positive for coronavirus. Salinas Pliego announced his test results earlier this week through twitter and is not experiencing any symptoms. Salinas Pliego is Latin American's seventh-richest man and the founder and president of Grupo Salinas, which owns some of Mexico's biggest companies, like TV Azteca and Banco Azteca. Salinas Pliego, 65, has been an avid opponent of the restrictions set in Mexico due to the pandemic and has said that they will wreck the economy.