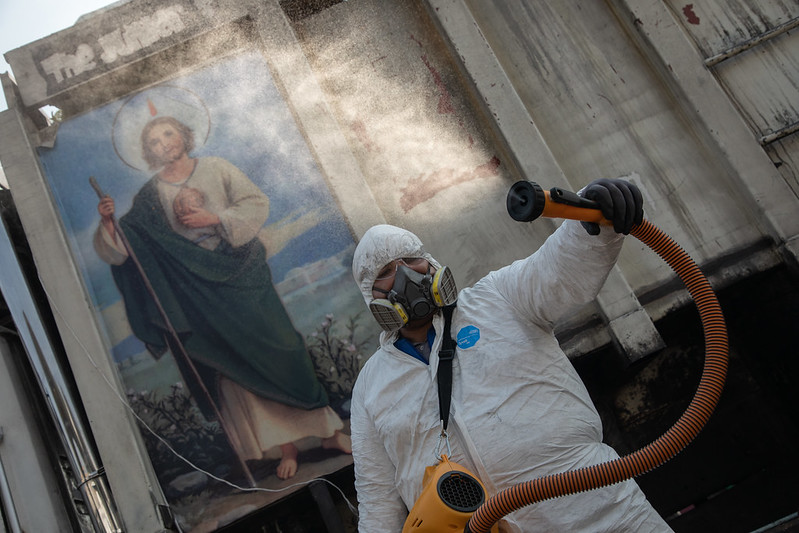 A sanitation worker cleaning in the neighborhood of Atlampa in Mexico City, Mexico in April 2020. Photo courtesy of Eneas De Troya via Flickr.
Eight Out of Ten Coronavirus Patients Put on Ventilators Die in Mexico
October 23, 2020
By Staff
TODAY IN LATIN AMERICA
MEXICO: Eight out of ten patients put on ventilators since the beginning of the pandemic die from COVID-19 in the country, according to the Institute of Social Security (IMSS). The institution attributed the mortality rate to patients arriving at the hospital in grave conditions and the lack of health professionals in intensive care. The IMSS reported that, of the 17,331 of the intubated patients in October, 15,070 have died.
Alejandro Macías, infectious disease specialist and part of the Commission from the National Autonomous University of Mexico for COVID-19, said there is a lack of health professionals that know how to operate it properly, though the government prepared by getting enough ventilators. Mexico City leads with 2,810 coronavirus-related deaths, followed by the State of Mexico with 1,979 and Veracruz with 964.
Headlines from the western hemisphere
SOUTHERN CONE
BRAZIL: President Jair Bolsonaro announced that he will invite foreign diplomats to visit the Amazon rainforest in order to "prove" that it has not been devastated by fires. However, data from the National Institute for Space Research shows that from January to September 2020, the Amazon has had 76,030 fires, the highest number of fire outbreaks in ten years. The trip to bring diplomats into the country was announced in early September by Vice President Hamilton Mourão after receiving a letter signed by eight European representatives stating that the forest fires were making the acquisition of Brazilian products difficult for the countries involved.
ANDES
VENEZUELA: President Nicolás Maduro has asked the United States to extradite Iván Simonovis back to Venezuela so he can be tried for treason, illicit firearm trafficking and terrorism. The commissioner, who was under house arrest for 14 years, escaped in 2019 to the U.S. and has joined forces with the U.S. government by providing secret information about Venezuela.
ECUADOR: Workers flooded the streets of Quito in protest against the economic measures taken by the President Lenín Moreno. Activists decried unemployment, corruption, pay cuts and privatization, El Universo reported. So far, the demonstrations have been peaceful, but there has been mention of people joining to cause violent dissent, which sparked concern in the country. Minister María Paula Romo announced the police will respond if the protests turn violent and assigned at least 5,000 officers to surround Quito. However, the president of Frente Unitario de Trabajadores assured the media that the protests would be peaceful and that the 4,000 people part of the protest are sticking to their goal to dissent without the use of violence.
CARIBBEAN
PUERTO RICO: Puerto Rico temporarily shut down its 911 call centers on Wednesday night after multiple employees tested positive for the coronavirus, public safety secretary Pedro Janer announced. Janer asked Puerto Ricans to instead call the island's emergency management agency while the line was down, but callers were, confusingly, getting an automated message directing them to call 911 for an emergency. As of Thursday morning, the agency announced call forwarding had been enabled so that residents could once again call 911 again if needed. Janer said that the call centers will be decontaminated and employees in contact with employees who tested positive will be isolated and tested.
CENTRAL AMERICA
COSTA RICA: The Costa Rica Tourism Board has announced its plans to restart the country's tourism sector, releasing a series of health protocols and plans for reopening its borders and tourist activities. On Nov. 1, all tourists who meet entry requirements will be allowed to fly to the country. The board noted that it worked with the United States government to lift the "Do Not Travel" advisory previously applied to the country.  The board also introduced a "Vamos a Turistear" program that will encourage internal tourism with offers for Costa Rican citizens and residents. Tourism is a major part of the country's economy, making up 8.2% of its GDP and 9% of its jobs in 2019. 
GUATEMALA: A criminal and drug offenses trial judge was shot and killed on Wednesday in Petén while eating at a restaurant. Waldo Josué Alvizures Ruano served on a municipal court in San Benito, a municipality about 300 miles north of Guatemala City. Along with Alvizures Ruano's family, the country's judicial body called for an immediate investigation into the murder. The Public Ministry announced it had already begun investigating the crime scene. Local news outlet Soy502 reported that attorney Jenniffer DellAcqua was also injured during the attack. Her family said that she is currently hospitalized, but authorities have not confirmed the second casualty.
HONDURAS: The United States Southern Command chief, Admiral Craig S. Faller, visited Honduras on Tuesday to congratulate President Juan Orlando Hernández for his government's role in "Operation Dominion." The operation, which focused on combating drug trafficking and organized crime in Central America, was carried out from April to October by military members of both countries. In total, authorities arrested 195 criminals and intercepted quantities of cash and drugs. Hernández emphasized the need for the two countries to continue their work together. Honduras has seen a slight decrease in violence, but human rights organizations still record between 11 and 13 violent deaths each day.
PANAMA: German authorities have issued an arrest order for two Panamanian lawyers whose firm is connected to the Panama Papers scandal even though Panama's constitution prohibits the extradition of its citizens. Attorneys Juergen Mossack and Ramón Fonseca already face charges in Panama and are prohibited from leaving the country while currently out on bond after a two-month jail stint. Their charges relate to their involvement in hiding bribe money for the Brazilian construction company Odebrecht, as well as the Panama Papers scandal, which uncovered an international tax evasion scheme implicating various public figures and wealthy individuals.
NORTH AMERICA
MEXICO: Inflation has increased to 4.09% in October, according to Mexico's National Institute of Statistics and Geography (INEGI). The Bank of Mexico had expected the increase to be at about 3.5% by the end of the year. The products that increased in price include electricity, tomatoes, domestic gas, onions and cacti. Mexico has the highest inflation rate in all of Latin America, which has worsened due to the current economic crisis as a result of COVID-19.
MEXICO: The Mexican House of Representatives endorsed President Andrés Manuel López Obrador's referendum against his predecessors on corruption with 272 votes. The referendum is looking at the administrations of former Presidents Carlos Salinas de Gortari, Ernesto Zedillo Ponce de León, Felipe Calderón Hinojosa and Enrique Peña Nieto for being involved in the "privatization rife with cronyism, spiraling violence, and an increasing concentration of wealth," according to The Guardian.