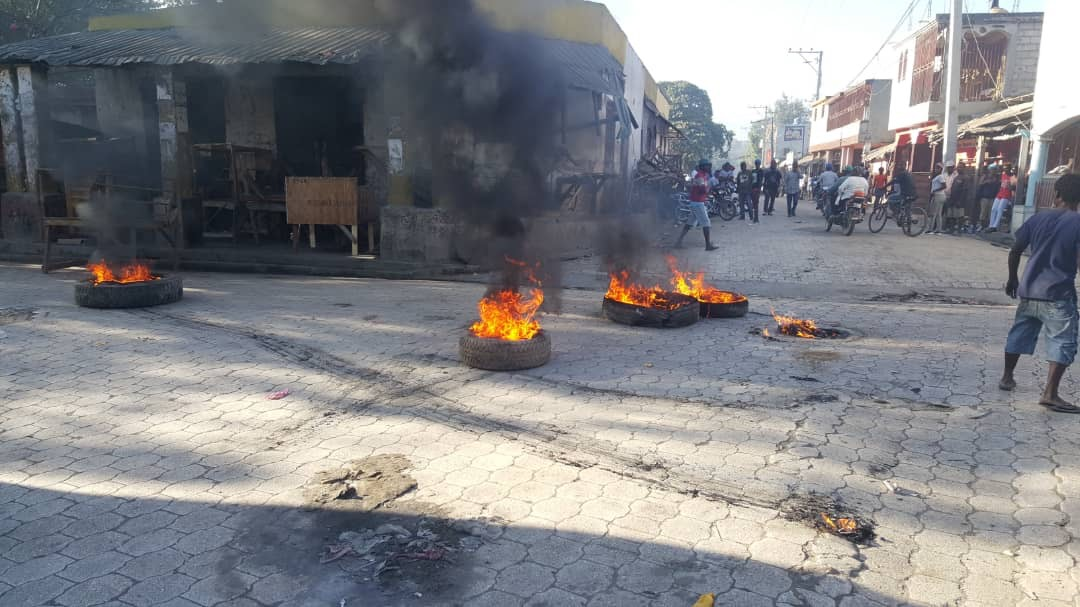 Protesters burn tires in a 2019 demonstration against President Moïse in the city of Hinche. 
Haitian President Moïse Confronts Judiciary as Unrest Continues
February 15, 2021
By Staff
THIS WEEK IN LATIN AMERICA
HAITI: Haiti's protracted political crisis passed a milestone last Sunday, February 7 as President Jovenel Moïse stayed in office past the day the Supreme Court and opposition leaders claim his term should have ended. Because of a difference in interpretation of constitutional law, Moïse believes his term should end on the same day in 2022.
Instead of leaving office on February 7, President Moïse ordered the arrests of 23 people for allegedly plotting a coup, including Yvikel Dabrésil, a Supreme Court justice tapped by the opposition as a possible interim president post-Moïse. Moïse's government also forced Dabrésil and two other justices associated with the opposition to retire.
On Monday, judges across the country begin an indefinite strike demanding Moïse reinstate the fired justices and respect the separation of powers.
On several days throughout the week, police clashed with protesters demanding Moïse's resignation. On Wednesday, the Dominican Republic took action to secure its border with Haiti and prevent the unrest from spilling over, including increasing military presence and staging flyovers with fighter jets.
Earlier this month, the United States government indicated its support for President Moïse and his belief that his term should end in last another year, but expressed hope that the Haitian government will exercise restraint in dealing with protesters.
Headlines from the western Hemisphere
SOUTHERN CONE 
ARGENTINA: Former President Carlos Menem died at age 90 on Sunday, bringing an end to a long political career. Menem was first elected governor of La Rioja province in 1973. He was removed three years later and detained under the military dictatorship. When democracy was restored, he was reelected governor in 1983, and elected president in 1989 after campaigning on promises of "productive revolution" and a focus on employment. While in office, the constitution was changed to permit him another term, and he served as president for 10 and a half years, the longest tenure of any Argentine president. During that time, he brought hyperinflation under control and presided over deregulation and the privatization of public services. His policies also led to increased unemployment, foreign debt and inequality. After his presidency, Menem was embroiled in several controversies related to corruption and illegal weapons sales. Being elected Senator for La Rioja in 2005 helped him avoid jail time when he was convicted for the latter. He served as Senator until his death. 
CHILE: Violent protests erupted in southern Chile on February 6 after a street performer was shot and killed by police in the city of Panguipulli. Ten local government buildings were burned beyond repair, leaving city residents without public services like water or mail. According to witnesses, Francisco Martínez, the 25-year-old juggler who was killed, was performing at an intersection when he was asked by a police officer to show identification. When he refused, an argument ensued, ending with the police officer shooting Martínez in the chest. The mayor of Panguipulli placed blame for the killing on the officer, who has been arrested and is under house arrest as the investigation proceeds. 
ANDES
BOLIVIA: Bolivia's Congress approved an amnesty law on Thursday pardoning over 1,000 people who faced prosecution under former interim President Jeanine Áñez. After a contested election in 2019, incumbent Evo Morales fled Bolivia amid accusations of election fraud and Áñez assumed the presidency in what opponents called a coup. Among those covered by the amnesty are social and political leaders who opposed Áñez and were accused or charged with sedition, terrorism, and electoral fraud, possibly including former president Morales, whose party returned to power with the election of Luis Arce in November of last year. 
COLOMBIA: A turf war between armed groups led to a 200% increase in homicides in the city of Buenaventura in January, compared with the same month last year. The increased violence has been largely overlooked by media outlets, and citizens are pleading for attention and action on social media. Buenaventura, Colombia's largest port city, has historically been a hub for drug trafficking. The communities affected by the violence are mostly Afro-Colombian. The Colombian military maintains a significant presence in the area, but people continue to be displaced and killed. Despite being a national economic hub, Buenaventura residents lack basic services like regular electricity, clean water, suitable housing, schools and healthcare. Protests against these conditions in recent years have been met with police violence. 
CARIBBEAN 
CUBA: Cuba has started mass production of the Soberana 02 COVID-19 vaccine, after Phase II clinical trials showed the jab generates an immune response. The first and second batches of 150,000 doses of Soberana 02 will be used for Phase III trials, set to begin in March. A representative from the Finlay Institute in Havana, where the vaccine was developed, said Cuba has the capacity to produce 100 million doses by the end of the year, more than enough to cover the island's population of 11 million. Officials had previously said that Phase III trials will take place in Iran or in other countries because of Cuba's low infection rate. Cuba is one of the countries in the western hemisphere least affected by the coronavirus, with a death rate of only 23 per 100,000 people.
CENTRAL AMERICA
HONDURAS: The February 6 death of a nursing student in police custody sparked angry protests last week in the city of La Esperanza, department of Intibucá, where the incident took place. Keyla Martínez was arrested on February 6 for allegedly violating a curfew put in place to reduce the spread of COVID-19. Police say the 26-year-old student tried to asphyxiate herself in a cell later that night, and died after being rushed to a hospital. But an emergency room doctor on call when Martínez arrived told reporters that her death could not have been a suicide, and that the victim was dead on arrival. Prosecutors have opened an investigation of the murder, and 13 officers are currently considered suspects. 
GUATEMALA: Opposition Deputy Carlos Barreda is calling on the Mexican government to release information about the killing of 14 Guatemalan migrants in the state of Tamaulipas last month. Barreda said that Mexican officials should furnish information to determine whether or not the incident was a "state crime." The 14 Guatemalans were among 19 people whose bodies were found in a burnt out truck on January 23 near Mexico's border with the United States. Twelve Tamaulipas state police officers have been arrested and are facing charges for involvement in the killings.
NORTH AMERICA
MEXICO: Mexican President Andrés Manuel López Obrador warned migrants not to believe rumors that "doors are open" to the United States because of the inauguration of President Joe Biden. He also warned migrants that smugglers will often deceive them by understating the difficulty of the journey north.
The vast majority of migrants continue to be turned away at the U.S. southern border. Although Biden is committed to changing Trump's immigration policies, it will take time to implement those changes. López Obrador also mentioned the recent massacre in Mexico of 19 people including 14 Guatemalan migrants, and used it to justify his policy to stop Central American migrants at Mexico's southern border with Guatemala.
MEXICO: Mexico received a shipment of around 870,000 AstraZeneca vaccine doses on Sunday, which will be used to vaccinate older adults in the country's most impoverished and remote areas. But critics of the decision say that it would be more effective to vaccinate people living in dense urban areas that have been hit harder by the new coronavirus.
Mexico will receive an additional 494,000 doses of the Pfizer vaccine this upcoming Tuesday and hopes to be able to secure enough doses from Russia, China and India to make vaccinations available for all Mexicans over 60 by mid-April. Mexico started vaccinating healthcare workers in December. The country has the third-highest COVID-19 death toll in the world, after the United States and Brazil.