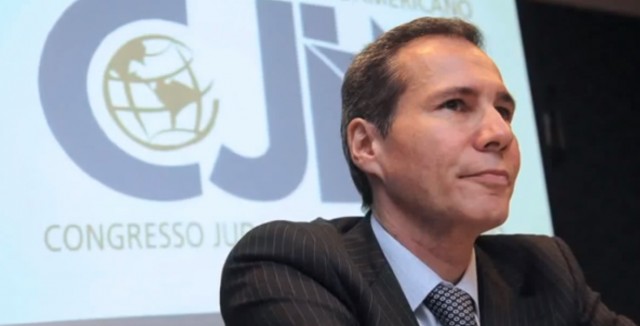 New Evidence Raises Questions About Death of Argentine Prosecutor
January 22, 2015
By Staff
Top Story — New evidence uncovered during an investigation into the mysterious death of an Argentine prosecutor who accused President Cristina Fernández of protecting Iranian officials connected to a terror bombing complicates the narrative that he took his own life on Sunday night.
A locksmith consulted by investigators on Wednesday said that one locked entrance to the apartment of Alberto Nisman could be easily opened with a simple hook. Investigators also found a third way to access Nisman's residence through a passageway connected to a neighboring apartment occupied by a foreign national, who has yet to be identified. That passageway reportedly contained a footprint and fingerprint that investigators said appeared recent.suss
Nisman was found dead of a single gunshot wound to the head late on Sunday by members of his security detail of ten guards. He had been set to testify on the following day regarding his 300-page accusation that Fernández had worked to conceal Iran's role in the deadly 1994 bombing of a Jewish center in Buenos Aires in exchange for access to oil, a commodity Argentina pays to import.
Kirchner's administration was quick to characterize Nisman's death a suicide. His apartment was found locked and there was no evidence another person had been inside. A prosecutor assigned to investigate his death said she could not rule out the possibility that Nisman had been coerced to kill himself. Of the 414 people who spoke to the Ipsos polling company shortly after his death, 70 percent said they thought Nisman was murdered.
The death of Nisman, who was Jewish, came just hours after the son of a suspected perpetrator in the 1994 bombing was himself killed in an air strike by Israeli forces in southern Syria. The Israeli media has widely followed the aftermath of Nisman's death, with newspaper Haaretz calling it "the latest act in the Iran-Israel saga."
Prior to Nisman's death on Sunday, he gave his maid a list of groceries to be purchased on Monday. And a day before that, he told a local journalist, "I may just end up dead from all this."
Headlines from the Western Hemisphere
North America
Caribbean
Central America
Andes
Southern Cone
Image: YouTube
Subscribe to Today in Latin America by Email