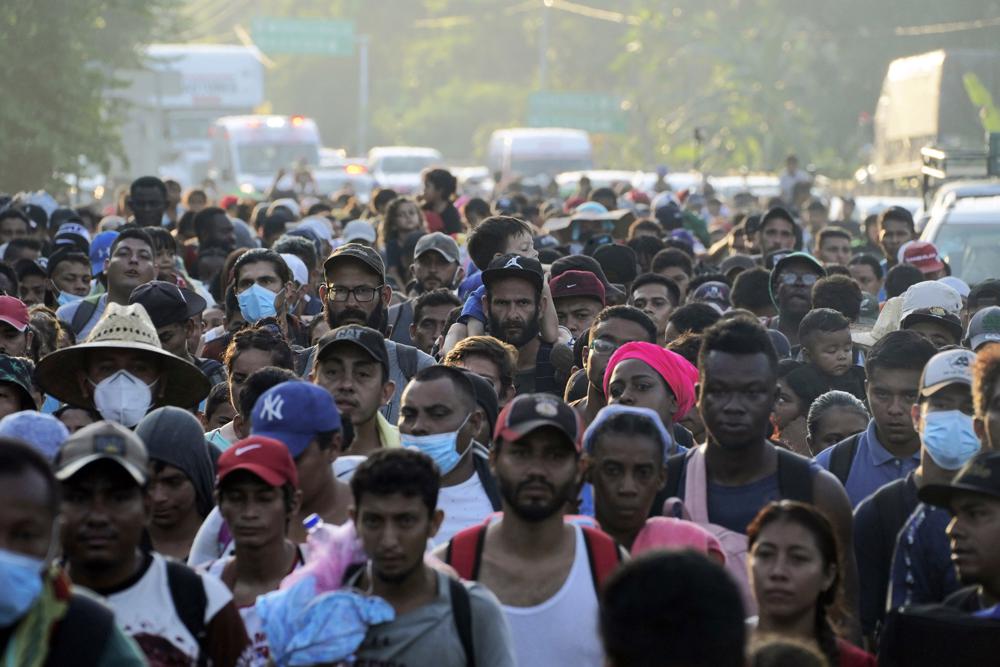 A caravan of migrants heads north along a coastal highway in Chiapas State, Mexico. Photo: Marco Ugarte. AP
New migrant caravan moves through Mexican blockade heading toward U.S.
October 24, 2021
By Staff
THIS WEEK IN LATIN AMERICA
MEXICO: More than 2,000 migrants left on Saturday from Tapachula, Chiapas in southern Mexico hoping to reach the U.S. border. Most of the migrants come from Central America and Haiti, including families with small children.
The migrants had arrived in the southern state of Chiapas after crossing through the Guatemalan border where they were detained. Stuck in Tapachula since September, the migrants staged protests condemning the brutal treatment from Mexican authorities and warned that they would proceed north in caravans.  
400 law enforcement officers attempted to block Saturday's caravan, but the migrants were able to advance through the checkpoint.  Caravan organizer, Irineo Mujica, wants to lead the group of migrants to Mexico City to protest against the government for not providing assistance to migrants held in the south and for not processing documents that would allow them to move freely in the country. 
Washington has pressured Mexico to maintain order at the checkpoints to contain the number of migrants attempting to cross into the U.S. 
1.7 million migrants have been arrested at the U.S.-Mexico border this fiscal year. President Biden faces several challenges on immigration as the number of migrants detained at the border continues to rise.  
SOUTHERN CONE
BRAZIL: A congressional committee on Wednesday issued recommendations that President Jair Bolsonaro be charged with "crimes against humanity" for his mishandling of the COVID-19 pandemic. 
The inquiry accused Bolsonaro of contributing to the more than 600,000 COVID-19 deaths in the country by spreading false medical information, encouraging citizens to ignore public health guidelines, and delaying the purchase of vaccines, among other problems.
An earlier draft of the report included accusations of attempted genocide against indigenous communities. The toned-down final draft outlined a "causal link" between Bolsonaro's anti-indigenous stance and the inadequate response to the crisis in indigenous regions.
The 11-member committee will vote on Tuesday whether to move ahead with the charges laid out against Bolsonaro and 65 others.
CHILE: Thousands took to the streets on Monday to mark the second anniversary of the 2019 protests that exposed widespread public discontent with socioeconomic inequality in one of the region's wealthiest nations.
Protestors demanded the release of those who remain detained for incidents related to the protests that took place on Oct. 18, 2019. At least 77 persons are believed to still be under preventative arrest, according to Chile's Center for Journalistic Investigation. 
While demonstrations across the country were mainly peaceful, there were reports of looting, property damage, and violence between militarized police and some protestors. Law enforcement officials reported two deaths related to Monday's protests and 450 arrests, as well as almost a dozen injured civilians and 45 injuries to police officers. Almost 20,000 carabineros were deployed throughout the country.
ANDES
ECUADOR: Olympic sprinter Alex Quiñónez was shot and killed on Friday night outside a shopping center in Guayaquil. The circumstances surrounding his death remain undetermined. 
Ecuador's President Guillermo Lasso said in a tweet: "We are very sorry for the painful loss of Alex Quiñónez, father, son, a great sprinter who marked the sport. Our sincerest condolences to your loved ones. Rest in peace. Those who take the lives of Ecuadorians will not go unpunished. We will act forcefully."
Quiñónez qualified for the Tokyo Olympics this year but was later suspended for failing to fulfill whereabouts requirements. His death marks the second killing of an international athlete this month after Kenyan distance runner Agnes Tirop was stabbed to death in her home. 
COLOMBIA: Colombian security forces Saturday captured Dairo Antonio Úsuga, leader of the violent Clan de Golfo cartel. Úsuga, alias "Otoniel", was one of Colombia's most-wanted drug lords and had evaded multiple arrest attempts over the past decade by carving out a series of safehouses in the Antioquia province of northwestern Colombia.
In a televised speech, Colombian President Iván Duque said the arrest was "the biggest blow against narco-trafficking in the country in this century and only comparable to the fall of Pablo Escobar." 
The Gulf Clan has terrorized much of northern Colombia in efforts to control drug trafficking routes through Central America and into the U.S. It is believed to have between 1200 and 1800 members.
CARIBBEAN 
BARBADOS: The island nation Wednesday elected its first-ever President as the country moves closer to becoming a republic. Dame Sandra Mason, currently the country's Governor-General, received parliament's approval to replace Queen Elizabeth II as the country's head of state.
Speaking to the parliament after the vote, Prime Minister Mia Mottley stated, "the time has come for us to express the full confidence in ourselves as a people, and to believe that it is possible for one born of this nation to sign off finally and completely."
Mason is set to be inaugurated on Nov. 30, the day on which Barbados celebrates its 55th anniversary of independence from the United Kingdom. This fulfills a promise expressed by the present government in September 2020.
JAMAICA/HAITI: Jamaican security forces last week detained an ex-officer of the Colombian military who is suspected of involvement in the July 7 assassination of Haitian President Jovenel Moïse. 
Colombian law enforcement informed on Friday that Jamaican authorities would extradite Mario Antonio Palacios Palacios, the alleged mercenary, to Haiti where he is wanted for prosecution. 
Haitian authorities believe that Palacios was part of a mercenary group contracted to murder Moise. Palacios became subject to an Interpol red notice upon request by Haitian authorities.
There have been scarce details about the manner of capture. A source quoted in Jamaican newspapers stated that local law enforcement had been collaborating with "international partners" to coordinate his arrest.
CENTRAL AMERICA
EL SALVADOR:  El Salvador's legislative assembly on Wednesday rejected any reforms to their penal code that would decriminalize abortions. The assembly voted 73 to 11. This is the fourth attempt since 1998 to introduce reforms that would make it safe and legal to terminate a pregnancy.
Congress disapproved proposed exemptions from women's rights organizations that would authorize abortion in case of rape, risks to a woman's health, or life-threatening deformities.
El Salvador is one of the few Latin American countries to enforce harsh punishments on those who get abortions. 40 women in El Salvador are serving prison sentences ranging from 10 to 30 years for convictions related to abortions.
PANAMA: Panamá City hosted a meeting on Wednesday with presidents from Costa Rica and the Dominican Republic to discuss the migrant situation. The three nations asked the U.S for assistance to contain the movement of migrants crossing the jungles between Colombia and Panamá. 
Panama's President Laurentino Cortizo said that this year more than 100,000 migrants have walked from northern Colombia as they make their way to the U.S. He added that the problem required assistance from Washington to make definite solutions. 
The presidents also addressed the prospect of investment proposals and job creation for Haiti, home to thousands of the migrants. 
NORTH AMERICA
UNITED STATES: Human Rights Watch released records on Thursday from U.S. asylum officers that detail incidents of abuse toward migrants in Customs and Border Protection (CBP) custody from 2016 to 2021. The records were obtained through a lawsuit placed by the NGO.
During interviews with asylum officers from the U.S. Citizenship and Immigration Services (USCIS), migrants described instances where CBP agents verbally and physically abused them.  
Many reports contained accounts of attacks and injuries which include slamming migrants to the ground and releasing border patrol dogs, causing severe injuries without immediate treatment. 
President Joe Biden promised a more humane approach to immigration policy, but the slow rollout of reforms has left many advocates frustrated.