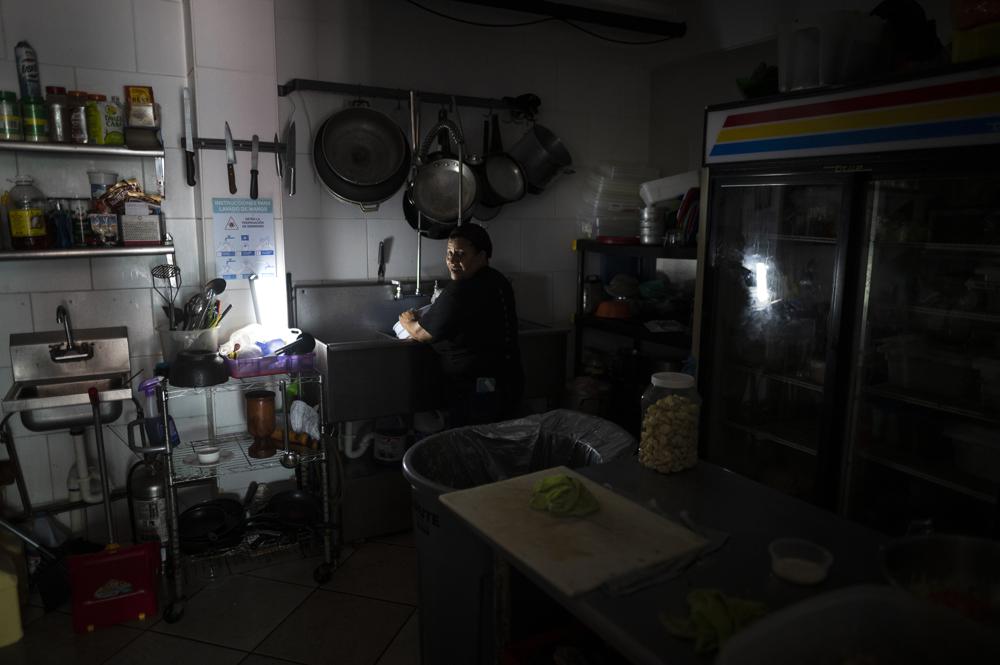 Workers at Las Palmas Cafe work with the power of an electricity generator during an island-wide blackout, in San Juan, Puerto Rico, Thursday, April 7, 2022. (AP Photo/Carlos Giusti)

Electricity restored in Puerto Rico after major blackout
April 11, 2022
By Staff
PUERTO RICO: A major blackout this week left more than 1.5 million clients – including households, businesses, and schools – without electricity, and over 160,000 without water. Authorities reported on Sunday morning that electricity had been restored to almost all clients.
Initial reports suggested that the blackout was caused by a fire at a power station on Wednesday. However, authorities later stated that it would likely take weeks to determine the exact cause of the outage.
Puerto Ricans have become increasingly frustrated with the state-run Electric Power Authority and LUMA Energy, a Canadian-American company contracted last June to take over power distribution. The island has suffered from frequent power outages in recent years, following the impact of Hurricane Maria in 2017. 
SOUTHERN CONE
BRAZIL: Thousands of indigenous peoples set up a protest camp in the capital, Brasilia, to oppose what they consider the "anti-indigenous agenda" of President Jair Bolsonaro.  A main target of the protests is the government-backed Bill 191, which seeks to facilitate commercial agriculture, oil, and mining activities, as well as various infrastructure projects on protected lands in the Amazon. Congress will vote on the bill on Tuesday and Wednesday.
The Articulation of Indigenous Peoples of Brazil (APIB) organized the 10-day protest camp, which began on Monday. Approximately 6,000 indigenous protestors from over 170 ethnicities had gathered by Wednesday to participate in cultural activities and political demonstrations. APIB stated that the overall objective of the camp was to fight for indigenous rights.  
CHILE: President Gabriel Boric on Thursday announced an economic recovery plan that includes fuel subsidies and increases to the minimum wage, and student food scholarships.  The US$3.7 billion package also offers funding to small businesses excluded from formal banking systems and aims to create 500,000 jobs, among other measures.
The government intends to raise the monthly minimum wage from 350,000 pesos ($434) to 400,000 pesos ($496) by the end of the year, one of Boric's campaign promises. The increase in food scholarships responds to demands raised by student protestors in demonstrations earlier this year.
Congress is also currently debating whether to allow Chileans a fifth emergency withdrawal from their pension funds.
ANDES
PERU: Amidst growing protests over rising food and fuel prices, President Pedro Castillo imposed a 24-hour curfew in Lima and the neighboring port city of Callao late Monday night, taking some 10 million residents by surprise. By Tuesday afternoon, Castillo lifted the emergency decree.
Monday's decree marked the first time emergency measures were imposed to quell protests in Peru since Alberto Fujimori's administration in 1992. Widely denounced by opposition lawmakers and human rights groups, the restrictions were also criticized by local residents unable to work, take public transportation, or attend school in a time of increasing economic hardship. 
Over the past ten days, road blockades and protests across various towns and cities have resulted in at least four casualties. 
BOLIVIA: Six men were detained in Santa Cruz this week after accusations of raping some 40 Mennonite women. The perpetrators used a mix of livestock anesthesia to drug the victims, spraying the mixture into their rooms while they slept.
The case mirrors a scandal between 2005 and 2009 when eight men were convicted of raping 150 Mennonite women using the same method. The recent case came to light after 12 women reported the abuse to Bolivian authorities. 
There are some 50,000 Mennonites in Bolivia of Dutch-German origin, who began to settle in the Santa Cruz department in the 1950s. Most of the country's Mennonite population lives in isolated religious communities dedicated to agriculture, and have limited contact with the state and wider society. 
CARIBBEAN 
BELIZE: The Foreign Ministry on Thursday released a statement expressing concern over increasing numbers of migrants, especially of Cuban origin, entering Belize in recent weeks with intentions of reaching the U.S.- Mexico border. It added that Cuban migrants were "utilizing the Refugees Program to avoid repatriation".
Additionally, the Ministry stated that police officers on Tuesday detained 16 undocumented Cuban migrants and turned them over to immigration authorities. Local reports said that two Nicaraguans and three Belizeans were discovered with the Cuban migrants.
The Borders and Immigration Department reported that, since the reopening of land borders on February, 39 Cuban nationals have entered Belize en route to the U.S.
CENTRAL AMERICA
EL SALVADOR: Congress passed a bill on Tuesday authorizing up to 15 years in prison for anyone found circulating gang messages, including news media outlets.  
The bill does not detail what sort of messages it covers.  El Salvador's press frequently sources information related to gang violence, including audio messages, interviews, and graffiti.
The U.S. Secretary of State, Anthony Blinken called to attention Bukele's government urging that they "uphold due process and protect civil liberties, including freedoms of press, peaceful assembly, and expression." 
Authorities have made 8,590 arrests of alleged gang members in the last 15 days, but human rights officials have accused police of abuse, and arbitrary detentions of suspects without providing access to legal counsel. 
HONDURAS: The Supreme Court on Friday decreed the extradition of ex-police chief Juan Carlos "El Tigre" Bonilla to the United States on drug trafficking and weapons charges. 
Bonilla became wanted by the Honduran government in May 2021. The United States 
ordered his arrest and extradition that same month identifying him as a co-conspirator of former president Juan Orlando Hernández who remains in custody on drug trafficking and arms possession charges. On March 9, Bonilla was arrested. 
In April 2020, U.S. authorities accused Bonilla of overseeing narcotics shipments to the United States under the supervision of former president Hernández and his brother, Juan Antonio Hernández. 
NORTH AMERICA
MEXICO: In a video message made on Saturday to coincide with a global event supporting victims of the Ukrainian conflict, #StandUpForUkraine, President Andrés Manuel López Obrador rejected Russia's invasion of Ukraine.
López Obrador, in favor of "a peaceful resolution to the conflict," referenced invasions of his country made by American, French, and Spanish nations in the past.  
López Obrador has tried to remain neutral in the conflict and has not imposed sanctions against Russia.  He has also been against a petition to revoke the visas of officials participating in the "Grupo de Amistad México-Rusia."
MEXICO: The Supreme Court on Thursday confirmed constitutional the controversial energy law supported by President Andrés Manuel López Obrador favoring state-owned power plants over private firms. The decision prompted U.S. worries.
The Supreme Court could not reach the necessary votes to declare the energy law unconstitutional.    
The energy law's critics, including the U.S., argue that the law will undercut the competition, create a state monopoly, force Mexicans into a high-priced market, hurt the environment, and violate free trade agreements.