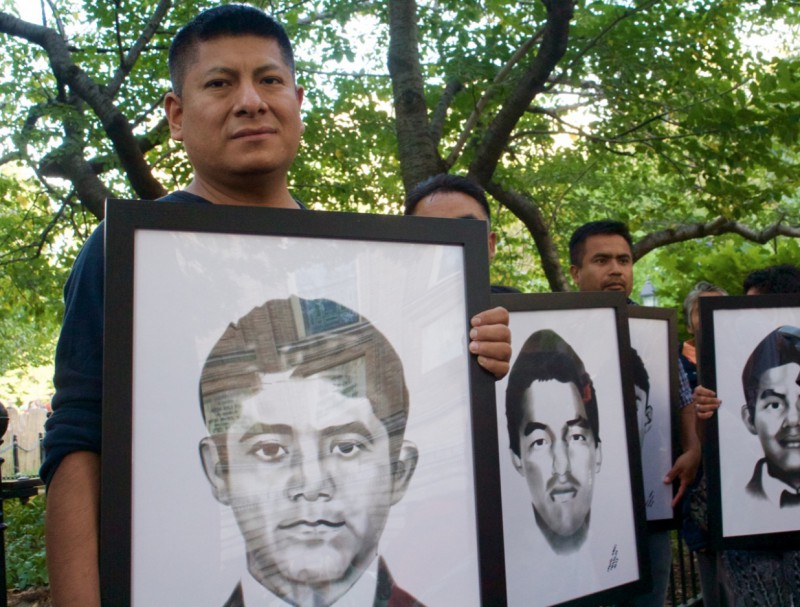 Demonstrators in New York commemorate the one-year anniversary of the disappearance of the 43 students. (Image: Katie Schlechter)

Report Accuses Mexican Police of Torturing Suspects in Ayotzinapa Case
April 25, 2016
By Staff
Top Story — Mexican police tortured key suspects in the case of the 43 students who went missing in September 2014 in Mexico's Guerrero state, according to the final report produced by a team of outside investigators.
The report, conducted by an interdisciplinary group of experts and overseen by the Inter-American Commission on Human Rights, was presented on Sunday It also revealed that the authorities refused to drop lines of investigation refuted by the experts and obstructed the experts' investigations; it expands prior accusations against federal police of involvement in the attack against the students and against the police and the army for failing to help survivors of the attack.
The final report comes more than a year and a half after the initial attack that triggered outrage across Mexico and throughout the world, launching an international protest movement largely led by parents of the missing students and sending Mexican President Enrique Peña Nieto's approval ratings into a downward plunge.
The students were studying at a nearby rural teachers college in the town of Ayotzinapa, and were on their way to Mexico City to participate in the commemoration of the 1968 Tlatelolco student massacre on the night of Sept. 26, 2014, when police officers allegedly blocked some of their buses and opened fire before, in the AP's phrasing, "supposedly" turning the students over to a local drug cartel.
The ensuing investigation came under increasing scrutiny in January 2015 when then-Attorney General Jesús Murillo Karam held a press conference to reveal the "historical truth" of what happened on the night of the attack and disappearances. Three days later, the IACHR launched their independent investigation into the case. In September 2015, they published a report on their initial findings, essentially debunking the government's version of events and validating widespread skepticism about its investigation.
Sunday's report revealed that a study of 17 of the some 123 suspects arrested in the case showed signs of torture, in some cases, bruises, cuts and scrapes. One interviewee said he was dragged from his home and subjected to beatings, waterboarding and electrocution; this torture was apparently conducted in order to force confessions that would support the government's narrative of events.
The report also reiterated the experts' rejection of the government theory that the students' bodies were burned in a nearby garbage dump, which independent investigators had ruled out as impossible for multiple reasons early on in their own investigation.
In earlier reports, the group of experts also found that federal police likely played a greater role in the attacks and denounced police and army personnel for failing to come to the aid of those who were injured that night; more detail was provided of police involvement, including evidence that federal officers diverted traffic from the site of the initial bus attack. The report further accuses prosecutors and officials working on the case of obstructing justice by not providing independent investigators with evidence in a timely fashion and refusing them access to a site where key evidence had been found, concluding that "there are sectors that aren't interested in the truth."
Headlines from the Western Hemisphere
North America
Caribbean
Central America
Andes
Southern Cone