Numbers Emerge For Undocumented Immigrants' Children Amid 14th Amendment Debate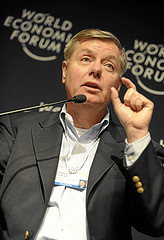 Babies born to undocumented immigrants will be the immigration debate's next front line.
Anxious to curb illegal immigration, some conservative politicians are suggesting altering the Constitution so that immigrants' children born in the U.S. are not automatically citizens.
Their arguments come amid a new Pew Hispanic Center report that undocumented immigrants make up 4 percent of the adult population, but their children made up 8 percent of newborn children.
Immigrants are often younger as a whole and more likely to have large families, giving them a larger portion of overall children.
About four out of five of children of undocumented immigrants were born in the United States, making them citizens, the report stated.
About 85 percent of children born to all immigrants – documented and undocumented – were born in the U.S., the report said.
The Brookings Institute reports that about 16 million children – 23 percent of all U.S. children – have at least one immigrant parent.
Immigrant advocates argue that immigrant families try hard to assimilate into American culture, learning English, getting an education and working long hours to provide for their families.
Among immigrant children, a 2008 Pew Hispanic Center report said 52 percent of immigrants younger than 18 spoke English "very well" at home. The Migration Policy Institute reports that 75 percent of children in families who spoke a language other than English were "very proficient" in English.
Also, the number of immigrants getting a college degree increased by 47.3 percent from 2000 to 2008, according to the Migration Policy Institute.
Politicians argue that without the incentives of children born in the United Sates becoming citizens, fewer immigrants would travel across the border.
South Carolina Republican Senator Lindsey Graham, who previously drummed up Republican support for reforming the immigration system, joined the chorus, telling Fox News that the law encourages migrating "for the express purpose of having a child in an American hospital so that child will become an American citizen." He mentioned tourists who arrive on a 90-day visa in order to give birth in America.
Those in favor of altering the 14th amendment, which bestows citizenship on those born on U.S. soil, call the children of immigrants "anchor babies" and allude to a purposeful effort to travel to the United States in hopes of giving birth to U.S. citizens and later securing their own citizenship.
Last year, Georgia Republican Nathan Deal, who's now running for governor, introduced the "Birthright Citizenship Act of 2009," which would tighten the ways that children born in the U.S. automatically get citizenship.
Last May, it was referred to the Subcommittee on Immigration, Citizenship, Refugees, Border Security, and International Law.
Not all conservatives support amending the law. In Florida, a contentious race for Congress found agreement on one thing – the 14th amendment should "stay the way it is," in the words of former Republican Charlie Crist, who's running against Tea Party-backed Marco Rubio.
Protesting the calls to restrict birthright citizenship, the Service Employees International Union blog listed politicians and celebrities who wouldn't be citizens should the law be changed.
Image: World Economic Forum @ Flickr.
Alison is a Missouri native and New York City freelance writer who has wanted to cover Latin America since studying Spanish in Central America. After moving to Brooklyn, her work has appeared in The New York Times, the Daily News, the Manhattan Times and Women's eNews. She earned a master's degree in journalism and Latin American and Caribbean studies at New York University. Her thesis focused on immigration policies after September 11, including counterterrorism measures, and their effects on the daily lives of immigrants in New York City.