The border between the U.S. and Mexico along the cities of El Paso and Ciudad Juárez.
Rancher's Murder Highlights Complicated Immigrant-Crime Connection
When Robert Krentz was found dead on his Arizona ranch five months ago, police suspected a Mexican drug smuggler.
Now, local news outlets report that a person of interest might be in the United States instead.
Whatever happens with the case – a Cochise County Sheriff's Office spokesperson said it's ongoing, and declined to provide specifics – the longtime rancher's murder has already propelled a national conversation on border security and immigrants committing crimes.
Krentz's murder galvanized an Arizona law that required police to check immigration status during criminal stops. Two days after his murder, Arizona Governor Jan Brewer requested National Guard troops, and President Barack Obama ordered 1,200 to the border.
More recent incidents like an undocumented immigrant killing a nun in a Virginia car crash fuel arguments that more immigrants mean more crime.
But experts say gauging the connection is increasingly muddled.
One problem they cite is that police officers in many major cities, such as New York City, are not allowed to ask immigration status and police departments often don't have numbers outlining immigrant arrests.
On the federal level, the Department of Justice doesn't break down prisoners based on where they're born. Jails sometimes track which immigrants were born outside the U.S., but a lack of consistent data makes these numbers hard to compare.
In 2009, non-citizens made up 4.1 percent of state and federal prison populations, according to the Bureau of Justice Statistics.
The Federal Bureau of Investigation, through their Uniform Crime Reports , reports that crime across the country is falling, even in border states.
In the south, violent crime is down 6.6 percent, murders are down 7.8 percent and robberies are down 9.5 percent. In Arizona, all but two of the 10 cities in the report showed a drop in violent crime.
Some research even shows immigrants commit crimes at a smaller rate than U.S. citizens.
Using census figures, Rubén G. Rumbaut and Walter A. Ewing wrote in "The Myth of Immigrant Criminality and the Paradox of Assimilation" that in 2000, among males 18 to 39, the rate of native-born men who were incarcerated, 3.5 percent, was five times higher than for foreign-born men, 0.7 percent.
"For every ethnic group without exception, incarceration rates among young men are lowest for immigrants, even those who are the least educated," they wrote.
Donald Kerwin, vice president for programs at the Migration Policy Institute, said high-profile crimes like the Krentz murder can overshadow data, leaving only the impression of an undocumented immigrant committing murder.
"Any kind of problem with any unauthorized person is imputed to the whole group," he said.
Jessica Vaughan, co-author of "Immigration and Crime: Assessing a Conflicted Issue," doesn't trust census data on incarceration. Figures often rely on prison officials' guesses, she said, or immigrants who might want to lie about their birthplace.
Still, she said, their research shows no connection between crime rates and the level of immigration.
"We don't find any strong evidence that immigrants as a group are likely to be more prone to commit crimes that anyone else," she said.
But crimes like drug dealing or smuggling tend to be connected to immigrants, she said, now that crossing the border requires a coyote's help.
Krantz's murder displays these southwest border dangers, she said. "I think it illustrates that this is not just normal people coming across to find work," she said. "There's a criminal element involved in facilitating illegal immigration now."
Image: jonathan mcintosh @ Flickr.
Alison is a Missouri native and New York City freelance writer who has wanted to cover Latin America since studying Spanish in Central America. After moving to Brooklyn, her work has appeared in The New York Times, the Daily News, the Manhattan Times and Women's eNews. She earned a master's degree in journalism and Latin American and Caribbean studies at New York University. Her thesis focused on immigration policies after September 11, including counterterrorism measures, and their effects on the daily lives of immigrants in New York City.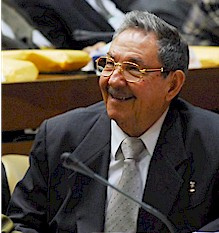 August 25, 2010 > Staff
August 26, 2010 > Staff