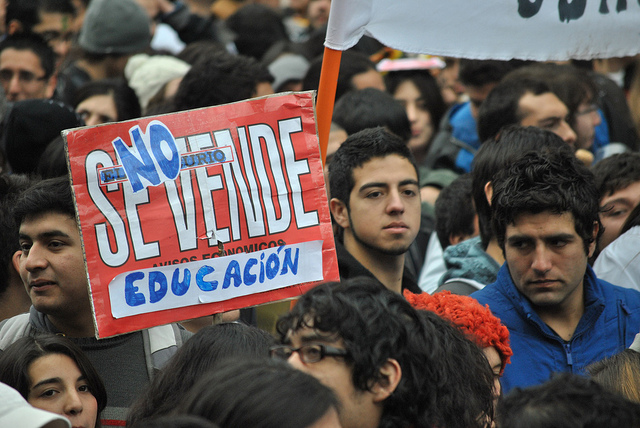 Chilean Student Protesters Vow to Continue Marches
The leaders of Chile's main student protest group promised that they will continue their campaign despite the approval of the country's controversial education budget.
At a press conference held on Tuesday, student leaders of Chile's student protest group (known by the Spanish-language acronym CONFECH) vowed that they would hold a mass demonstration this Thursday in the coastal city of Valparaíso.  "We will go out in order to inform the citizens of the treason committed by the ruling political class," declared CONFECH spokesman Alexis González in response to the federal education budget passed last Friday by the Chilean legislature.
Education Minister Felipe Bulnes claimed that the new budget improves higher education in several ways, including offering more scholarships to poorer Chileans.  Yet CONFECH president Camila Vallejo noted that the state "needs to take charge to regulate the private higher education system, and that is not contemplated in the approved budget."
For over six months, Chilean students have campaigned for educational reforms including free tuition and an increased involvement by the state.  At times the protests became tense and violent, though the students have earned the support of several sectors, such as the country's labor unions.
Student protest leaders also suffered another setback on Tuesday when Congress approved the federal budget but left out the establishment of a public education fund.  Thus, one of CONFECH's key demands will have to be debated in a bill separate from the approved budget plans.
Several student protest movements throughout Latin America have emerged from the original protests in Chile. In Colombia, for instance, over ten thousand people participated in marches held last week in ten cities.  One student protester in Bogotá claimed, "We're here to defend a just and high quality education."
Earlier this month, Colombian President Juan Manuel Santos backed away from a proposed reform to the educational system that would have increased privatization.  This concession to one of the main demands of the student protest movement (known by the Spanish-language acronym MANE) helped facilitate the return of thousands of striking university students to their classes.   Nevertheless, MANE chief Paola Galindo observed that last Thursday's "successful" protests helped "back the sovereignty and autonomy of the Colombian populace."
Young people throughout the region participated in solidarity marches with student protesters in Chile and Colombia.  In Montevideo, hundreds of university students marched from the campus of the Universidad de la República to the Colombian embassy.  Protesters in Buenos Aires demonstrated in the streets and held banners with insignias such as "the student struggle is walking through Latin America.''
Not all of the recent student marches in the Americas have had to do with seeking a quality education.  On November 18, a few hundred demonstrators in Caracas participated in protests against rising crime rates.
Image – Flickr @ Simenon (CC BY-SA 2.0)