Chilean President Sebastián Piñera.
Chilean President Piñera Lays Out Plan To Defeat Underdevelopment
NEW YORK — Chilean President Sebastián Piñera laid out an ambitious economic program to bring his country into the ranks of developed nations in a speech on Wednesday.
Piñera's plan, which he discussed at an event organized by the Council of the Americas, was based on a combination of poverty reduction and a partial reduction of the state's role in the economy.
"Our main goal is to defeat extreme poverty within our government — that means in the next four years," Piñera said. "And to defeat poverty before the end of the decade. And, at the same time, to defeat underdevelopment."
Chile already has one the lowest poverty rates in Latin America, and joined the Organization of Economic Cooperation and Development (OECD) in May. Membership in the OECD is widely considered evidence that Chile is making the still-uncommon jump from developing- to developed-country status.
Presenting his ideas with a 42-screen powerpoint presentation and an emphasis on metrics, Piñera made clear that he intended to bring Chile into the ranks of the developed world the way a successful businessman would: "By setting goals and deadlines that people can measure."
Piñera, who has been in office for six months, inherited a strong economy that has bounced back from the world economic crisis well. The country is a net creditor without inflation and Piñera said he expected the Chilean economy to grow six percent in 2010.
But despite the favorable conditions, Chile is also struggling to rebuild after a devastating earthquake that killed more than 500 people and left considerable structural damage.
"One out of three students could not go back to school, because their schools were simply destroyed," Piñera said, referring to the days after the earthquake.
One of the main problems Piñera said he would tackle was education – an issue that proved thorny for his predecessor, Michelle Bachelet.
Piñera said his government planned to double public investment in education. The money would go to build a network of new high schools and to bring Chileans into the digital age.
Piñera also alluded to a government program resembling a voucher system, in which the government would pay students a direct subsidy to attend private schools of their choice. In a variation on the theme, he said the government would pay citizens who were dissatisfied with the public health care system so that they could seek private care.
The specifics of the programs were not clear and the press was not permitted to participate in the question-and-answer session.
The ideas fit within the scheme of "equality of opportunity" that Piñera advanced in the speech. But though he focused his attention on creating conditions that would allow talented individuals to advance economically, Piñera was quick to point out that "at the same time, we want to have a society of guarantees" – alluding to the social policy forged by the outgoing center-left Concertación coalition.
Piñera likewise pointed toward limits in his vision of reducing the state role in the economy. Though he clearly plans to expand the role of the private sector, when asked if he planned to privatize the state-owned copper mining company, CODELCO, Piñera said "to move forward in that area, we need to have a very broad agreement within Chilean society, and we don't have that yet."
Instead, Piñera said, the Chilean government's strategy would be to add value to its raw materials by investing in human capital.
China, one of Chile's major trading partners, represented another potential avenue for economic growth. China plans to invest $50 billion in Chilean copper, Piñera said, adding that the Chinese had recently shown an interest in his country's famous wines.
"We hope each one of them can drink one glass of wine a year. That's enough for us," Piñera said, referring to the people of China.
Piñera also noted the plight of the 33 trapped miners, who he said are on track to be rescued by December.
"The miner story has been an emotional story," Piñera said, holding up what appeared to be a ziplock bag containing a letter.
Image: Globovisión @ Flickr.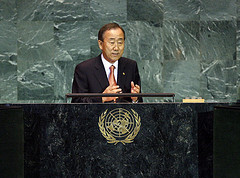 September 22, 2010
> Staff
September 23, 2010
> Staff