Caracas, Venezuela
Venezuelan Lawmakers Come to Blows on Floor of National Assembly
February 11, 2011
By Staff
Today in Latin America
Top Story — A fistfight broke out between two members of Venezuela's National Assembly Thursday, The Associated Press reports.
The fight erupted when opposition legislator Alfonso Marquina approached the podium where high government officials were taking questions during a debate. Marquina said a group of Chávez supporters yelling from the gallery should be silenced.
Lawmakers began pushing and shoving before the podium as Barquina made his request, and Marquina ended up trading blows with pro-Chávez legislator Henry Villanueva.
Security guards and fellow legislators broke up the scuffle, as the Assembly's vice president called for calm.
Venezuela's Congress has seen a rise in tensions since the new session began in January. Chávez supporters have controlled the Assembly since 2005, when the opposition boycotted elections. But now the opposition controls more than one-third of the legislature's seats, making it more difficult for Chávez supporters to pass some measures.
It was the second time lawmakers had come to blows since January.
For footage of the scuffle, check out the YouTube video below.
Headlines from the Western Hemisphere
North America
Caribbean
Central America
Andes
Southern Cone
Image: Alex Lanz @ Flickr.
Subscribe to Today in Latin America by Email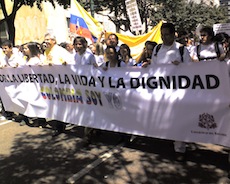 February 10, 2011
> Staff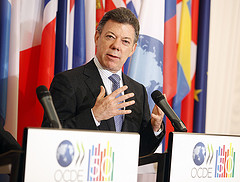 February 14, 2011
> Staff