Libyian leader Muomar Gaffafi.
Libya's Muammar al-Gaddafi Is Not In Venezuela, Officials Say
February 22, 2011
By Staff
Today in Latin America
Top Story — Rumors swirled Monday that Libyan strongman Colonel Muammar Gaddafi fled to Venezuela due to unrest in his North African nation, but both countries denied those reports.
British Foreign Secretary William Hague noted that he had seen some information that suggested Gaddafi was on his way to Venezuela Monday. Venezuela's information minister retorted saying that Gaddafi was not heading to the country, a statement matched by the Libyan Deputy Foreign Minister Khalid Kayem, who said the reports were "groundless."
Venezuelan Foreign Minister Nicolás Maduro said that he learned that the Libyan leader was in Tripoli "exercising the powers granted to him by the state and facing the situation." This is the strongest denial yet by the Venezuelan government about speculation that Gaddafi left Libya to seek shelter from close ally President Hugo Chávez.
Gaddhafi also appeared on Libyan state televison at 2.a.m. Tuesday morning, holding an umbrella up through the open door of a passenger car and denying rumors that he had fled to Venezuela.
The large scale unrest recently throughout the Middle East has worried Chávez's government, with Chávez's interior minister, Tareck El Aissami, last week accusing the U.S. government of trying to foment a "virtual Egypt" in Venezuela by suggesting that the Organization of American States be allowed to visit youths on a hunger strike to protest the jailing of opposition politicians.
Headlines from the Western Hemisphere
North America
Caribbean
As a politics-weary Haiti begins the final push toward next month's presidential elections, many there doubt that the process would be free from the chaos, fraud and controversy that plagued the first-round of voting.
Reporters Without Borders on Monday called for the release of Pedro Arguelles Morán and Albert Santiago Du Bouchet, the last two journalists remaining in prison in Cuba for pursuing their profession, according to Paris-based RSF.
The crime wave that is besetting Puerto Rico continued on the weekend with a triple murder in the Vega Baja district, bringing to 179 the number of murders so far in 2011, a figure that is 40 more than had been registered by the same date last year.
Central America
Andes
Southern Cone
Image: Open Democracy @ Flickr.
Subscribe to Today in Latin America by Email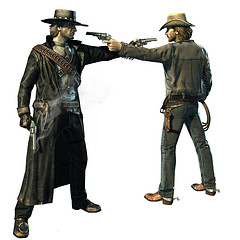 February 21, 2011
> Staff