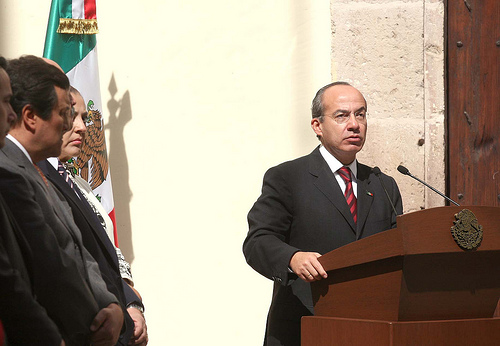 Mexican President Felipe Calderón speaking in Michoacan.
Mexican Drug Cartel Knights Templar Releases Booklet With Code Of Conduct
A Mexican drug cartel calling themselves the Knights Templar – after the famed Western Christian military order – is distributing booklets to the public asserting that it is fighting against poverty and injustice in a region of the country where the Mexican government claims to have wrestled control from the major drug organizations.
Copies of the 22-page "The Code of the Knights Templar of Michoacan" booklet were seized by federal police last week during an arrest of cartel members in the western state of Michoacan, but authorities have refused to release the book's contents for fear that it will draw more attention to the quasi-religious movement. The Associated Press obtained a copy of the book, which is illustrated with drawings of knights on horseback bearing lances and crosses.
The Knights Templar have been accused of murders, extortion, drug trafficking and attacks on police throughout Mexican President Felipe Calderón's home state of Michoacan. According to the booklet, the group was founded in March of this year and it is believed to be a splinter group of the other semi-religious drug cartel, La Familia.
The Mexican government claims to have broken up La Familia after it's leader, Nazario Moreno Gonzalez, was killed in December and another leader, José de Jesús Méndez Vargas, was captured last month. However, violence continues in Michoacan as the Knights Templar battle with the Zetas cartel and what is left of La Familia for control of the state.
While both La Familia and the Knights Templar claimed to have a quasi-religious background, La Familia did not distribute its materials to the public as the Knights Templar appear to be doing. Analysts claim that this action is an attempt to create a social movement to gain support among the citizens of the state in an action similar to what right-wing paramilitary groups did in Colombia in the 1990s against left-wing guerrillas.
"I think the main intent is to create a social base in Michoacan … and that way they are different from other criminal organizations," said Jorge Chabat, an analyst of the drug trade in Mexico. "They say they are defending the people against attacks. In the case of Colombia it was the guerrillas; here it is against who knows what."
The Knights Templar propaganda may have some pull in the rural regions of Michoacan, where government oversight is weak and lawlessness is rampant, according to national security expert Javier Oliva at Mexico's National Autonomous University.
"They mirror a bit the sociological, anthropological logic of the Mafia," he said. "They seek to take justice into their own hands in a Mexico where no functional justice system exists."
The Mexico chapter of the modern-day Knights Templar issued a statement condemning the drug cartel of the same name and denying any connection between the two groups.
Photo: Gobierno Federal @ Flickr.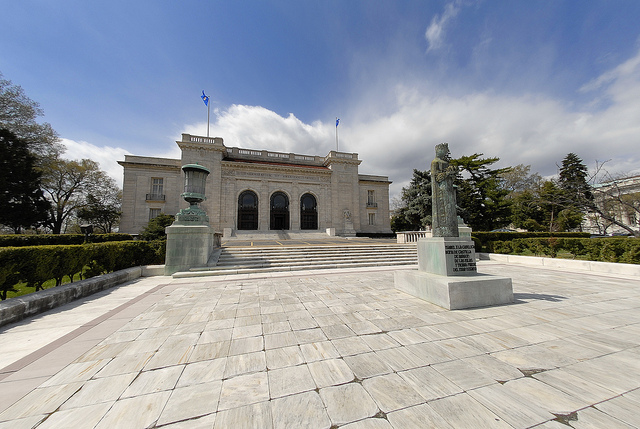 July 21, 2011
> Staff