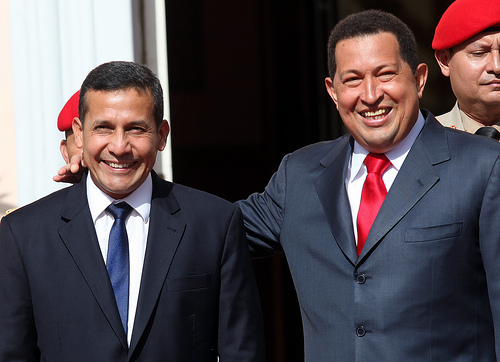 Peruvian President Ollanta Humala with Hugo Chávez during a recent visit to Venezuela.
Humala Sworn In As Peru's New President; Promises Growth Will Include Poor
Peru swore in Ollanta Humala as the country's new president Thursday, succeeding outgoing president Alán García.
Humala, a former lieutenant colonel in the Peruvian army, campaigned on a platform of educational and social reforms against the right-wing candidate Keiko Fujimori, daughter of former President Alberto Fujimori. Humala previously ran for president in 2006, but lost the election in large part due to his close ties with Venezuelan leader Hugo Chávez.
He has since refashioned his politics and image as a more modertate leader.
During his first speech as president, Humala promised to include Peru's poor in the country's economic boom. The Andean nation is currently one of the world's fastest growing economies.
We want the term 'social exclusion' to disappear from our language and lives forever," Humala said. "Economic growth and social inclusion will march together." Humala also promised to raise the minimum wage, tax profits from mining companies keep key economic policies in place as well as providing a minimum pension for all Peruvians over 65.
Through these statements Humala is already distancing himself from the outgoing García, who was widely criticized for leaving a third of Peruvians trapped in poverty.
At the ceremony in Lima a number of Latin American presidents were on hand to welcome Peru's new leader, including the  presidents of Argentina, Brazil, Chile, Colombia, and Ecuador. The secretary-general of the Organization of American States (OAS), José Miguel Insulza, was also in attendance.
Due to his ongoing battle with cancer, Hugo Chávez was unable to attend the ceremony but congratulated Humala multiple times by way of the Venezuelan leaders Twitter page.
Humala seems to have no presidential grace period as he has already been bashed for his cabinet choices and his statements that he will uphold the country's 1979 constitution, instead of the revised charter introduced in 1993 by the now-imprisoned Fujimori who unilaterally shut down Congress and consolidated power.
"Go home now!"  shouted Fujimori supporters in the country's Congress.
To learn more about Humala, follow this link to read the Latin America News Dispatch's interview with him.
Photo: chavezcandanga @ Flickr.