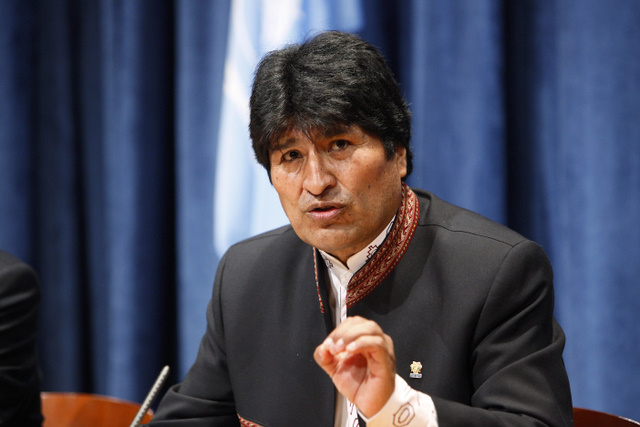 Fidel Castro Wants To Talk Food, Evo Morales Says
UNITED NATIONS — Former Cuban head of state Fidel Castro has taken a renewed interest in food production, Bolivian President Evo Morales said Wednesday.
Speaking at the United Nations, Morales said that when he had met with Castro in the past, they usually discussed education and health — the two fields widely believed to be the Revolution's greatest achievements.
This time, however, Castro wanted to talk about "food, food, food," Morales said.
Castro's renewed interest in food production no doubt stems from the island's heavy dependence on imports. By some estimates Cuba imports as much as 80 percent of its food with wheat, powdered milk, flour and soybean oil making up some 73 percent of the bill, according to figures released in April by Communist Party daily Granma.
Unexpected jumps in food prices cost the Cuban government an additional $308 million this year, reported the state food importing agency, ALIMPORT, in April.
"That means that all the growth expected in revenues from the export of nickel, services, sugar and other goods and services, will not be net gains but must be spent to cover the deficit of the food-import bill," ALIMPORT's President Igor Montero said of the additional costs.
Morales accompanied Venezuelan President Hugo Chávez to Cuba over the weekend, where Chávez received a fourth round of chemotherapy to treat a cancerous tumor. While in Cuba, Morales met with Castro for about three hours.
Castro has stayed out of the public eye in recent months and neglected to write a newspaper column since July, fueling rumors that he had died. The rumors were put to rest earlier this month, however, when Castro gave an interview to a Venezuelan journalist.
Castro remains lucid and relatively healthy, according to Morales, who is a close ally and admirer of the former Cuban leader. Morales said that Castro "walked without too much trouble" and continues to work.
"He keeps working — it surprised me," Morales said. "Books over here, documents over there."
Morales criticized the United States for failing to honor a non-binding U.N. resolution demanding an end to the U.S. trade embargo against Cuba.
The U.N. General Assembly has voted to condemn the embargo for 19 consecutive years, by overwhelming majorities. In the last vote, only Israel and the United States opposed the resolution.
"The United States doesn't respect a resolution approved by the entire world," Morales said.