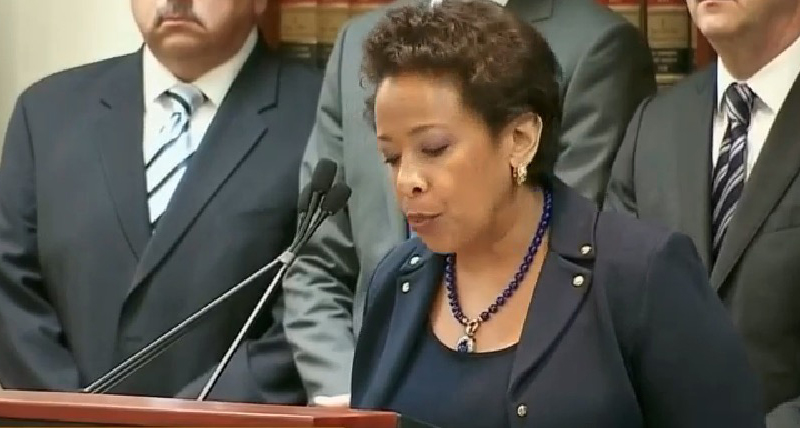 U.S. Attorney General Loretta Lynch announces Wednesday the indictment of 14 FIFA officials and marketing executives from across the Americas. (Image:
C-SPAN
, screenshot)
FIFA Officials From Across Americas Indicted on Corruption Charges
May 28, 2015
By Staff
In a sweeping indictment announced on Wednesday, the U.S. Justice Department charged 14 marketing executives and top officials from international soccer's governing body FIFA — 12 of whom are from Latin America or the Caribbean — in a bribery and kickbacks scheme dating back decades. Swiss authorities arrested seven FIFA officials early Wednesday morning at a Zurich hotel where the organization was holding its annual meeting, and they will eventually be extradited to the United States.
The charges shed light on the way that powerful officials and local strongmen in the Americas control the wildly lucrative business of soccer, often trading their influence to enrich themselves. The case also displays some of the shadowy inner workings of FIFA and its regional organizations, which have often been accused of corruption and a lack of transparency, but have mostly avoided punishment.
The U.S. Justice Department has vowed more arrests in an investigation they say is just beginning.
"The indictment alleges corruption that is rampant, systemic, and deep-rooted both abroad and here in the United States," said U.S. Attorney General Loretta Lynch, who has led the investigation that first began while she was the U.S. Attorney for the Eastern District of New York. "And it has profoundly harmed a multitude of victims, from the youth leagues and developing countries that should benefit from the revenue generated by the commercial rights these organizations hold, to the fans at home and throughout the world whose support for the game makes those rights valuable."
Some of the men are powerful names in local politics, like José Maria Marin, a Brazilian politician who rose to power during the country's military dictatorship and has come to dominate Brazilian sports. The men named in the indictment are from countries across the region, including the United States, demonstrating both the breadth of the investigation and the sweeping corruption that has plagued the sport worldwide.
FIFA has said it will fully cooperate with authorities investigating the case, and has suspended those named in the indictment. FIFA President Sepp Blatter, who has long been criticized for alleged corruption during his 17-year presidential tenure, has denied that the investigation pertains to him.
"As unfortunate as these events are," Blatter said in a statement, "it should be clear that we welcome the actions and the investigations by the US and Swiss authorities and believe that it will help to reinforce measures that FIFA has already taken to root out any wrongdoing in football."
Just Published in Latin America News Dispatch
Headlines from the Western Hemisphere
North America
Caribbean
Central America
Andes
Southern Cone