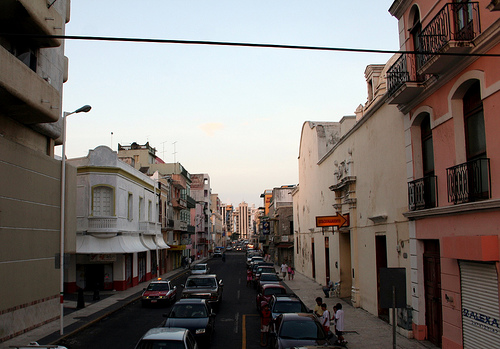 A street view of the city of the Veracruz.
Mexico: 35 Bodies Dumped Beneath Overpass In Veracruz Resort Area
Gunmen in the busy Mexican resort area of Boca del Río left two trucks filled with 35 bodies beneath a busy overpass Tuesday as terrified motorists looked on.
Twitter messages from onlookers at the scene said that men dressed in military-style uniforms blocked the underpass near a large shopping center, pointed their guns at motorists and began dumping bodies out of the trucks. Some of the victims had their hands tied and showed signs of torture.
Boca del Río is part of the city of Veracruz, which has been plagued recently by increasing violence that is related to the country's ongoing drug war. In an effort to calm a panic-stricken public, Veracruz state prosecutor Reynaldo Escobar said that at least seven of the bodies identified had criminal records for involvement in organized-crime activities, including kidnappings, extortion, sale of illegal drugs and murder.
"This is something that can calm the population," he said, according to the Los Angeles Times. "This is not about civilians. These are people involved in illicit business, in drug sales."
It was also stated that 11 victims found in the trucks were women, although there were conflicting reports coming from Mexican media.
On top of reports of widespread corruption and collusion among Veracruz state officials, the region has become a main battleground between the Zetas Cartel and the Gulf Cartel. The Zetas, once the paramilitary wing of the Gulf Cartel, broke away from their former bosses and have been at war with them for more than a year over the lucrative smuggling route out of Veracruz.
"Veracruz is an important strategic port. That has always been true for trade and commerce, but it's now also true for drug exports," said security expert Alberto Islas.
It is possible that the bodies left at the underpass were related to the feud, but authorities did not want to jump to any conclusions.
"We're not going to confirm or deny anything,"  Escobar said. "We're looking at it in different ways, we're seeing different numbers, that's why we don't want to get ahead of ourselves."
The grisly scene at the underpass comes only a day after more than 30 prisoners escaped from separate state prisons in Veracruz, but Escobar said authorities had not established a tie between the escapes and Tuesday's event.
The dumping of the bodies also occurred a day before Mexican President Felipe Calderón addressed the United Nation's General Assembly (UNGA), where he asked for the world's assistance in combating drug trafficking and stemming the flow of high-powered assault weapons into his country.
"All are surprised by the hundreds or thousands of deaths caused by oppressive regimes," Calderón said to the UNGA. "We also have to be aware that organized crime is killing more young people than all the dictatorial regimes at present."
Photo:A30_Tsitika @ Flickr.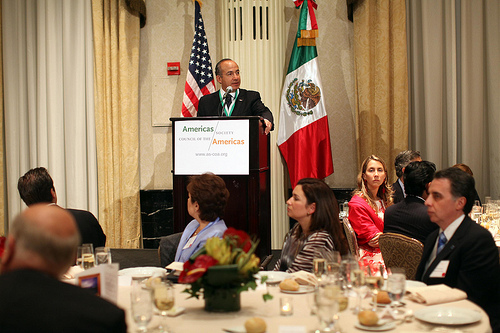 September 21, 2011
> Staff