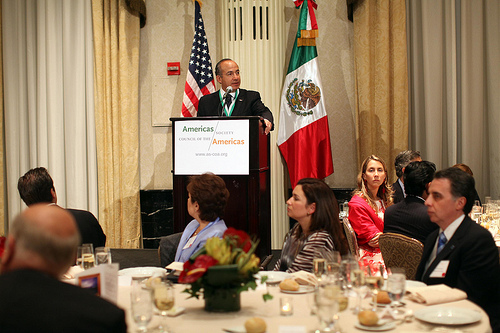 Mexican President Felipe Calderón during a talk Monday at New York's Waldorf Astoria hotel.
United Nations: Mexico's Calderón Says World Needs To Help Combat Drug Trafficking
September 21, 2011
By Staff
UNITED NATIONS — The world must address widespread violence in Mexico and the vast wealth of drug cartels, Mexican President Felipe Calderón said Wednesday during his address to the United Nation's General Assembly.
In a speech very similar to the one he gave at the Waldorf Astoria hotel on Monday, Calderón said that Mexico was doing its part to combat drug trafficking, but the country needed the help of large drug-consuming nations to cut back on cartel profits. "Consumer countries must take radical action," he said, adding that in the United States 30 percent of young people use illegal drugs.
Calderón also cited the use of high-powered firearms for the rise in violent crime. Many assault weapons seized by Mexican authorities in recent years have been linked to stores in the United States and last year a botched operation by the U.S. Bureau of Alcohol, Tobacco, Firearms and Explosives (ATF) called "Fast and Furious" revealed that an undercover operation had inadvertently put firearms in the hands of Mexico's drug cartels.
The Mexican president said that his country was making a concerted effort to seize weapons and combat organized crime, adding that his government seized about 127,000 weapons in the past few years. Calderón took office in 2006 and almost immediately declared a military offensive against the country's drug cartels.
While his government has been successful in arresting a number of major drug traffickers and dismantling some cartel operations, around 40,000 people have been killed and thousands more disappeared in the ongoing conflict. Calderón said one way to combat organized crime was for the U.N. to continue promoting arms trade treaties.
"All are surprised by the hundreds or thousands of deaths caused by oppressive regimes," he said. "We also have to be aware that organized crime is killing more young people than all the dictatorial regimes at present."
Besides combating organized crime, Calderón also spoke about climate change, the recognition of a Palestinian state and poverty. "The poorest have to allocate most of their income to food and have seen themselves floundering more in poverty," Calderón added.
Andrew O'Reilly contributed reporting from the United Nations.
Photo: Gobierno Federal @ Flickr.