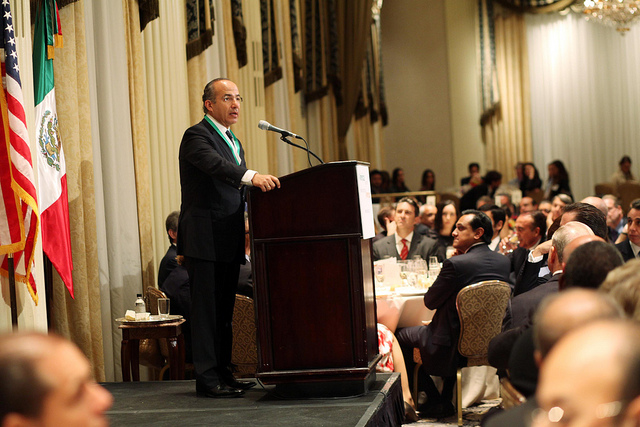 Mexico Drug War Fueled By U.S. Assault Weapons And Drug Demand, Calderón Says
NEW YORK — Mexican President Felipe Calderón called on the U.S. government to reduce weapon sales to Mexico and domestic demand for illegal drugs, in a talk before business leaders at the Waldorf-Astoria on Monday.
"We are next to the largest illegal drug market in the world," Calderón said at the public dinner held in his honor by the Americas Society/Council of the Americas (AS/COA). "We are living in the same building, and our neighbor is the largest consumer of drugs in the world and everyone wants to sell him drugs through our door and our window."
Calderón cited an increased use of illicit drugs by young people in the United States, the number of gun shops on the U.S.-Mexico border, and the high percentage of assault weapons purchased in the U.S. by members of Mexican drug cartels as major contributing factors in Mexico's drug war violence.
"The increase in drug violence coincides with the expiration of the assault weapons ban here in 2004," Calderón said. "The sale of assault weapons to criminals must be stopped."
Calderón has previously suggested that the United States shares responsibility for the rising drug violence that has killed an estimated 40,000 Mexicans since his term began in 2006. In an annual state of the nation address earlier this month, he mentioned that the U.S. is the world's largest consumer of illegal drugs.
[adsenseBlockLeft]
Meanwhile, Calderón has defended his administration's controversial decision to mobilize the armed forces to combat drug cartels. "Mexico is in the process of strengthening our security institutions," Calderón said. "We're taking on criminal gangs with the full strength of the state."
According to a recent survey by the Pew Research Center, 45 percent of Mexicans believe the government is making progress in its fight against the cartels, while 29 percent say the government is losing ground.
On Monday, Calderón also highlighted the need for continued regional economic integration, praising NAFTA and urging the governments of the U.S., Canada and Mexico to "make North America the most integrated and competitive region of all."
"The jobs that the American people are looking for are absolutely correlated with integration, not with isolation," he said.
Calderón is visiting New York for the 66th Session of the United Nations General Assembly this week. On Monday, AS/COA President Susan Segal and Chairman John Negroponte presented Calderón with the Gold Insigne award, the organization's highest honor awarded to heads of state from the Western Hemisphere.
Andrew O'Reilly contributed to this report. 
Image: Gobierno Federal @ Flickr.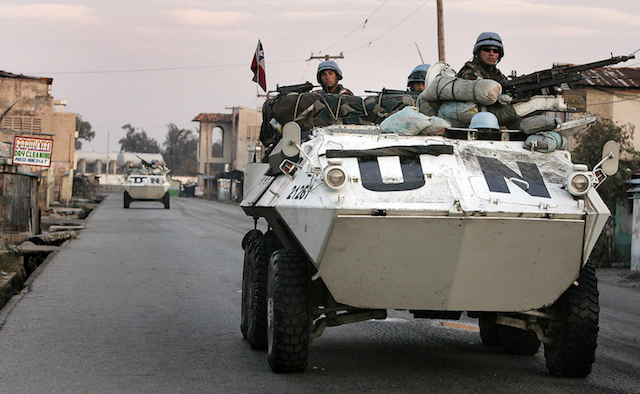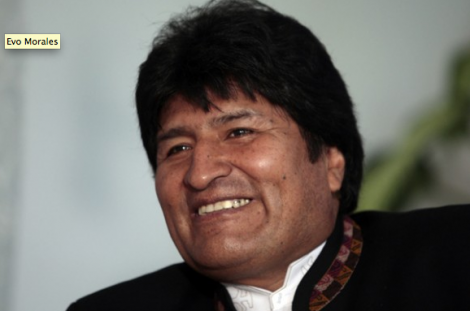 September 20, 2011
> Staff