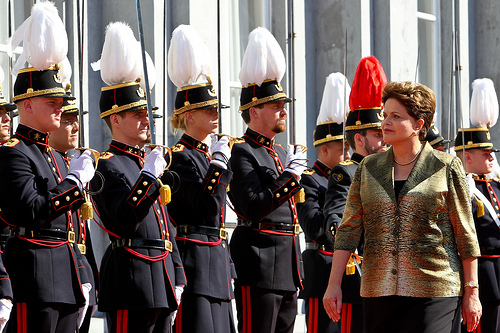 Brazilian President Dilma Rousseff in Brussels, Belgium.
Brazil's Rousseff Says United Action Needed To Combat Euro Debt Crisis
During a meeting between Brazilian President Dilma Rousseff and European leaders in Brussels on Tuesday, the head of Latin America's largest economy said that her country and the European Union need to take action in calming global markets that are scared of global contagion spreading due to Europe's debt crisis.
Both Brazil and European Union (EU) leaders stressed the need for more effective financial regulations to prevent the problems of individual nations from spreading to other economies and from creating future crises.
"It is fundamental that there be political coordination among countries to face up to the current international situation," Rousseff said to reporters after meeting with officials at the European Union Council and European Commission. "The absence of effective regulation over the financial system lies at the root of the problem."
Brazil, along with other large economies such as the United States and China, have become frustrated with the EU's failure to respond effectively to its debt crisis, which has in turn sent market confidence plummeting amid fears of global recession. Rousseff said that EU leaders should study her own country's past economic mistakes and learn not to kill economic growth through too much austerity.
"We were not able to resume sustained growth and once again we face a recessive scenario marked by high unemployment and deterioration of historic social achievements," Rousseff said. "History shows us that we will only be able to exit the crisis through stimuli to economic growth, coupled with macroeconomic stability policies as well as social policies aimed at creating jobs and income,"
However, Brazil's central bank added that it would not bail out Europe by buying up its sovereign debt. ''We have a conservative approach when in comes to the management of bank liquidity and capital," said Ivan Monteiro from the Bank of Brazil. "However, we'll never stop supporting entrepreneurs and productive activity. This is what differentiates us from others."
In early trading on Tuesday, the Greek debt problems hit global market sentiment and heightened risk aversion. The Brazilian real weakened against the U.S dollar by trading BRL1.8945 to the dollar at 1214 GMT, lower than its exit from normal trading Monday at BRL1.8864, according to Tullett Prebon via FactSet.
Photo:dilmarousseff @ Flickr.