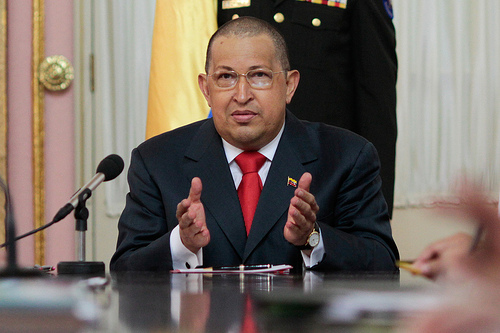 Venezuelan President Hugo Chávez wil his newly shaved head.
Venezuela's Chávez Shaves Head Before Second Round Of Chemotherapy
Venezuelan President Hugo Chávez said Wednesday that his second round of chemotherapy treatment will begin soon and that he expects to become bald within days due to his cancer treatment.
Chávez, who appeared in photos with a freshly buzzed head of hair, said that he and his doctors were contemplating whether to return to Cuba to continue treatment or to stay in Venezuela. Last month, the Venezuelan leader spent a week in Cuba where he received chemotherapy for a still unnamed type of cancer.
The 57-year old Venezuelan leader, who celebrated his birthday last week, underwent surgery in June to remove a cancerous tumor from his pelvic region and afterward continued to receive treatment in Cuba.  Chávez has publicly stated that the chemotherapy treatment is only to ensure that malignant cells don't reappear .
"My hair continues to fall out. I'm going to be totally bald in a few days, with my new look," Chávez said. "I will inform the country, of course, when the second phase of chemotherapy is going to begin, where we're going to have it."
Since the announcement of his ailment and the ensuing questions about his ability to rule South America's largest oil exporting nation, Chávez has made it a point to appear animated and in good spirits in public. During a ceremony to appoint new ministers, where Chávez appeared for the first time with his new hairstyle, he broke into song, talked about German philosopher Friedrich Nietzsche and held up a black-and-white photo of himself as a toddler next to his brother, Adán.
"I have the same haircut," Chávez said of the photo.
Some of Chávez's opponents see his sickness as an opportunity to cast doubt over his abilities to rule, while others worry that his cancer treatment will garner sympathy and support during a critical period in the run-up to the upcoming presidential elections. Chávez is framing his sickness as  a national cause and is asking Venezuelans to root for his quick recovery.
"The battle against Chavez's cancer is everyone's battle," he said.
Photo: chavezcandanga @ Flickr.