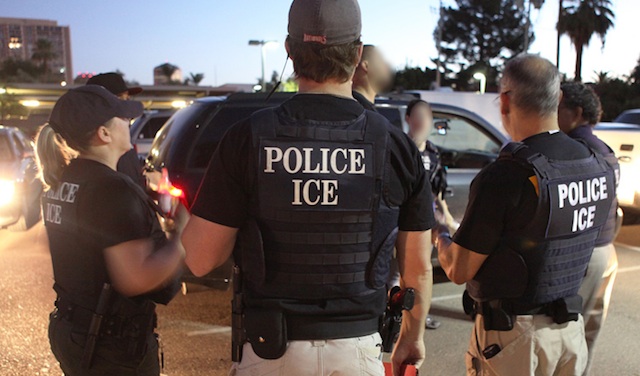 Immigration Policy: ICE Detainers Challenged By Lawsuit
NEW YORK — Jose Jimenez Moreno has spent the last seven months in a jail in Winnebago County, Illinois, while he awaits trial for drug-related charges. If not for a detainer placed on him by U.S. Immigration and Customs Enforcement (ICE) authorities, he would have qualified to be released on pre-trial bail. Jimenez cannot legally be deported, however, because he is a U.S. citizen. He is now charging ICE and Department of Homeland Security officials with violating his rights to due process and legal representation, in a class action lawsuit filed last month that could have broad implications for federal immigrant detention policy.
Jimenez's case is not unique, according to Mark Fleming, national litigation coordinator at the National Immigrant Justice Center (NIJC). He says the majority of the 270,000 detainers ICE issues each year — based on 2010 figures — are issued without establishing probable cause for deportation, and without notifying the person being detained or providing him or her with an opportunity to challenge the detainer.
Fleming and his colleagues at the NIJC helped Jimenez and a co-plaintiff, a legal permanent resident named Maria Lopez, to file a complaint with the seventh circuit federal court against federal and regional immigration officials for violating their fourth and fifth amendment rights, and for infringing on states' rights as protected by the tenth amendement. If their petition for a class action lawsuit is approved, the decision would apply not only to the plaintiffs, but to anyone — whether a citizen or an undocumented immigrant — who is arrested and detained in the Chicago area.
Although the lawsuit is still in its early stages — the complaint was filed on August 12 — Fleming said that he hopes it will set a precedent for similar lawsuits on behalf of individuals who have been subject to mistaken ICE detainers. DHS and ICE officials declined to comment on this lawsuit and its potential implications.
This lawsuit comes at a time when ICE policies such as Secure Communities have been widely accused of intruding too far into state and local affairs and resulting in unneccessary deportations. After protests across the country, several state and local officials have tried to remove their jurisdictions from participating in Secure Communities, which compels state and local officials to cooperate with ICE in identifying and detaining immigrants. Last month, the Obama administration began a review of deportation cases for about 300,000 immigrants accused of minor infractions, as a partial reaction to this public outcry.
While state and local authorities may be legally obligated to share the fingerprints of those they arrest with ICE officials, they are not necessarily required to implement ICE detainers. Cook County, where Chicago is located, recently passed legislation stating that county officials will no longer honor ICE holds unless the federal government reimburses the county for the cost of additional detention, which amounts to an estimated $43 per person per day.
The plaintiffs in the case of Jimenez v. Napolitano assert that these ICE detainers are illegal as well as expensive. Fleming argued that because immigrant detention is a form of incarceration, those subject to ICE detainers should be entitled to the same fourth and fifth amendment rights that any criminal defendant would have.
"DHS detainers deprive thousands of men and women of basic constitutional due process rights," said NIJC Executive Director Mary McCarthy, in an August 12 press release describing the lawsuit. "This expansive use of detainers harms U.S. citizens, lawful permanent residents, families and communities, and betrays American ideals of fairness and justice."
According to the complaint filed in Jimenez vs. Napolitano, a detainer lodged by ICE instructs local enforcement officials to hold an individual while ICE assesses whether that person could qualify to be deported. By law, the person under investigation can be held for no more than 48 hours after the period for the local agency's lawful custody has expired, before ICE must either assume direct, physical custody or allow them to be released. This limitation can be misleading, however, because an ICE detainer has additional consequences for individuals like Jimenez and Lopez who face criminal charges or convictions.
Maria Lopez, a permanent resident who has lived in the U.S. since age 4, pled guilty last December for a non-deportable misdemeanor offense in another drug-related case and is currently serving a one-year sentence at a federal correctional facility in Tallahasee, Florida. A mother of three, she cannot qualify to serve the rest of her sentence in a halfway house or take part in a work-release program because of an ICE detainer that was issued against her on Feb. 1. Her situation and Jimenez's show that ICE detainers can last much longer than 48 hours in cases where they lengthen existing criminal custody.
"The detainer has so many implications for criminal defendants. But what's most disturbing is that there is no proof that these immigrants are deportable, no sort of process for the detainers," said Aarti Kohli, director of immigration policy at the University of California at Berkeley's Earl Warren Institute on Law and Social Policy. Kolhi recently participated in a task force advising the Obama administration on how to address local concerns about Secure Communities, including state's rights issues and the high number of non-criminals who have been detained and deported since the policy was first implemented in 2008.
The Obama administration's recent reforms to deportation policy do not address the due process problems posed by immigrant detainers, said both Kohli and Fleming. This review applies only to individuals who are either in ICE custody or have already received final removal orders, not to those whose criminal trials and sentences have been compounded by ICE detainers. These individuals, like Jimenez and Lopez, have a limited ability to challenge their detainers and may not even be aware that such detainers exist.
"As a general policy, ICE doesn't provide notice of a detainer. Often a detainee won't learn about it until their criminal bonds hearing," said Fleming. To this day, neither Lopez nor Jimenez have ever been contacted by an ICE or DHS official, he added.
Kohli noted that it is important that the plaintiffs in this case are a citizen and permanent resident, "because their rights are different than those of undocumented immigrants." However, if the class action is approved, Jimenez v. Napolitano could prove to be a landmark case in winning rights of due process and legal representation for all immigrants facing detention and deportation.