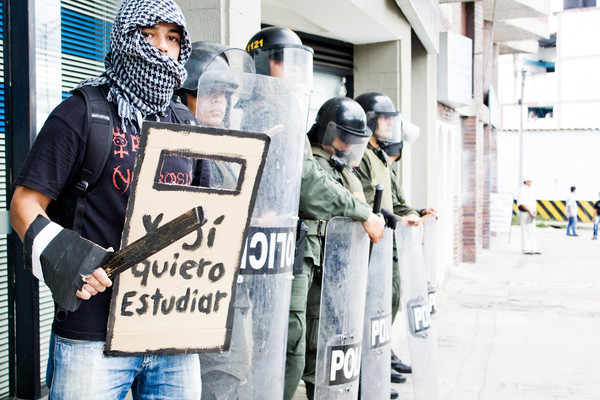 Chile To Invoke State Security Law After Clashes With Students
October 19, 2011
By Staff
Today in Latin America
Top Story — A two-day national strike in Chile called by protesting students and supported by the country's labor union umbrella organization got off to a violent start, when groups of students constructed large, fiery blockades on major streets in the capital of Santiago and fought with police. Masked demonstrators hurled homemade bombs at police before fleeing inside university and other school buildings. In one incident, protesters stopped a city bus, told the passengers to get out and set fire to the vehicle. Minister of the Interior Rodrigo Hinzpeter said he would invoke Chile's controversial State Security Law in legal filing Wednesday over the bus attack.
Students demand President Sebastían Piñera's government reform the country's educational system, including giving free public education for all, reducing state subsidies for private colleges and improving the quality of education overall. Talks between the government and the demonstrators recently broke down after student leaders said the government was being unresponsive to their requests. Earlier this week, the Chilean armed forces announced that it is giving 57,000 18-year-olds one month to report for potential military duty, claiming the government needs to fill gaps in its armed forces because of the protests.
Just Published at the Latin America News Dispatch
Headlines from the Western Hemisphere
North America
Caribbean
Central America
Andes
Southern Cone
Image: El Turbión @ Flickr. 
Subscribe to Today in Latin America by Email