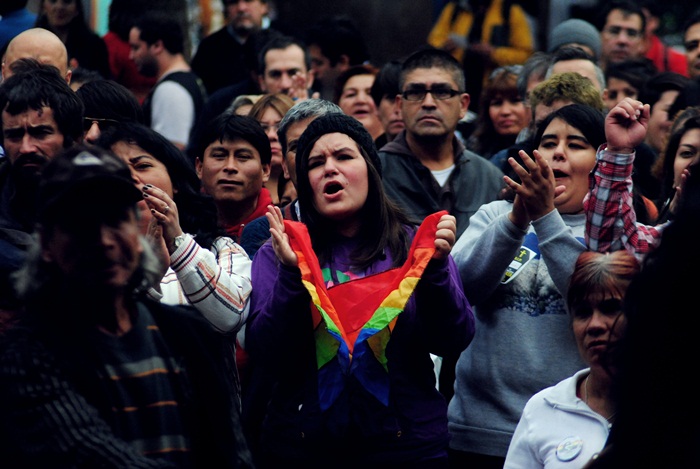 Chile Commemorates International Day Against Homophobia
SANTIAGO, CHILE — Thousands of attendees enlivened the twelfth consecutive celebration of "Diverse Chile: Cultural Demonstration for Diversity and Against Discrimination" in Santiago's Plaza de Armas on Saturday, May 12. Organized by the Chilean rights organization MOVILH (Movement for Homosexual Integration and Liberation), the event set the stage for International Day Against Homophobia and Transphobia, which is observed across the world on May 17.
This year's "Diverse Chile" event was celebrated in the context of Chile's recently-approved Anti-Discrimination Law, which Chile's Congress passed in a 25-3 vote last Wednesday after nearly a decade of debate. "Diverse Chile" also coincided with Chile's new 2012 Census, the first to gather data on same-sex households in Chile.
Participants in "Diverse Chile" paid homage to the memory Daniel Zamudio, the young gay man who died in March of a brutal beating said to be motivated by his sexual orientation. Public outcry over Zamudio's death pushed Chilean lawmakers to speed the passage of the Anti-Discrimination Law, which some Chileans refer to as the "Zamudio Law" in his honor. Iván Zamudio, Daniel's father, thanked supporters in the Plaza de Armas and received a standing ovation as he addressed the crowd from the podium.
Various organizations presented their proposals and demands onstage, including an effort to collect signatures to remove transexuality as a pathological disease and another initiative that would legalize abortion in Chile under special circumstances. Both demands remain controversial, though neighboring Argentina's senate voted last week to allow transgender citizens to change their gender identity without bureaucratic obstacles. Currently, abortion is illegal in Chile without exception.
"We are here to celebrate the new Anti-Discrimination Law and the groundbreaking 2012 Census, which surveys same-sex households," said Rolando Jiménez, President of MOVILH. "Chile is changing, Chile is no longer the same and now we're fighting for complete social and legal equality."