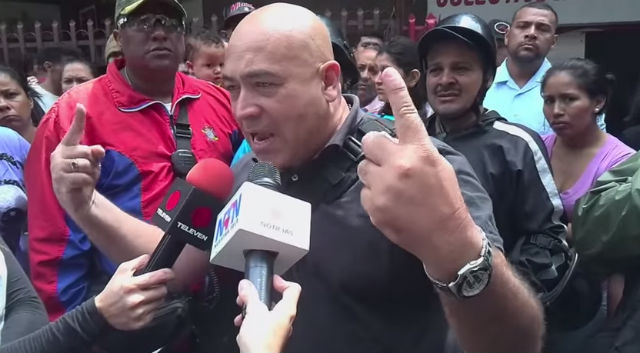 Shootout Between Authorities and Militiamen Leaves Five Dead in Caracas
October 9, 2014
By Staff
Top Story — A shootout between Venezuelan police and pro-government militia members in downtown Caracas left five dead and four injured. A high-profile militia leader anticipated his own death during the raid when he announced on camera that the minister of the interior should be to blame for any attempts on his life.
The hostilities began early on Tuesday, when police raided a high-rise building allegedly occupied by pro-government loyalists. One militiaman died in the initial clash, leading to an eight-hour standoff that saw shots being fired from both sides, policemen being taken hostage, traffic gridlock across several neighboring blocks and overall panic in the Venezuelan capital.
José Odreman, the slain militia leader and a former policeman, provided a television interview during a brief respite in the fighting. He lay the blame for the raid on Minister of the Interior Miguel Rodríguez Torres, and said Rodríguez should also be held responsible for any imminent attempts on his life. The shootout resumed when militia members took three policemen hostage. About 90 minutes later, Odreman was killed.
Odreman's aide was among the five people killed. The remaining three victims have yet to be identified.
During his televised interview, Odreman further stated that the raid was tied to the grisly killing of Roberto Serra, a rising-star within the pro-government movement. "The math doesn't fail," he said.
Authorities immediately dismissed the accusations. On Wednesday, President Nicolás Maduro ordered a thorough investigation of the shootout.
The Venezuelan coletivos, or collectives, comprise militia groups tasked with defending the "Bolivarian Revolution" championed by late President Hugo Chávez. The current administration headed by Maduro maintains a delicate relationship with the coletivos, which played a significant, often violent role in the protests that shook the country earlier this year.
Headlines from the Western Hemisphere
North America
Caribbean
Central America
Andes
Southern Cone
Image: Youtube
Subscribe to Today in Latin America by Email