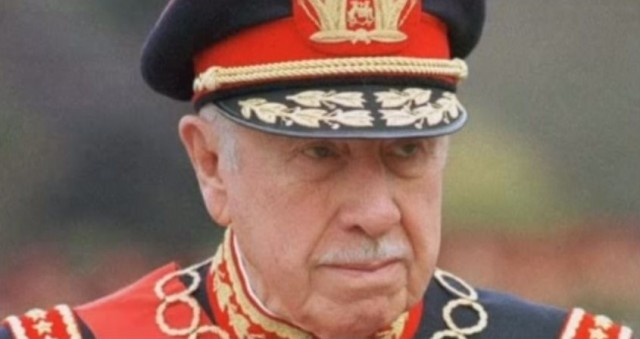 Ex-Chilean Gen. Augusto Pinochet (Image:
YouTube
)
Pinochet Bodyguard and Ex-Mayor Arrested in Santiago
October 21, 2014
By Staff
Top Story — Chilean authorities have arrested a former aide to Gen. Augusto Pinochet, accusing him of committing various atrocities under the 1973-1990 military dictatorship.
A judge on Monday ordered the arrest of retired military colonel Cristian Labbe on charges of "unlawful association" with a group that ultimately became the DINA secret police force. Labbe was allegedly involved in the murder of 13 people under Pinochet's dictatorship.
Those 13 people, investigators found, were tortured and executed at the notorious Tejas Verde military base 60 miles to the west of Santiago. Some of the victims were thrown in the nearby river.
Lawyers for the human rights department of Chile's Interior Ministry said they would appeal the judge to charge Labbe with torture, homicide and kidnapping. The lawyers also said they will ask Brazilian authorities for information on any training Labbe may have received in the country.
The arrest comes about a month after President Michele Bachelet announced her intention to overturn the Amnesty Decree Law, which protects former officials from prosecution for crimes committed during the first five years of the dictatorship. Bachelet, who was herself tortured and then exiled by the dictatorship, has long promised to repeal the law, passed in 1978.
After democracy returned to Chile in 1990, Labbe was elected mayor in 1994 of the upscale Providencia neighborhood of Santiago, an office he held until 2012. In 2011, he organized a controversial event to honor a former military officer imprisoned for dictatorship-era crimes.
Nine other people were arrested along with Labbe, who also previously served as a
bodyguard to Pinochet. He is a member of the conservative UDI party, whose leader has criticized Bachelet's efforts to overturn the amnesty law, warning they may "reopen old wounds."
Two former army officers and an ex-army prosecutor were charged in September for participating in the 1973 killing of folk singer Victor Jara.
Some 700 military officials are facing trials for crimes committed during the dictatorship, while around 250 have served sentences. An estimated 3,000 people were killed by the regime and another 28,000 tortured.
Headlines from the Western Hemisphere
North America
Caribbean
Central America
Andes
Southern Cone
Image: Youtube