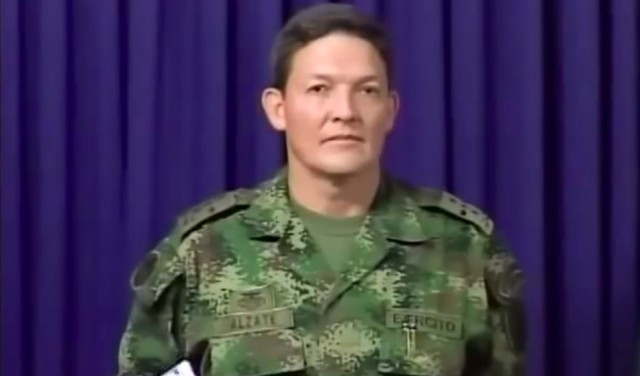 FARC to Release First Captives, But Warns Over General's Release
November 25, 2014
By Staff
Top Story — FARC rebels will release two hostages on Tuesday morning, according to a statement issued from Havana by delegates representing the guerrilla group. The release of Gen. Rubén Darío Alzate, the highest-ranking FARC captive in 50 years, is planned for Thursday. However, the statement from Havana warned that the general's release may be cancelled, owing to the heavy military presence in the province where he is being held.
Tuesday's handover of Pvts. Paulo César Rivera and Jonathan Andrés Díaz will take place in the Arauca province, where the two were originally captured on Nov. 9. Gen. Darío Alzate is reportedly being held captive in Chocó province, along with corporal Jorge Rodriquez and lawyer Gloria Urrego, after the three were captured on Nov. 16 while travelling through the region by boat.
On Sunday, the rebel group threatened to cancel Tuesday's handover due to military presence in the region. The same day, Colombia's defence ministry announced the suspension of military operations to ensure the safe return of the two captive soldiers. Today's statement by the FARC, threatening to cancel Thursday's handover of the general, echoed Sunday's statement.
FARC leader Rodrigo Londoño Echeverri, who goes by Timochenko, said in the statement that President Juan Manuel Santos had "overturned the board game" and "destroyed" the ongoing peace negotiations when he suspended them last week, following the kidnapping of Gen. Darío Alzate.
Negotiations between the rebel group and the Colombian government began in 2012 in Havana. Cuba and Norway have been acting as guarantors during the peace talks.
Headlines from the Western Hemisphere
North America
Caribbean
Central America
Andes
Southern Cone
Image: YouTube