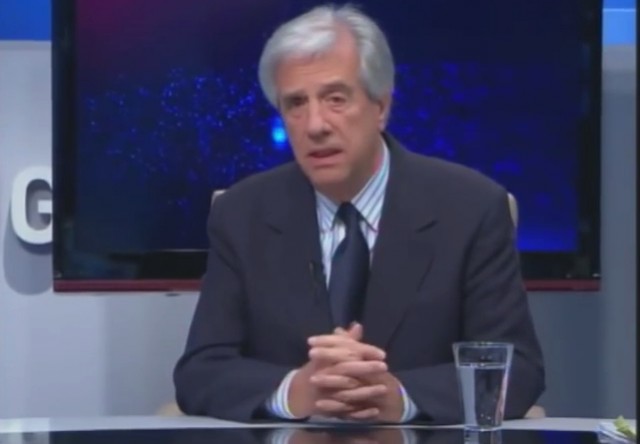 Uruguay Elects Tabaré Vázquez President
December 1, 2014
By Staff
Top Story — Tabaré Vázquez will serve another term as Uruguay's president after winning a runoff election on Sunday, continuing the decade-long rule of the leftist Broad Front coalition.
Opposition candidate Luis Lacalle Pou conceded defeat after initial, unofficial counts showed Vázquez won more than 53 percent of the vote.
Vázquez was Uruguay's president from 2005 to 2010. An oncologist, Vázquez was the country's first leftist president. When he took office in 2005, Uruguay was still reeling from a 2002 economic crisis. Vázquez's reforms are considered to have resulted in economic growth and declining poverty rates, contributing to his high approval ratings when he left office.
Leading up to the 2014 election, voters indicated their top concerns were rising crime and education, two issues Vázquez has said he will tackle.
Vázquez will succeed José Mujica, a Broad Front politican and former leftist guerrilla who oversaw sweeping changes like laws aimed at marijuana legalization, and the legalization of gay marriage.
Vazquez is considered more moderate than Mujica, but said he would endorse the outgoing president's marijuana legislation, which aims to provide an alternative to the U.S.-backed "war on drugs." Opposition candidate Lacalle Pou said he would repeal the legislation if he won the runoff.
Headlines from the Western Hemisphere
North America
Caribbean
A generous U.S. visa program encouraging Cuban doctors to immigrate has, along with recently-relaxed emigration policies for doctors in Cuba, led to an influx of Cuban physicians in the U.S., despite the fact that the doctors are often forced to seek low-paying jobs.
The 2014 Global Slavery Index identified Haiti as the country in the Americas with the highest percentage of people living under conditions analogous to slavery.
Dominican President Danilo Medina vetoed a bill that would double prison sentences for those accused of carrying out abortions, urging legislators to consider decriminalizing abortions under certain conditions.
Central America
The Guardian reports on a project bringing solar power to informal settlements in La Lima, Honduras, part of a larger slum development initiative aimed at improving the conditions in such settlements rather than simply eradicating them.
Costa Rica will establish a separate, independent court to handle narcotics and organized crime, an effort to insulate the judicial system from the influence of criminal groups.
Child malnutrition, once a major problem among the indigenous Tolupan community in northern Honduras, has been effectively eradicated over the last two years, reports the Inter Press Service.
Andes
Colombia's FARC rebels on Sunday released General Rubén Dário Alzate, the highest-ranking hostage taken by the rebel group in 50 years, spurring hopes that peace negotiations will resume after the government recently halted the talks due to the general's kidnapping.
Colombians displaced during 50 years of civil war continue to face difficulties in reclaiming ownership of their land despite a 2011 restitution law, Reuters reports.
Activists in Venezuela are calling for an inquiry into the deaths of at least thirteen prisoners after a prison riot, questioning the official account that the inmates died of drug overdoses after rioters stormed the facility's infirmary.
Southern Cone
Brazilian legislators are seeking to pass legislation to raise their own salaries by more than 34 percent, a move which could heighten resentment as the country struggles with economic stagnation.
Brazil's Consumer Protection Department worked to fend off widespread fraud during the country's U.S.-influenced Black Friday sales, which prompted the Brazilian media to coin the nickname 'Black Fraude.'
Argentine tax authorities charged HSBC with aiding over 4,000 of the country's citizens to evade taxes by stowing their finances in Swiss bank accounts.
Image: YouTube