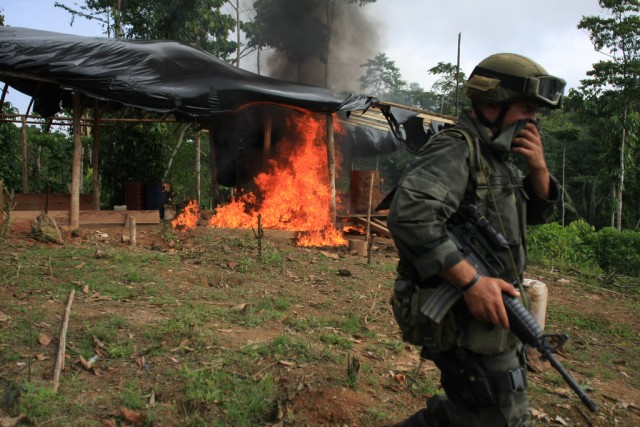 Anti-Drug Spraying in Colombia May Cause Cancer
March 23, 2015
By Staff
Top Story — A chemical used in a controversial aerial fumigation program as part of U.S.-funded anti-drug efforts in Colombia may cause cancer, according to a new study by an agency of the World Health Organization, which one analyst called the single biggest risk to date to the program's future.
The International Agency for Research on Cancer's report suggests that glyphosate, the base chemical used in the herbicide Roundup, carries a risk of causing cancer in humans. Roundup is widely used as part of a U.S. effort to aerially fumigate coca crops in Colombia. Over the past two decades some 4 million hectares of the crop, which is used to produce cocaine, have been sprayed, in part by American-operated flights, according to the Associated Press.
A economist and independent drug policy advisor to Colombia's government told the AP the new report is the most likely to pose a risk to the fumigation program, in part due to the WHO's perceived neutrality. Left-wing Colombian politicians and international organizations such as the Washington Office on Latin America have long criticized the spraying program.
Just Published at the Latin America News Dispatch
Headlines from the Western Hemisphere
North America
Caribbean
Central America
Andes
Southern Cone
Image: Colombian National Police, CC BY-SA 2.0