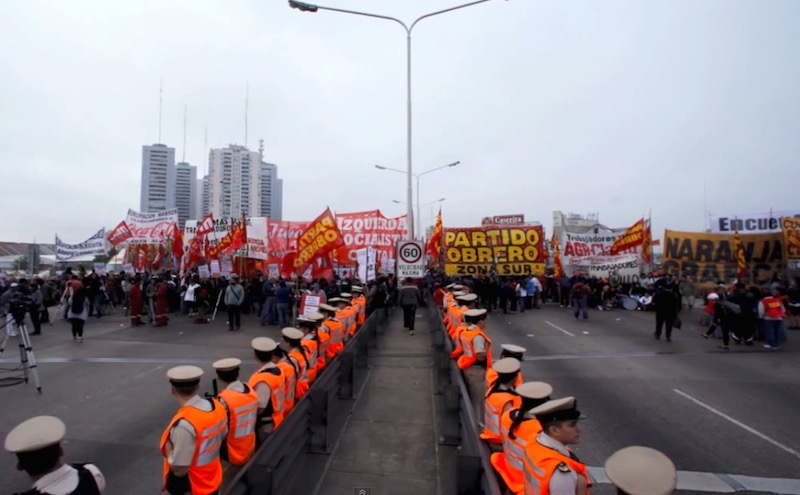 Transportation unions strike in Argentina. (
YouTube
, screenshot)
Strikes Suspend Transportation Across Argentina
April 1, 2015
By Staff
Top Story — A 24-hour strike on Tuesday by transportation unions in Argentina caused a domino effect that led to the cancellation of domestic and international flights, school and bank closures across the country and thousands of shuttered businesses. The transportation unions organized the country-wide strike to dispute steep inflation and current income tax rates.
Roberto Fernandez, head of one of the principal organizations behind the strike, the Automotive Tramways Union, referred to its effect as one of "total impact," in an interview with Radio Mitre. The streets were largely deserted throughout the day as shut-down bus and train systems prevented Argentine citizens from getting to work and school. Blockades set up throughout the main routes in the capital, Buenos Aires, by members of the Socialist Workers party kept car drivers from transiting freely. Domestic and international flights, in turn, were cancelled because a significant number of airport workers are represented by transportation unions.
The unions argue that current inflation rates will cause salary increases, which will lead to a greater number of workers having to pay income tax. The strikers demand that the income tax threshold be raised in proportion to the rising salaries caused by inflation.
Members of President Cristina Fernández's administration announced over the weekend that there are no current plans to change the income tax bracket. Chief of Cabinet Aníbal Fernández said Tuesday that a very small percentage of transportation workers pay income tax.
Headlines from the Western Hemisphere
North America
Caribbean
Central America
Andes
Southern Cone