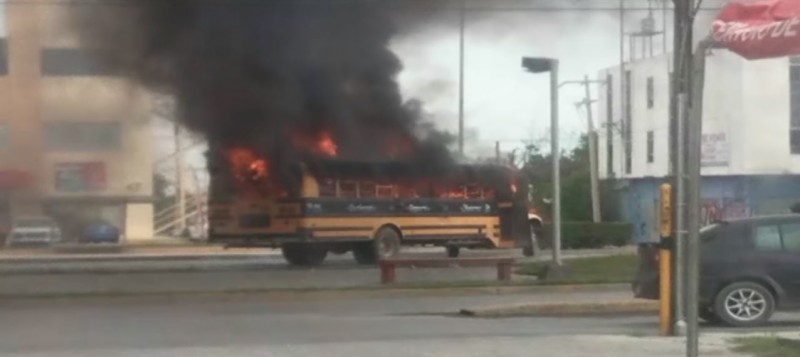 A burning bus used as a blockade Saturday in the Mexican city of Reynosa. (
YouTube
, screenshot)
Mexican Authorities Arrest Cartel Leaders, Sparking Border Violence
April 20, 2015
By Staff
Top Story — Mexico's government on Sunday announced the arrest of the accused leader of the Juárez drug cartel, just days after apprehending the head of the Gulf cartel, an arrest which sparked an outburst of violence in the border city of Reynosa.
Jesús Salas Aguayo was arrested Friday in the state of Chihuahua, Mexico's National Security Commissioner Monte Alejandro Rubido told The Associated Press on Sunday. On Saturday, the same official announced the arrest of Gulf cartel leader José Tiburcio Hernández Fuentes.
Hernández Fuentes' arrest appeared to set off a wave of violence in Reynosa, a city across the U.S. border from the town of McAllen, Texas, where at least three people died in gunfights on Friday. During the violence, gunmen also used burning vehicles to block roads.
The Juárez cartel has declined in prominence in recent years, but its earlier leader Vicente Carrillo Fuentes was a major underworld figure before his 2014 arrest, noted for presiding over an era of unprecedented violence and brutality in the Chihuahua state capitol of Ciudad Juárez.
Just Published in the Latin America News Dispatch
Headlines from the Western Hemisphere
North America
Caribbean
Central America
Andes
Southern Cone