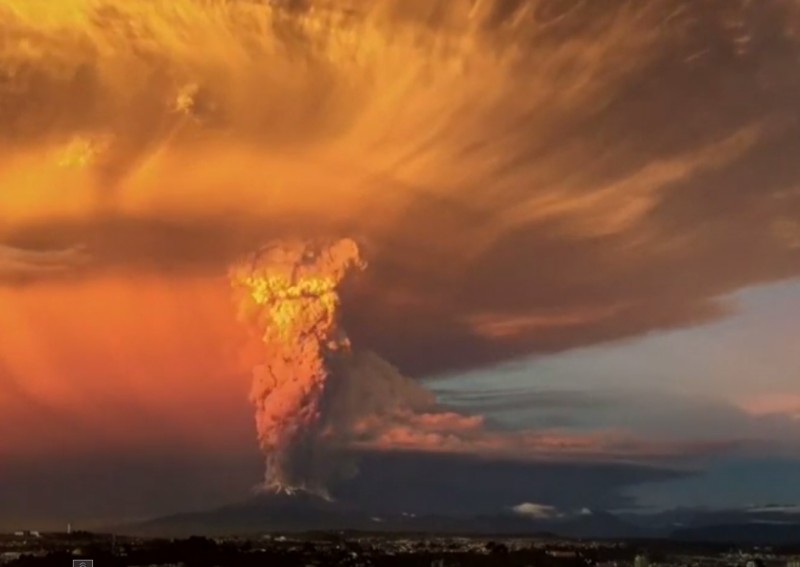 The Calbuco Volcano erupts in Chile (Youtube).
Thousands Flee Eruption of Long-Dormant Chilean Volcano
April 24, 2015
By Staff
Top Story — Authorities in Chile have ordered the evacuation of at least 4,000 people after eruptions by the massive Calbuco volcano generated an ash cloud some 10 miles (six kilometers) high.
The volcano, located in the southern region of Los Lagos and dormant since 1972, first erupted on Wednesday afternoon, and then again shortly after 1 a.m. on Thursday, The Associated Press reported. , Concerns persist about further volcanic activity.
The interior ministry has ordered a red alert, its highest, in the affected area and military troops and the national police force have been deployed to the region. While no deaths or injuries have been reported in connection with the eruption, the authorities have expressed concerns about the effects of falling ash on the health of the affected population, according to local media.
Chile's National Geology and Mining Service (SERNAGEOMIN) has also warned of a third eruption, the AP notes. In addition to the evacuations ordered, at least five border crossings have been closed, schools shuttered and flights cancelled at the airport in the nearby town of Puerto Montt.
The eruption is just the latest natural disaster to strike Chile, following another, smaller volcano eruption in March, as well as droughts, wildfires and flooding. The latter, in which 23 people died, was a source of controversy for President Michelle Bachelet, whose response was considered inadequate by some critics.
Headlines from the Western Hemisphere
North America
The parents of Alondra Luna Núñez, the Mexican girl who was wrongly seized from her high school last week after a U.S. woman claimed she was her daughter, blame the Mexican judge who made the final decision and ignored the documents and birth records they provided for their traumatic weeklong separation from their daughter.
A United Nations investigation on torture in Mexico has found that torture is "generalized" among the Mexican police, a categorization the Mexican foreign affairs secretariat took fault with.
Caribbean
Haiti's First Lady Sophia Martelly registered to run for Senate Thursday, marking her first bid for elected office, though she has been actively involved in her husband's administration.
Republican representatives of U.S. Congress said they would not challenge President Barack Obama's decision to remove Cuba from a list of states that sponsor terrorism.
A four day NBA basketball camp began in Havana. Cuba Thursday as part of a move to popularize the sport on the island, with U.S. basketball greats Steve Nash and Dikembe Mutombo instructing over 100 attendees at Havana university.
Central America
Honduras' Supreme Court has paved the way for President Juan Orlando Hernández to run for re-election, unanimously deciding to strike down a law that would ban presidents from seeking a second term.
The rise of violence in El Salvador has created a situation, "reminiscent of the country's 12-year civil war," according to the Inter Press Service, with talk of the government ordering a state of siege and police discussing the creation of armed groups akin to the death squads of the 1970s and 80s to eliminate gangs .
Guatemalan President Otto Pérez Molina announced Thursday he is requesting the U.N. commission that has been investigating organized crime in his country since 2007 extend its work for another two years.
Andes
Lawmakers in the Ecuadorian Assembly on Wednesday voted 89-1 to grant LGBT couples the rights and duties bestowed by marriage under the civil code, giving President Rafael Correa 30 days in which to sign or reject the bill.
Mourners on Thursday buried the body of Peruvian farmer Victoriano Huayna, who was killed during a police confrontation with activists demonstrating against the open-pit copper mine Tía María—the first fatality since protests began one month ago.
Professionals hired and groomed to lie in court as false witnesses by corrupt officials in Colombia are part of a growing issue compromising the integrity of the country's justice system, writes Jacobo Garcia in The Associated Press.
Southern Cone
Argentine President Cristina Fernández and Russian President Vladimir Putin on Thursday signed a "comprehensive strategic partnership" related to economic co-operation, defense and energy trades between the two countries during Fernández's visit to Moscow.
Antonio Stiusso, the former chief of operations of Argentina's intelligence agency, has allegedly fled the country for fear of his life due to a fallout with President Cristina Fernández in late 2014 and the mysterious death of prosecutor Alberto Nisman in January.
Members of the Indigenous Guarani community face eviction from a 72-hectare plot in the Brazilian state of São Paulo previously recognized as Guarani territory, highlighting the threats currently faced by indigenous populations in Brazil.