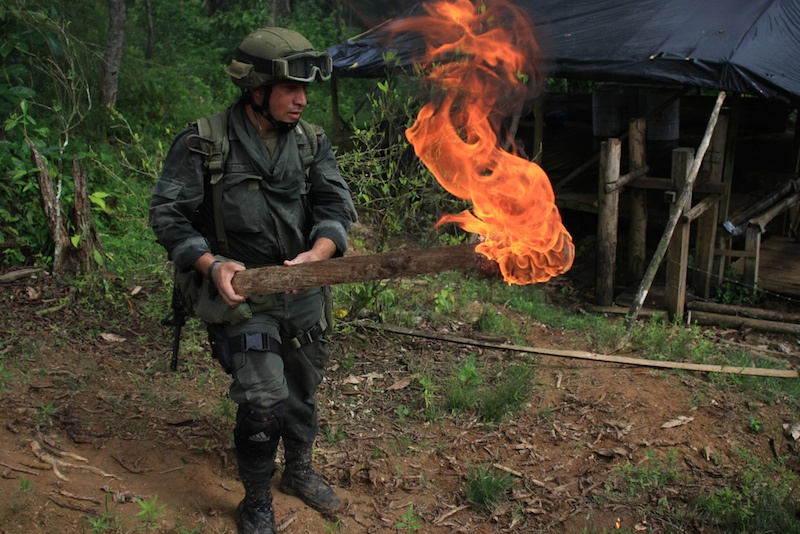 Report: Colombian Coca Cultivation Increased in 2014 After 6 Years in Decline
May 5, 2015
By Staff
Top Story — The rate of coca cultivation for cocaine production has increased in Colombia for the first time in seven years, according to a new White House report that the U.S. Drug Czar's office partially released on Monday, a fact that some are saying could bolster support for an increasingly controversial U.S. aerial fumigation program aimed at eradicating the illicit plant.
The news comes as opposition for the U.S. eradication program, which has been the lynchpin of U.S.-funded anti-drug efforts in Colombia, grows.  In March, a study by an agency of the World Health Organization found that a chemical used in the fumigation program may cause cancer, which at the time one analyst said was the single biggest risk to date to the program's future.
The Office of National Drug Control Policy released statistics from the United States' annual survey of coca cultivation in the Andes, which is done with satellites, after key information was leaked from the report. The agency estimated a 39 percent increase in Colombian coca cultivation from 2013 to 2014, and a 30 percent increase in the country's estimated potential cocaine production during the same period.
Some, however, have been quick to point out that the increased cultivation rate isn't necessarily an endorsement of the U.S. aerial eradication program. Adam Isacson, an associate at the Washington Office on Latin America, gives three additional reasons why coca cultivation might be on the rise: the declining profitability of illegal precious-metal mining; the failure to replace the aerial spraying with different eradication strategies in zones where fumigation isn't possible or permitted; or the fact that all coca eradication efforts have generally since 2012.
Colombian daily El Tiempo also noted Monday that the United Nations, which works with Colombia's National Police to develop a different annual report on coca cultivation in the country, found that the plant's growth only increased by 20 percent in 2014.
Headlines from the Western Hemisphere
North America
Caribbean
Central America
Andes
Southern Cone