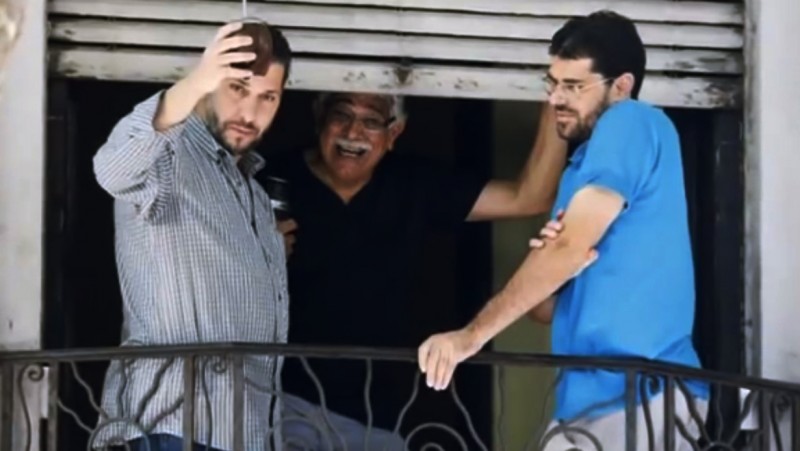 Former Guantánamo detainees Omar Abdelahdi, originally from Syria, and Adel bin Muhammad, from Tunisia, greeted the media from the balcony of their Montevideo house, following their arrival in December. (Reuters,
Screenshot
)
Uruguayan Foreign Minister Criticizes Decision to Take In Ex-Guantánamo Detainees
May 14, 2015
By Staff
Top Story — Uruguay's new government appears to be distancing itself from its predecessor's decision to accept six former inmates from the United States' detention center at Guantánamo Bay, Cuba, into the country in 2014.
Speaking to a local radio station on Wednesday, Foreign Minister Rodolfo Nin Novoa said, "It was a decision that in all sincerity was not properly foreseen and not properly carried out."
In addition to the six former Guantánamo detainees, 42 Syrian refugees were welcomed to Uruguay in October by the government of former President José Mujica, who left office in March. Mujica's successor, current President Tabaré Vásquez, suspended the planned arrival of more Syrian refugees in early 2015, stating that the program required "profound analysis." With regards to the six former Guantánamo detainees since settled in Uruguay, Vásquez told local media that, "Uruguay gave them asylum, but the U.S. government should provide all the necessary means so that those citizens of other countries can have a dignified life in our country."
The ex-Guantanamo detainees have struggled to adapt to Uruguayan society. On April 23, four of them launched a protest outside the U.S. Embassy in Montevideo, demanding compensation for their nearly 13-year detention.
Headlines from the Western Hemisphere
North America
Caribbean
Central America
Andes
Southern Cone